I finished up my appearance in Toronto and I was on my way back to the airport at the crack of ass the next morning to go to Chicago for the "Flashback Weekend" horror convention.  For those that are regular readers of these blogs- you'll know how me, planes, and Chicago just don't mix.  Bad things happen to me when I have to fly anywhere near the windy city.  Evil things.
But this one time…nothing went wrong.  And I mean- NOTHING.  No kids throwing up in see-through ziplock bags.  No smelly passengers next to me.  No little Asian girl smacking me in the face with her Barbie Doll and shouting "now she's got a boyfriend!"  No getting hit on my arm with a milky white substance after hearing groans from the seat in front of me.  Nothing bad happened on this quick 2 hour flight.
Flashback Weekend was an absolute blast.  Largely in part to the fact that unlike some of the other horror conventions I have appeared at, this one is run by a husband and wife team who are purely and simply FANS.  It wasn't some big corporate scam and everyone from the guests to the fans was treated like they were personal friends.  And then of course there are the Chicago fans- who were just terrific.  When you agree to go to one of these things- you go to talk to people and to meet and mingle with the fans.  While some 'horror celebs' charge for autographs and sell merchandise- I do not.  I am there to do my part in spreading the word about HATCHET and to spend quality face time with the fans.  Unfortunately, in some cities (mainly other countries) you sometimes find that the fans are not all that personable.  They stare at you from a few feet away and snap pictures or do quick drive-bys for autgraphs without saying a word to you and you sort of feel like you're on display.  But in Chicago, Joleigh and I had a non-stop circle of people around our table shooting the shit with us about HATCHET and all things horror.  We got to meet a TON of awesome people and there was never a dull moment in our 3 days there.
On Friday and Saturday night Joleigh Fioreavanti, Robert Englund, and I introduced a scene from HATCHET before the outdoor screenings of "Freddy Vs. Jason" and "A Nightmare On Elm Street".  During the day on Saturday we did a full-on panel for HATCHET.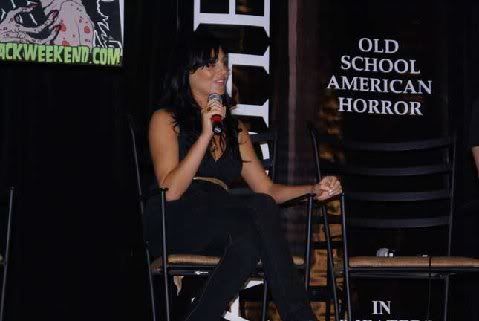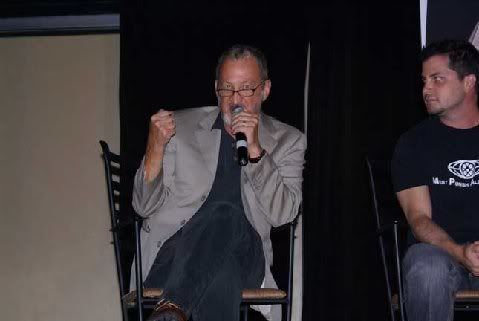 The panels are always my favorite part of these conventions.  It's fun because you get to sort of put your money where your mouth is and actually SHOW some footage and talk about making the movie.  At the end, we always take questions from the audience.  One of the questions was asking me to please tell the "Dee Snider story".  In the year and a half that I have been touring to support HATCHET, I have only told that story in front of a crowd a handful of times.  I told it before the Tribeca premiere, I told it in Montreal and I was going to tell it at Comic-Con…but in both Toronto and Chicago- it was actually requested.  The reason why I don't always tell it is because it's long and it takes up time where the other people on stage could be talking and I always doubt whether the audience actually WANTS to hear such a personal story about how I made HATCHET or if they'd rather have that time filled with more clips and questions.  But someone asked me and I launched into it.
I can't even tell you how many letters, comments, and emails I have gotten because of that moment in Chicago.  Whether my story inspired someone who was a frustrated struggling artist themselves who needed to hear that good things actually CAN happen for people every now and then…or whether it touched someone on an even deeper level because they needed to hear some positive inspiration to help them get a handle on their own internal personal struggles…the response from the Chicago crowd was huge.  So again, to the man in the audience who asked that I tell it…thanks.  Because it made a difference for a lot of people in that crowd and I never would have done it if you hadn't asked me to.
But enough of the sensitive stuff.  Later in the day on Saturday, Joleigh and I went on a "Haunted House" field trip with a 'scare-bus' full of fans.  Dream Reapers Haunted House was a total blast.  My favorite part of it being that Joleigh- having survived a month in a swamp being hunted by Victor Crowley and being brutally murdered in one of the greatest on-camera death scenes ever…almost lost her shit 10 feet into the maze because there were some RUBBER RATS on one of the shelves.  That kept me laughing until the very end of the haunted house.
Later that night we took part in a private meet-and-greet and had drinks with a small group of fans.  While we were there- Flashback Weekend had a professional photographer on set to give fans high quality photos with their favorite celebs.  But one look at the set-up had Joleigh and I cracking "prom" and "senior yearbook" photo jokes.
We just couldn't resist…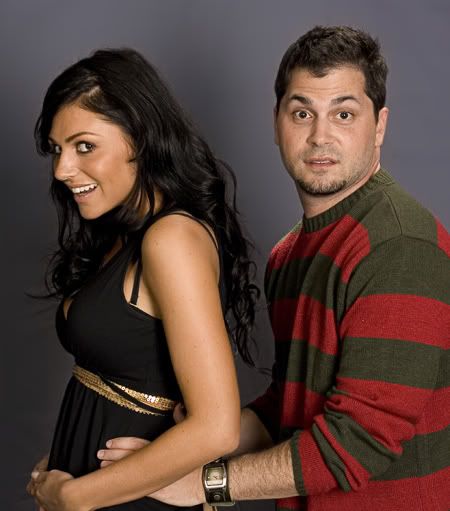 On Sunday night we headed back to the airport as it was finally time to head back home.  On the way to the O'Hare airport I started telling Joleigh how great my flight in was- and that perhaps maybe the "Chicago Curse" had been lifted off of me finally.  But of course, we got through security only to find that our flight was going to be delayed several hours due to weather.  (It was 80 degrees and clear skies outside.)
So we saddled up to the bar and wound up hanging out with Jsu Garcia (who used to go by the name Nick Corri back in his Nightmare On Elm Street days).  Somehow the topic of how there is a remake of "Welcome Back, Kotter" in the works came up and we started a healthy debate on whether or not it would be cooler if they brought back ALL of the old sweat hogs and made it a reunion- rather than trying to re-start it with new actors.  But then it came up that Gabe Kaplan is dead, so a reunion would not even be possible.
Joleigh: "Really?  He's dead?  That's sad."
Adam: "I know.  Gabe Kaplan was awesome."
Jsu: "Wait- hold on….Excuse me, sir?  Hey- we were just talking about you."
Mr. Kaplan: "Well, hello there.  Nice to meet you!"
Gabe Kaplan just HAPPENED to be walking by us at that precise moment in the Chicago Airport.
Adam: "See?!  He's not dead!"
Mr. Kaplan: "…."
So we shook hands with Mr. Kaplan (biggest highlight of my weekend- no offense to the horror celebs at Flashback Weekend) and we were boarding our plane.  After some mechanical malfunctions that kept us waiting for an extra 20 minutes or so (fuck you, Chicago) we were in the air…and fast asleep.
I got to spend 2 days at home frantically working on my million other projects and trying to spend some time with Rileah who's incredibly busy with her own stuff- and then I was off to Comic-Con in San Diego.  For those that have never been…I'm not quite sure how you explain it.  Basicaly, Comic-Con started off as a comic book convention for die hard comic fans.  But then Hollywood figured out that they could swoop down on their good time and rape the shit out of their coveted convention and make it one giant marketing orgy.  And now in 2007…that is pretty much all that Comic-Con is.  Every inch of space is used to try and market some new film or TV show.  (And I think we saw a small table selling comics somewhere in the back alley.)  It is the mecca of Hollywood- and if your film isn't represented there somewhere…well then you're shit out of luck.
A year ago after HATCHET premiered at Tribeca and was starting to tear up the film festival circuit, we asked if we could have a panel there.  Comic-Con laughed at us.
This year they came to us.
Getting the majority of the cast back together again went from a heartfelt reunion- to debauchery in about 5 minutes.  Thankfully we pretty much had our own restaurant blocked off for ourselves the first night so we didn't bother anyone else.  With Deon Richmond and Tony Todd at the head of the table- I don't think anyone stopped laughing for a second.  Deon kept trying to take pictures, but somehow a piece of Tony wound up in every single photo.  Whether it was a hand, a shoulder, a piece of his head…the guy is just so big and animated he was somehow everywhere.  And then Joleigh randomly remembered how Whitney Houston would yell "Bo-bbyyyyyy!" on her Whitney/Bobby reality show.  And that was it.  Every 5 seconds for the rest of the night…"Bo-bbyyyyyy!"
The next day was our big panel.  We were frightened to see that they had put us in one of the giant rooms that holds more than 2,000 people.  At a horror convention?  No problem.  HATCHET could fill that room and then some.  But when you're the only independent movie up against panels for major TV shows and huge budget action/adventure franchise films?  No way.
Before taking the stage I was asked to please watch my language and "keep it in check" as this is a family crowd.  So I (of course) went running out on stage with a huge "SAN DI-FUCKING-EGO, LET ME HEAR YOU!!"  And I was shocked to see that not only was the room filled…there were people standing along the sides and out in the hall!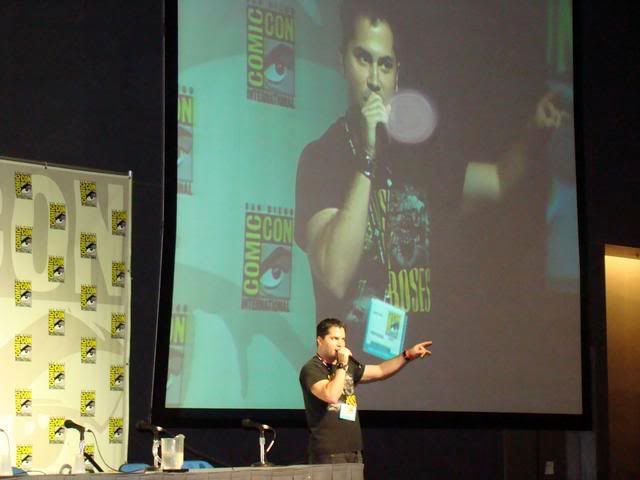 As planned, I launched right into an abbreviated version of the "Dee Snider Story".  Time contraints were so big that I had to cut an 8 minute story down to 4 minutes and rush through it as quickly as possible.  But once I got to the end, it was all worth it.
Now we had advertised it on MySpace and the web…but to the average person in attendance that day…they had no idea what was coming.
Adam : "So now I'd like to bring up the host of today's panel.  The man who put the "sick", "mother", and the "fucker" in the phrase SICK MOTHER FUCKER…"
And people started getting on their feet.
Adam: "DEE FUCKING SNIDER!!!!"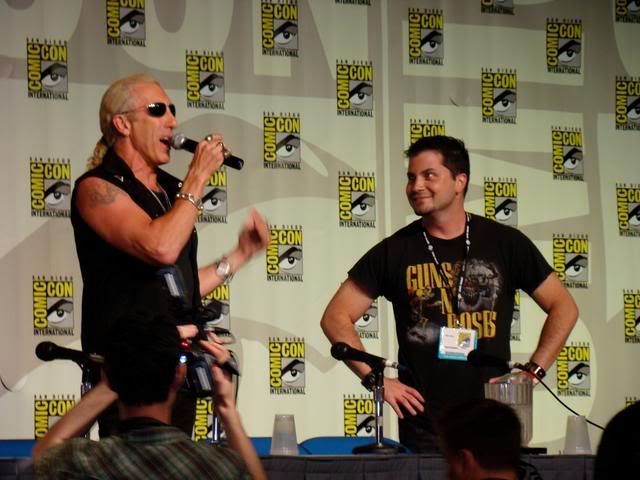 And just like that- the crowd went absolutely apeshit and the panel was off and running.  Sadly, Comic-Con would not let me show anything violent or gory…so our presentation was SEVERELY neutered.  All we could show was a scene of Victor Crowley chasing the cast through a cemetery.  Awesome.  But all in all- we all had a blast and the crowd was giving back everything that we were giving out.  If you were a horror fan at Comic-Con…it was definitely the highlight of the weekend.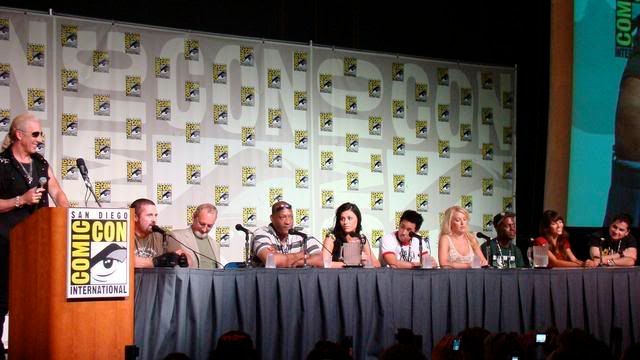 After our panel we were ushered off into a press room for about 3 hours.  Telling stories, doing interviews, giving quotes…you name it.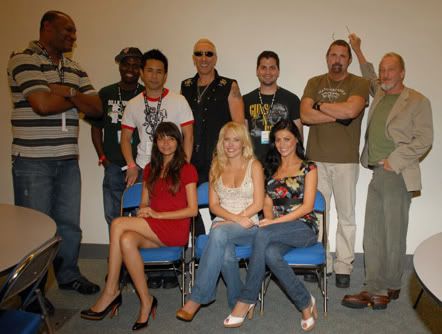 But meanwhile…on the convention floor…the HATCHET ARMY was taking over the entire convention.  We had fans marching down the aisles chanting "Crowley! Crowley!", passing out homemade fliers, cheering at the premiere of the new trailer, and showing their support in all kinds of ways.
For instance, Milo Ventimiglia from HEROES showed his support by sporting his HATCHET ARMY shirt…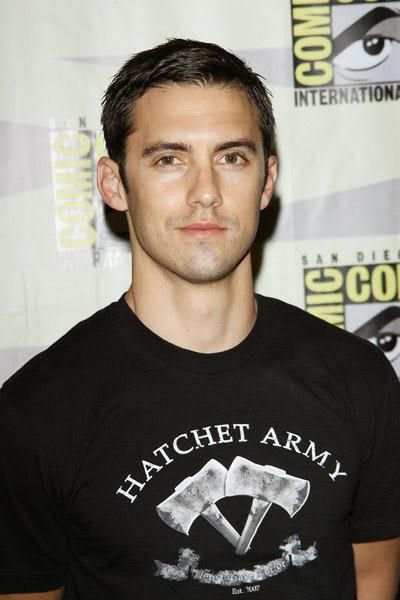 While WRONG TURN 2 director Joe Lynch helped out by standing in the Starz/Anchor Bay booth and pointing out our poster in a non-offensive way…
HATCHET ARMY Soldier Joe and Victor Crowley himself (Kane Hodder) wore their colors proudly…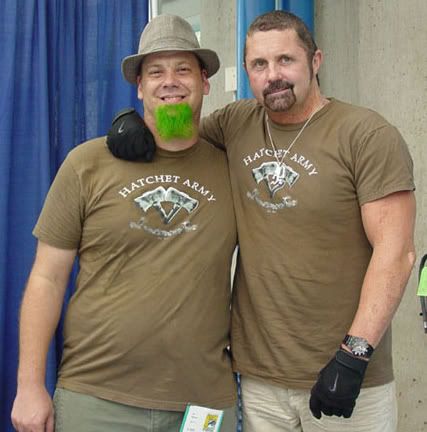 And Rileah and Deon represented the HATCHET ARMY as well…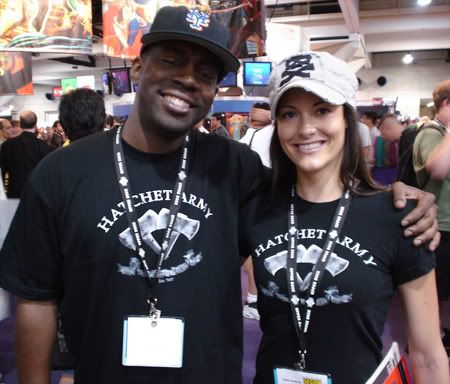 The partying continued deep, deep into the night.  It was a great time and I got to meet everyone from the coolest of die-hard fans, to journalists I admire, to big-time celebs.  At 1:30am though- the bars were closed and the party was supposed to be over.  That is until Jon from Anchor Bay decided that he would take a cab to the store and bring back some more drinks for everyone back at the hotel.  It sounded like a good idea at the time…
So we're all standing outside of the hotel waiting for Jon to get back when we see his cab approach.  He jumps out (in front of a crowd of DOZENS of people) and triumphantly holds up a huge bottle of Jack Daniels.
Jon: "Look what I got- – -"
CRASH!!  He drops it on the ground next to the cab and we all watch (and laugh) in horror as his efforts spill out all over the ground in front of him.  Honestly, it was worth it.  As frustrating as it must have been for our friend Jon- watching that happen was WAY more fun than drinking it ever could have been.  It made him the MVP of the weekend.
The next morning I was off and running back to Los Angeles to co-host Dee Snider's radio show on Fangoria Radio.  (You can listen to sound bytes at www.fangoriaradio.com) And then I found myself with 2 days free to get my life in order and again, frantically work on my non-HATCHET related projects.
But the July leg of the tour was still not over.  The world premiere of IT'S A MALL WORLD still had to happen.  The short film series was premiering on MTV the next night- so American Eagle Outfitters threw a HUGE star-studded gala premiere at the Cinerama Dome in Hollywood.  It was insane!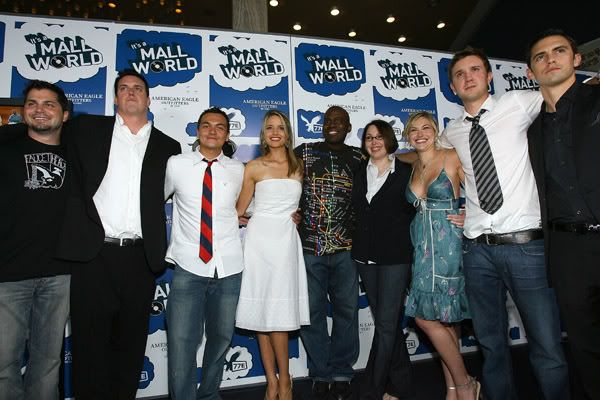 Limos, stars, and tons of friends all filled up the giant dome on Sunset Blvd. and we watched about 8 or 9 of the 13 short films together as an audience.  They played great and the audience laughed their heads off.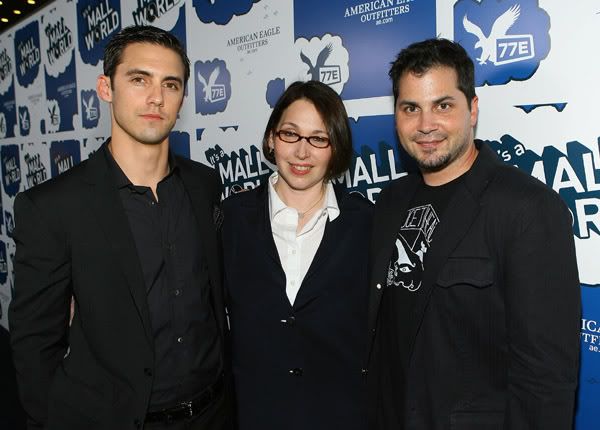 Director Milo Ventimiglia, American Eagle's Kathy Savitt, and Writer Adam Green
I was happy to see my HATCHET family members also show up to the premiere and represent the movie on the carpet…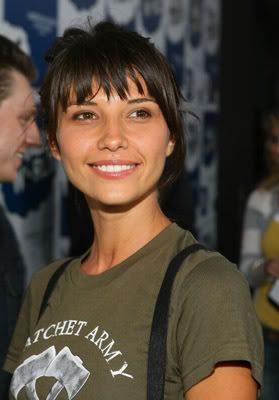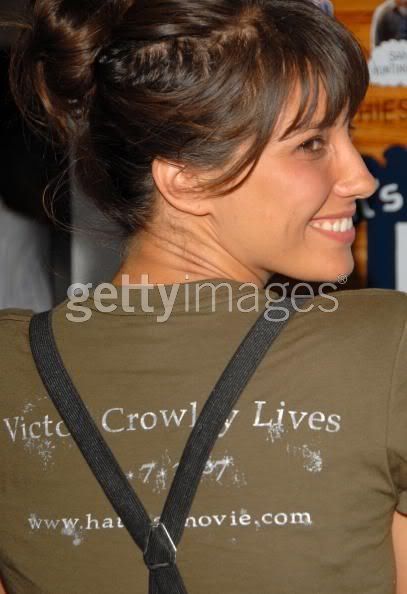 After the premiere we celebrated deep into the night and from what we have been hearing- the short film series is getting an unbelievable response both from MTV's viewers and the Amercian Eagle website viewers.  We are already talking about bigger and bigger things for the future…
As I prepare to take a much needed 5 days off at an undisclosed location with Rileah…I wanted to leave you with the first episode of MALL WORLD (for those that didn't catch it yet.)  August will find me over seas again and it will be the hardest, craziest days for me yet.  Just 5 more weeks until Victor Crowley is unleashed on American theaters.  Will the fans really rally and show up?  Will we be the triumphant story of the little indie that showed Hollywood how to do horror?  That's all up to you guys…
Love and gore to you all!  Be back on in a few…
-Adam
Click here to watch the first episode of IT'S A MALL WORLD: http://youtube.com/watch?v=CdoldVm8V5E
Episodes can be seen Wednesday nights at 10pm during MTV's REAL WORLD SYDNEY and on www.ae.com .