By now you've probably noticed our fancy new website. Not bad, right?? Best of all is the all new BUY STUFF page where we've not only answered your requests for HOLLISTON and HATCHET ARMY shirts but also provided you with a shot at getting your hands on some of the very rare (and very cool) over-stock that we found in the ArieScope vault- like CREW shirts that were made as gifts to the cast and crew of various projects. Sometimes crew shirts go unclaimed or extras are printed up to fulfill a minimum quality requirement by the printer and they go into storage when the production is finished. After careful consideration we decided that these rare shirts would really look a lot better on our fans than in our storage unit- so here's your chance. Quantities and sizes are extremely limited and what you see is what we've got- so act fast if you want to get your horror loving hands on one of these things! Once they're gone… they're gone.
More stuff will be added soon (some really, really GREAT stuff!) but we're… you know… kind of busy these days. HOLLISTON Season 2 launched tonight, HATCHET III opens next week, I've been touring my ass off since March doing conventions and appearances, I launched a new weekly podcast with Lynch, I put on a 3-day fundraiser back in my hometown of Boston to help out the victims of April's horrific marathon bombings (we raised $15,000.00, you guys!!), and each day brings endless hours of press to promote all of these things. Point is, I'm busy – but I couldn't be happier and I'm so very lucky to be so busy and in demand. I'm overdue for a massive blog update, I know. Soon! Promise.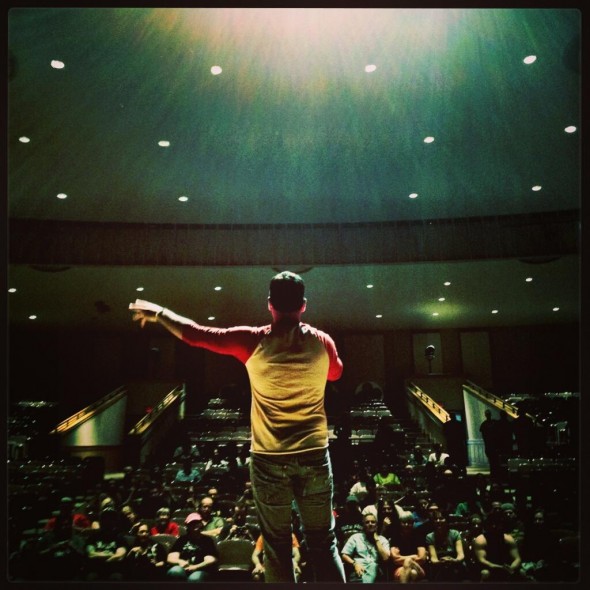 On stage, getting ready for "HOLLISTON Comes Home to Holliston, MA" to begin. May 28th.
But for now I hope you're enjoying Season 2 of HOLLISTON, I hope to see ALL of you in the various LIVE FAN CHATS the cast and I do each week, I hope you're as excited as I am for HATCHET III to come out (select theaters and VOD next Friday June 14th!), and I hope you enjoy checking out our new website. It was designed by John and Nicole Anguish (remember that name… "John Anguish" … HOLLISTON's upcoming episode 2.4!) who have taken care of all things WEB for ArieScope for a solid 15 years now and we love them dearly.
Be back with a new blog as soon as things calm down a bit. Two more weeks of crazy to get through and then I'm gonna drop off the face of the earth for a week or two while I recover, heal from the damage I've inflicted upon myself, and spend much needed time with family.
See you on the LIVE CHATS! Love, Holliston, and Hatchets to you all!
"In Market Basket We Shop."
-AG