ArieScope's new movie DIGGING UP THE MARROW will open in Los Angeles on Friday February 20, 2015 exclusively at the Laemmle NoHo 7 in North Hollywood, CA.  While the film also hits Video On-Demand everywhere in the United States that very same day, as UK Horror Scene said it best, "DIGGING UP THE MARROW is a film that demands to be experienced" and we know just how badly fans want to have that experience in cinemas for themselves.  Well, we have good news and even better news…
The good news is that DIGGING UP THE MARROW will expand to theaters in 9 additional cities across America for extremely limited engagements on Thursday March 5th!  The exact cities and theaters will be announced soon.
The even better news is that ArieScope Pictures and Zerofriends are going to bring DIGGING UP THE MARRROW out on tour in the week leading up to the film's February 20th U.S. theatrical and VOD release!  The "Touring Through the Marrow" U.S. Tour will come to five U.S. cities and will be an incredible, one of a kind event that will include a theatrical screening of the film, a Q&A with Adam Green and Alex Pardee, a traveling gallery of the artwork from Pardee's original 2009 "Digging Up The Marrow" exhibit that inspired the film, one of the actual monsters from The Marrow "in person", the chance to get exclusive "Touring Through The Marrow" merchandise, and more!  Exact cities, dates, and other details including special VIP ticket options will be made available very soon… as will the film's official theatrical trailer, of course.
DIGGING UP THE MARROW hits DVD and Blu-Ray in the U.S. on March 24th, but you can pre-order and support us directly by securing your own copy right now, right here.  As our way of saying "thank you" for supporting us directly, every copy purchased through ArieScope's on-line store comes autographed by the film's writer, director, and star Adam Green.   So dig deep and buy your copy of the film that Flick Feast says "taps into primal fears that you didn't even know existed", that UK Horror Scene calls "one of the scariest films of the last two decades", and that Harry Knowles of Ain't It Cool News declares "will change the way you view the world."  Please help our world continue to exist by supporting our most personal film to date and purchasing your DVD or Blu-Ray copy directly from us.  Every sale truly matters and every time you steal a movie a baby puppy dies.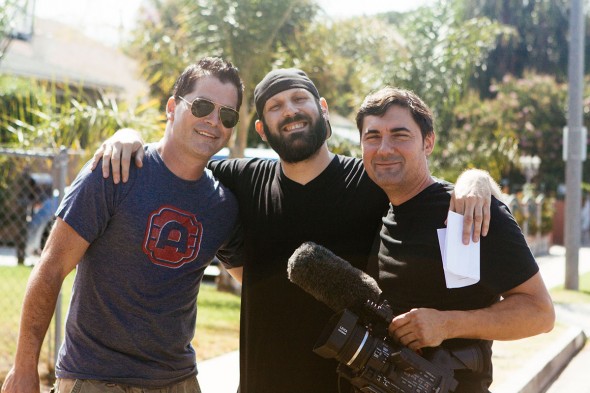 Adam Green, Alex Pardee, and Will Barratt on set of DIGGING UP THE MARROW (2013).