GEEK NATION'S "MOVIE CRYPT" HOSTS ADAM GREEN & JOE LYNCH TO MAKE SPECIAL APPEARANCE AT DOUBLE FEATURE OF DIGGING UP THE MARROW & EVERLY
Alamo Drafthouse Austin Hosts Screening & Live Podcast!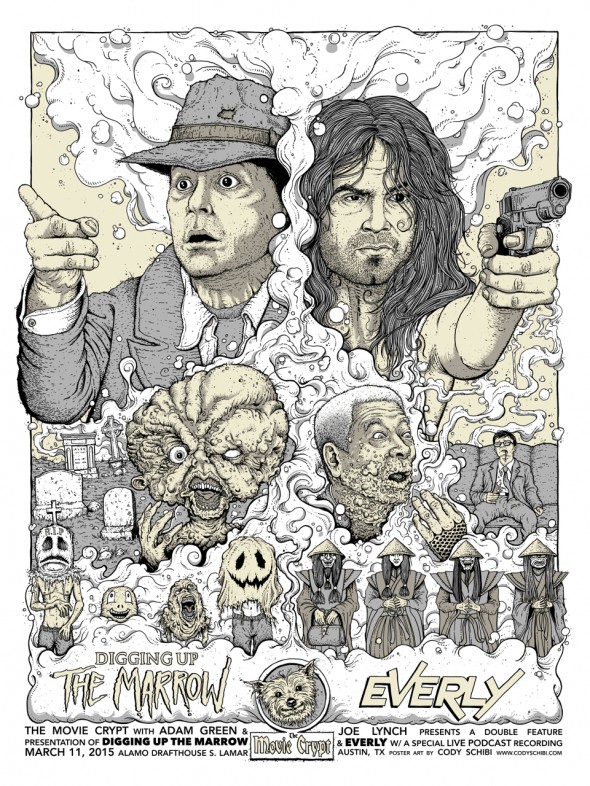 Adam Green as "Dekker" and Joe Lynch as "Everly"
LOS ANGELES, CA – The famed Alamo Drafthouse South Lamar Theater in Austin, Texas will host a very special evening with filmmakers Adam Green (FROZEN, the HATCHET series) and Joe Lynch (WRONG TURN 2, KNIGHTS OF BADASSDOM) where they will present a rare double feature of their new films. First up is the terrifying meta-horror of DIGGING UP THE MARROW starring Green and Ray Wise, followed by the thrilling insanity of EVERLY, starring Salma Hayek, making for the most unlikely of double features.
Between the films, Lynch and Green will record, for the first time, a LIVE episode of their highly popular "Movie Crypt" podcast produced by GeekNation; discussing their filmmaking process, a Q&A and giving a rare insight into the world of modern genre cinema. Green and Lynch also will be on hand after the show for a meet and greet with the audience.
A limited edition one-sheet by acclaimed local Austin artist Cody Schibi (seen above) will be available for sale at the event which the hosts and artist will be available to sign.
Two killer movies…the loudest audience in the US…it's going to be a hell of a night!
Tickets are on-sale now here.
Austin Fans of Lynch & Green's "Movie Crypt" podcast should listen on Monday, March 9 at GeekNation.com, as the hosts will be giving away a pair of tickets to the event!
Go to www.geeknation.com/podcast/the-movie-crypt and tune in!
Media Contact: Rachel Madison Hill Madison Hill PR
madisonhillpr@gmail.com  310.461.8324 office / 323.445.0425 mobile