ArieScope and Source Point Press announced the HOLLISTON comic book "FRIENDSHIP IS TRAGIC" today at Chicago's C2E2 convention.  Due out in stores this Fall, the comic book follows your favorite characters from the TV show ("Adam," "Joe," "Laura," "Corri," "Lance Rockett," and MORE) in an all new adventure!
HOLLISTON comic book character drawings by Stephen Sharar
Logline: Adam, Joe, Laura, and Corri are about to discover just what their friendship can handle when Adam finds a cursed credit card and buys his friends some Halloween gifts.  The presents are perfect… a little TOO perfect.  Soon mad killers, giant monsters, and evil aliens are on the loose, as well as the deadliest threat of all… success!  Will the gang sell out?  Will they ever speak to each other again?  What's the return policy for cursed credit card purchases?  Find out in HOLLISTON: "FRIENDSHIP IS TRAGIC."
Produced by Source Point Press and ArieScope Pictures, the comic book was overseen and approved at each step by HOLLISTON's creator, show-runner, and star Adam Green.  Written by Greg Wright, Pencils and Inks by Stephen Sharar, Colors and Letters by Joshua Werner, and Editing by Travis McIntire.
If you're at C2E2 this weekend, stop by the Source Point Press booth right away and grab yourself one of these limited HOLLISTON convention exclusive art prints while supplies last!  And don't fear, West Coast!  Source Point Press will also have convention exclusive art prints available at DAYS OF THE DEAD in April.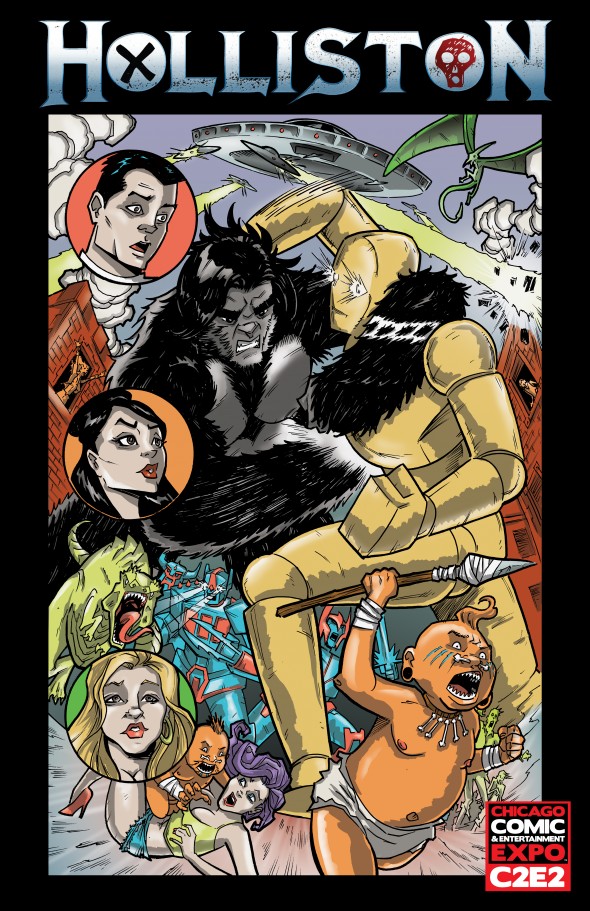 Limited convention exclusive art print available at C2E2 in Chicago this weekend!
Stay tuned for the exact retail release date and details on how you can pre-order your own copy (autographed by cast members!) directly from ArieScope.com.
***********
Source Point Press is a Detroit-based publisher of horror, supernatural, occult and pulp comics, novels, and art books.  Founded in 2012 by Joshua Werner and Trico Lutkins, Source Point Press paid their dues on the convention circuit, slowly churning out titles.  That hard work has paid off as they find themselves as one of the fastest growing small press publishers in the industry.