WE DID IT!
This past weekend (August 5th – 7th), Joe Lynch and I performed a 48-hour live marathon of our popular podcast "The Movie Crypt" to benefit SAVE A YORKIE RESCUE; a small, fully charity based, volunteer-run dog rescue that takes in abandoned Yorkshire Terriers (many of which have been severely abused or neglected), fosters them, provides them with direly needed medical care, and ultimately places them in permanent, loving homes with forever families.  The broadcast went for 48 hours straight and included everything from celebrity interviews, film commentaries, live script readings of never before heard/seen material, musical performances, comedy performances, and so much more.   When all was said and done we raised just about $13,480.00 for the Rescue!  (The final amount will likely be a little closer to $14,000 as donations continue to trickle in but at the time of this blog post it's $13,480.  When we signed off it was at $13,380 – thus the photo above.  Point is – it was a major success!)  In the 14 years that SAVE A YORKIE RESCUE has existed, this is by far the most money an event has ever raised for them.  EVER.  Joe and I were secretly hoping for $10,000 to be raised – but we wound up beating that amount which was an incredible feeling.  However, before I get into the weekend re-cap… just a couple of things to address:
1.) Why do all of this for a rescue that specifically works with Yorkshire Terriers when there are thousands of other dog rescues out there that work with all breeds?  That answer is simple.   There are a zillion charities out there for every cause you can possibly think of but the reality is that we could only chose one charity to do this event for.  We chose SAVE A YORKIE RESCUE because A) I had worked with them once before and I already knew very well exactly who they are and what amazing work they do… B) Our podcast's mascot and the face of our show for the past 3 years has been my own Yorkie Arwen… and C) SAVE A YORKIE RESCUE is a small organization that desperately needs help.    Joe, myself, and our families have always owned rescued dogs of ALL breeds and while it would have been nice to be able to help every person or animal who needs help- in the end we had to pick just one specific organization to do this for.  I had first gotten the chance to work with SAYR when I participated in an auction to benefit the Rescue that was held at the Monster Mania convention in 2015 organized by a wonderful man named David Hagan.  I auctioned myself off for a date, matched the price I went for, and also auctioned off a screen-used prop from HATCHET 2.  Together we raised about $7,000 for the Rescue which (until this past weekend's "Movie Crypt" benefit event) was the most money a single event had ever raised for them.  Getting to meet Marilyn Faughner (who heads the rescue) and meet several other volunteers/foster parents as well as a handful of the Yorkies they were rescuing was the highlight of that convention appearance for me and I've kept them and what they do on my mind ever since.  When Joe and I first started talking about the idea of doing a charity marathon live podcast it was shortly after I had returned from Monster Mania – so we very quickly settled on doing this event in honor of SAYR as it was kind of a no-brainer.  Besides, Arwen's vote count's for 1/3rd of all decisions we make with the podcast – even though we have yet to honor her request of bringing Lassie, Benji, Snoopy, or Brian from FAMILY GUY on the show yet.  Although, we did reach out to Old Yeller around Christmas time last year.  (He was tragically unavailable.)
2.) Where did the money go and how much did you guys get from it?  Every dollar went directly to SAVE A YORKIE RESCUE and we didn't make a penny on it.  In fact, we spent a lot of our own money putting this event on.  We used our own resources, we provided food and drinks for all of our guests, and we even made donations to the Rescue ourselves just like we were asking our listeners to do.  Sadly, even when you try and do something good there's always some bitter person out there ready to try and accuse you of somehow profiting off of it because, after all, how could another human being possibly be that generous when they themselves are not?  That's why we had the Rescue set up the donation site on YouCaring.com themselves.  All donations went directly to them and we never even had to touch it.  Several artists even held their own auctions where the money made off of their work was donated to the Rescue (THANK YOU, GUYS!)- but to protect ourselves from being accused of making something off of the event we had each artist hold auctions on their own and then make the donations themselves through YouCaring.com.  If you were listening to the broadcast you likely heard when Bill Moseley (bless his soul) handed me a fifty dollar bill for the organization.  I instantly made a $55 (I added $5 for the YouCaring donation site) donation live on the air and added that it was from "Bill Moseley" in the comment section next to it.  You can look through the donations there and see it.  Point is- this was all for charity and all done out of love.
3.) "The Movie Crypt" averages at least half a million listeners or more each week.  Didn't you expect the final total raised to be even more than it was?  Here's the reality: you can't expect everyone to give.  You just can't.  By comparison, millions and millions of people would watch the annual Jerry Lewis telethons every year and enjoy the wonderful entertainment that Mr. Lewis and his team would put on… but only a few thousand in that audience would actually pick up the phone and donate.  It's charity and you can't expect or demand your audience to give money.  They have their own reasons for how they operate and all you can do is be grateful for the ones that were able to help.  With "The Movie Crypt", a huge portion of our audience listens to the weekly podcast on iTunes or other streaming services that (for technical reasons) the live 48-hour broadcast was not carried on.  In fact, most of our audience is not used to listening to us directly on the GeekNation website so we always knew that there was no way that our entire regular audience was going to tune in for this.  But we were overjoyed by just how many did!  When it comes to the donations, please keep in mind that while our show may have a very large weekly following only a tiny percent of our audience has ever donated to the program to help us keep it going (the "Tip Jar" or the "Feed Arwen A Treat" option here on ArieScope.com).  Most of our regular listeners do not even support our various films when they come out by paying to see them legally.  Some listeners even make it a point to let us know that they pirate/torrent/steal our work – as you've likely heard us get into debates about on the show in the past.  This is just the society we live in today.  So are Joe and I disappointed that only about 400 of the tens of thousands of people listening this weekend actually donated to the Rescue?  Honestly?  Kind of, yeah.  I mean, can you imagine if every regular listener had listened and donated even just $5??  But given our experiences dealing with the public when it comes to donating to our program or with our audience paying to see our films legally… our expectations were extremely realistic with this event and we had therefore set $10,000 as our personal goal for when all was said and done.  Again, it's charity and everyone has their own reasons for whether they give or not.  Some simply can't.  Some simply don't want to.  Some already give all that they can to another charity that they work with.  You can't focus on those who didn't give, you can only be extremely grateful for those who did.  And MAN are we grateful!!!!  SO GRATEFUL!!!  This was the very first time we had attempted something like this.  For all of the hard work, technical hurdles, scheduling complexities, and other limitations… we still can't believe how well it worked and Joe and I are just as ecstatic as the Rescue is with what we ultimately raised!  So to those fans who have posted comments aimed at those who didn't give anything- I ask you, please don't focus on that.  Focus on this:  Not only did we all have an incredible time (performers and listeners alike) but because of this event there are now dogs out there who were suffering in unimaginable ways just last week but who this week will be able to get the medical attention they need, medicine to relieve their pain, operations to save their eyesight, and/or procedures to save their legs.  So many dogs are now going to have good food, fresh water, warm beds, and loving foster families who will be able to take care of them and love them until they can place them with their permanent families in their forever homes.  These unfortunate dogs no longer need to suffer, to feel un-loved, or to live in fear of the "person" who was supposed to take care of them but who instead abused, neglected, or abandoned them.  TOGETHER WE MADE A LIFE-CHANGING DIFFERENCE TO SO MANY ANIMALS AND TO THE PEOPLE WHO ARE SO GENEROUSLY GIVING EVERYTHING OF THEMSELVES TO HELP THEM.  Isn't that wonderful??  I certainly think so.
With that business out of the way, let's re-cap and celebrate just what an incredible weekend we had!   The event began with a phone conversation with Marilyn Faughner from SAVE A YORKIE RESCUE who spoke about how the Rescue began, what they actually do, and how they've saved the lives over 3,000 dogs to date.  Then we kicked things off with a visit from our good friends Seth Green (FAMILY GUY, AUSTIN POWERS) and Clare Grant (WALK THE LINE, HOLIDAYS) – who are the very people that brought "Arwen" into my life in the first place.  We laughed, we talked comics, we talked geek culture, we talked about their cats, and we talked about just why having a pet in your life can change everything for the better.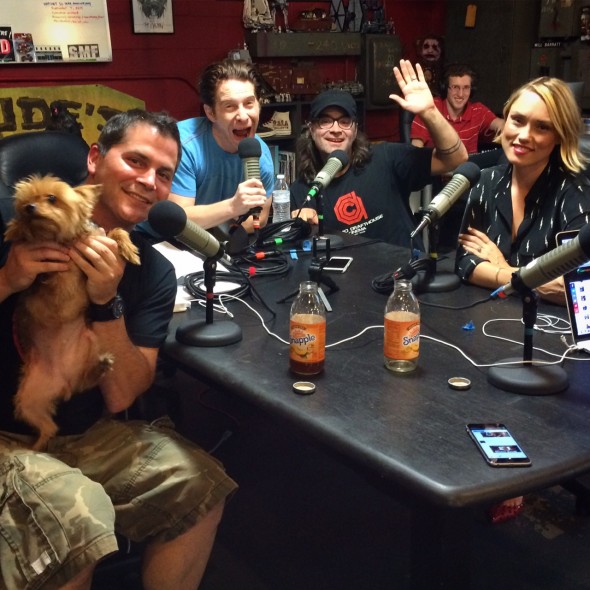 After that, our friend (and patron Saint) Rudy Sarzo (bass player for such acts as OZZY OSBOURNE, QUIET RIOT, WHITESNAKE, and more – plus a best-selling author with his autobiography OFF THE RAILS) came by to join and inspire us.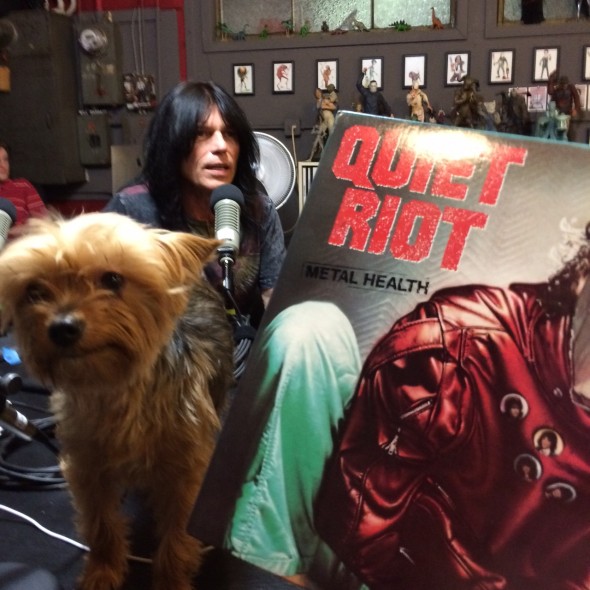 Then we were joined by comedians Kelly Vrooman (THE CHICA SHOW) and Lauren Pritchard (MAD TV) who made us laugh with their unique brand of improv comedy and songs that they made-up and sang for us on the spot.
Actor/comedian Jonah Ray (MYSTERY SCIENCE THEATER, HIDDEN AMERICA) joined us as Friday night turned into Saturday morning and we even played the first of two HADDONFIELD songs that we would play over the course of the weekend.  (HADDONFIELD was my band before my movie/TV career took off and since so many fans had been asking to hear it we added an incentive where we would play a song once we hit $3,000 in donations and then another once we hit $5,000.)  The response to the first song we played ("Broken") was far beyond what I ever would have expected and I was severely humbled by all of the kind messages and the love that the song received.  "Among The Dogs" (the second song) received an equal amount of love and it seriously made my night!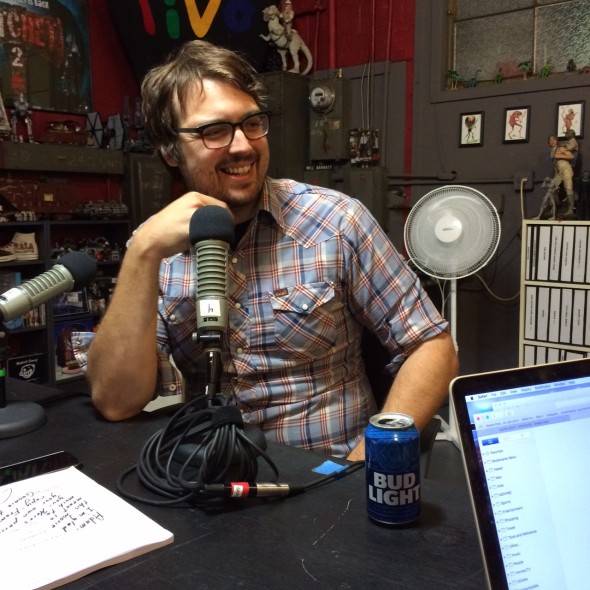 Next up was a live reading of my never before seen/heard un-produced 2004 screenplay for CABIN FEVER 2 performed by myself, Joe, Sarah Elbert, Sean Becker, Paul Romero, Lauren Lbylski, Matt Monroe, Channing McKindra, and Amelia Brantley.  This event was extremely nerve-wracking for me given the behind the scenes political producer fiasco that had happened with CABIN FEVER 2 (check out our friend Ti West's episode of the podcast to hear the whole story for why my script was never made) and 12 years later I was nervous about how it would go over.  Furthermore, I had never even met some of the actors who performed the roles until that very moment!  I had met actress Channing McKindra and actor Paul Romero on the set of an upcoming top-secret TV project that we shot a few weeks ago and when Paul heard Joe and I discussing the Yorkie Benefit he graciously offered to ask some of his actor friends to help us with the 2am reading.  (Trust me, it's not easy asking people to come in at 2am!)  Every single one of them rocked the reading and the response from fans was just incredible!  You can only imagine my relief when it was over (around 4am) and I started reading messages from listeners saying just how much they enjoyed it.  Best of all, we made some new (and very talented) actor friends to keep in mind down the road!  We loved them ALL.
After that, make-up FX artist Robert Pendergraft (HATCHET 1-3, DIGGING UP THE MARROW) joined us for a demonstration on how to create prosthetic molds from scratch and how to make your very own fake blood.  We also broadcast this segment on GeekNation's Facebook video feed so that fans could watch along and learn.  There was much ball-busting and Robert even brought Joe and I some McDonald's to help refuel us as night turned into day and the sun came up in the sky outside. (Note: big mistake eating that, but do any of us ever really learn?)
Up next we had our first of two "ArieScope Princess Story-Time Readings" as adorable ArieScope intern Casey Hempel read best-selling author Joe Hill's short story "Last Breath" which Hill had generously allowed us to read on the air as part of the benefit.  Casey did a phenomenal job reading the story and hearing a scary story read in Casey's "Disney Princess" voice only made it all the more fun!  Think it's easy to read 24 pages out loud in front of thousands of people and not make a ton of mistakes?  Try it sometime!  Casey did an incredible job.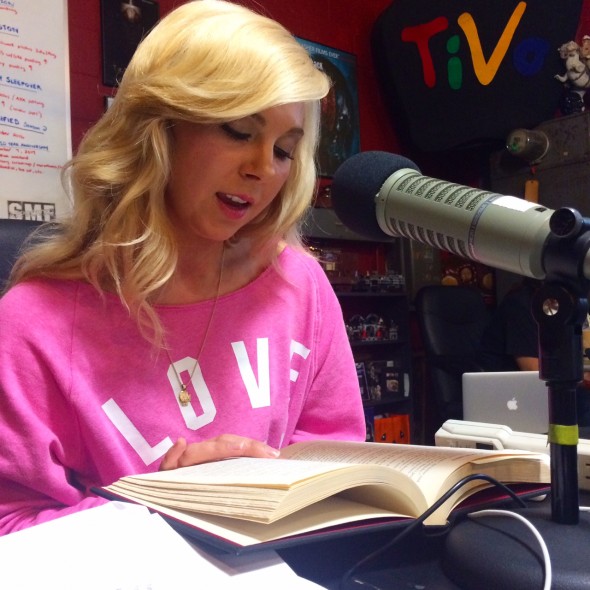 When story-time was finished, musician and actor Brendon Small (METALOCALYPSE, HOME MOVIES) shared his career story with us which was fascinating to say the least.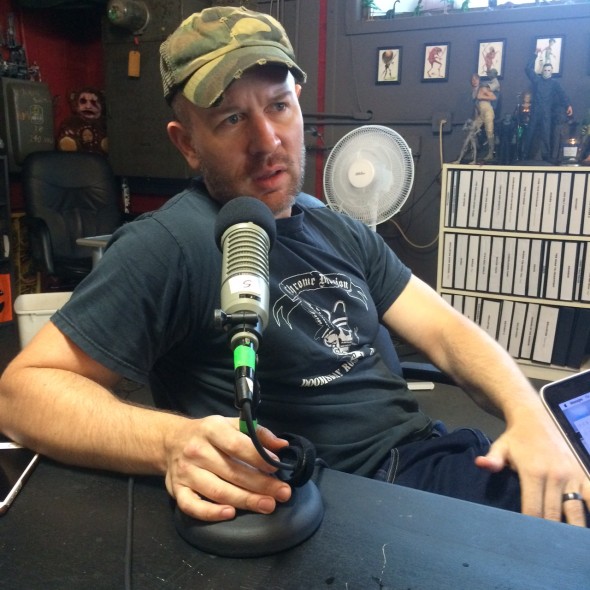 Things really turned up a notch when musician/writer/jack-of-all-trades Jesse Snider (BAPTIZED BY FIRE, solo artist) and guitarist Ira Black (METAL CHURCH, WESTFIELD MASSACRE) blew us away with musical performances of Jesse's song "Juggernaut" ("The Movie Crypt's" theme song) and a cover of "Rooster" by ALICE IN CHAINS that would please even Layne Staley himself.  It just may have been one of the greatest performances of the entire weekend but there's more to it that you DIDN'T see/hear!  You may have heard Jesse mention on-air that his wife Patty was expecting to give birth to their 4th child "any minute now" and… on Sunday while we were in the middle of our commentary for THE DEVIL'S REJECTS Jesse sent me a cell phone video FROM HIS CAR where Parker Pride Snider had just been born (right there in the car while stuck in traffic in on the 405!) as they were driving Patty to the hospital to give birth!!  INCREDIBLE!!!  Yes, a baby was born during the broadcast event this weekend and Parker Pride Snider and family are all healthy and doing incredibly well!  Honestly, Jesse's performance on the program was just SO good that Parker couldn't wait to join us in this world.  Insane.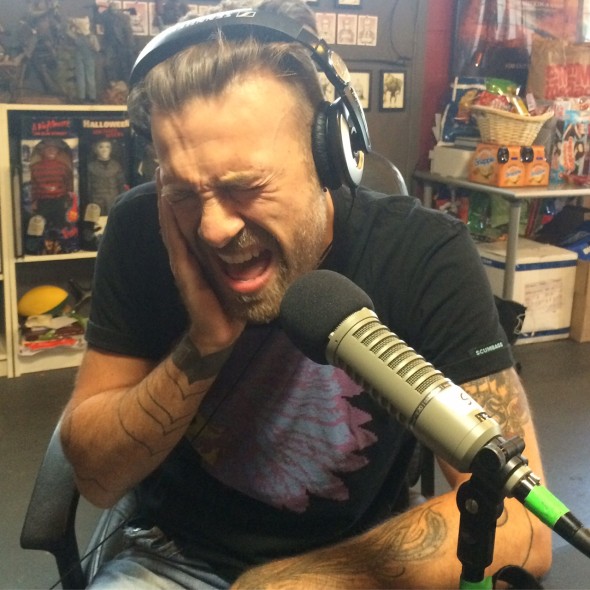 Comedian/actor/director Dave Anthony (MARON, VEEP, ARRESTED DEVELOPMENT) joined us after that and gave us an extremely funny and incredibly insightful 2 hour interview that we will very likely be releasing as its own episode down the road.  "Argh!  I'm a pirate!"  (You had to be there.)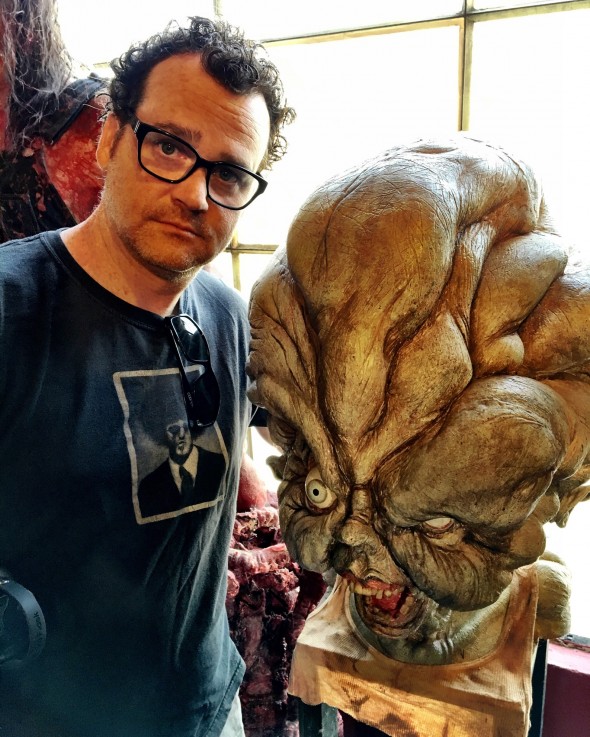 In the most moving segment of the weekend broadcast, clairvoyant Marilyn Kapp sat down with us and an unexpected but incredibly awesome special guest (Joe's father who passed away almost 7 years ago) joined us along with our dearly departed friend Dave Brockie (GWAR, HOLLISTON who passed away in 2014) who had a heartfelt message for the fans.  Again… you had to be there to believe it.  But tears were shed both in the ArieScope studio and in thousands of the homes around the world that were listening to this wonderful interview.  (Kicking yourself for missing it?  A) You should be and B) I told you so for weeks leading up to this!  Marilyn Kapp is legit!)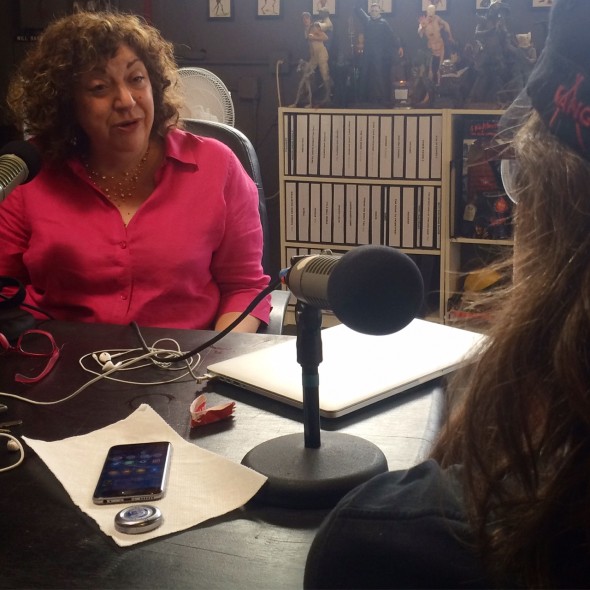 After our emotional visit with "the other side", writer/director Bernard Rose joined us for a truly awesome CANDYMAN commentary in which we were (almost) speechless as he enlightened us with all kinds of stories and information about the making of the film.  (We'll likely release this commentary again someday – it was that good.)  When Bernard left, actor Michael Gladis (MAD MEN, FEED THE BEAST) gave us a heartfelt 2 hour interview about his career that included terrific advice on how to not only handle but use career disappointments that are beyond your control in a positive way.  (Again… you might be hearing this interview as its own episode someday down the road as we feel it's an important one for every listener to hear and Michael had never done the program before this event.)
We billed it as our "centerpiece event" and it definitely lived up to that label in spades as our GOONIES live reading was nothing short of spectacular.  Writer Chris Columbus gave us permission to read his never-before seen/heard early (and very different) version of his iconic screenplay and we assembled an incredible cast to read the script live and let "Goonies" all over the world hear a version of the story that would eventually become one of the most beloved films of all time.  Joined by Parry Shen (HATCHET 1-3, GENERAL HOSPITAL), Felicia Day (THE GUILD, SUPERNATURAL), Jonay Ray (again!), Joel David Moore (AVATAR, HATCHET), Deon Richmond (HATCHET, NOT ANOTHER TEEN MOVIE), Michael Gladis (again!), Felissa Rose (SLEEPAWAY CAMP), Deanna Rooney (HIDDEN AMERICA), Joe, myself, and our incredible narrator Nicholas Mennell (FRIDAY THE 13th 2009, HALLOWEEN 2007)… the reading was an insanely fun time.  Listeners were massively entertained by everyone's wonderful performances and by just how different the early draft actually was from the final shooting script.  (No, this will not be re-broadcast.  You had to be there.)  Huge shout-out to Felissa Rose who stole the show with her interpretation of "Mama Fratelli" and had us all on the floor laughing!  Actress Anne Ramsey (may she rest in peace) would be so, so proud!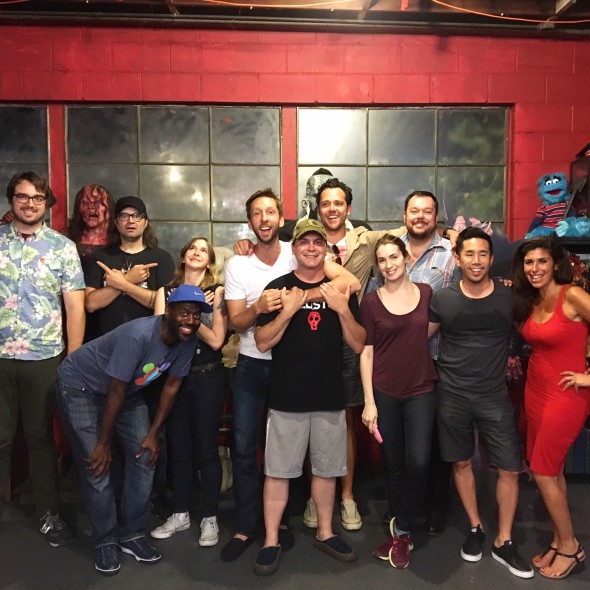 Musician Jason C. Miller (GODHEAD, solo artist) played us some truly amazing songs after that and we were sad to see him go as we could have listened to him sing forever!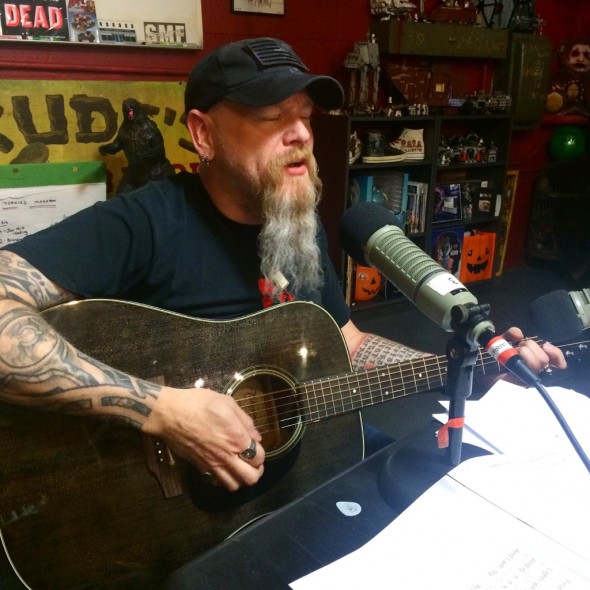 Up next it was time for laughs (and laughs, and laughs, and laughs) as THE RESISTANCE improv group (including podcast favorite Derek Mears and the hilarious Kurt Scholler, Ryan Marsico, Justin Michael Terry, and Jason Murphy) improvised a hilarious Sci-Fi movie on the mics before our eyes and ears.  Again… you had to be there!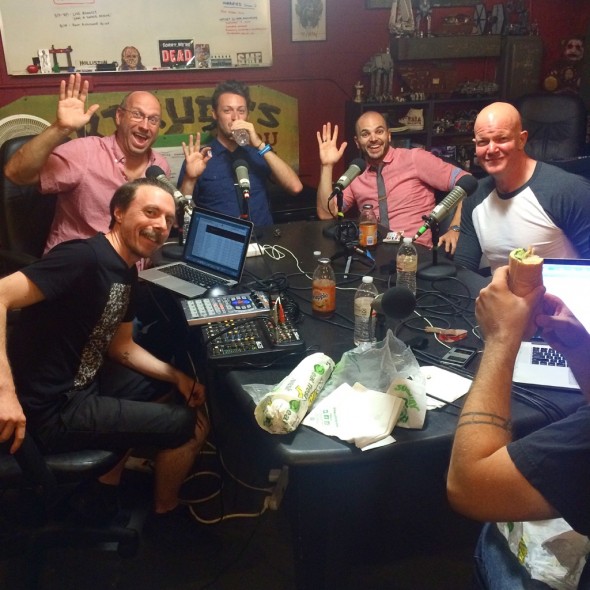 Our good friends directors Dave Parker (THE HILLS RUN RED) and Spooky Dan (the upcoming SLAY BELLS) dropped by to discuss the horror movies that made our childhood's awesome (and to bring us donuts and soda!) before guitarist Ace Von Johnson (FASTER PUSSYCAT) joined us for an interview and a terrific musical performance where I joined him on singing the classic PUSSYCAT ballad "House Of Pain."
ArieScope's own Sarah Elbert (HATCHET 1-3, HOLLISTON) helped us usher in the sunrise with super fun tarot card readings for Joe, myself, Ace, and even Arwen!  Then Hitfix editor in chief and screenwriter Drew McWeeny (MASTERS OF HORROR, FEAR ITSELF) joined Joe and I for a geek-tastic commentary to John Carpenter's THE THING – that yes, one day we will release as its own commentary episode for sure.  Props to Drew's girlfriend Lisa who sent us some of the best brownies that we've ever tasted!  The sugar rush helped us keep going and the commentary was an absolute blast.
For our second "ArieScope Princess Story-Time Reading", Casey Hempel read Clive Barker's SCAPE GOATS- a disturbing story made extra awesome by Casey's innocent and chipper voice and she once again absolutely killed it!  THANK YOU to Clive Barker who so generously gave us permission to read this wonderful story from BOOKS OF BLOOD Vol 3!
Writer Todd Farmer (JASON X, DRIVE ANGRY) joined us next.  Todd's episode of "The Movie Crypt" is still one of the audience's favorites almost 3 years later and his interview on the live broadcast was another one for the books that received tons of incredible feedback from listeners.  His daughter Izzie even drew Joe and I an awesome picture to say "thanks" for what we were doing to save dogs: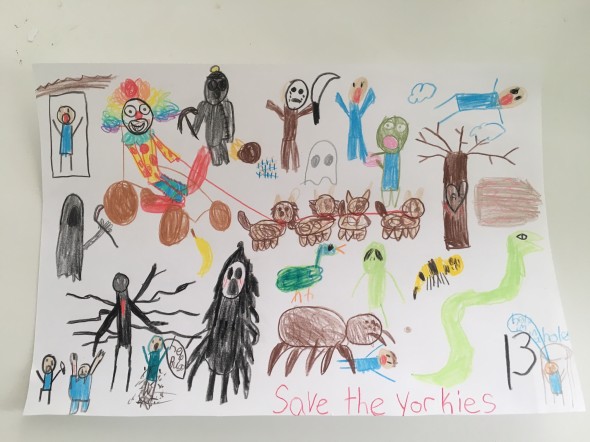 Up next was a commentary for FRIGHT NIGHT (1985) with legendary master of horror, writer/director Tom Holland.  Tom shared so many incredible stories that Joe and I had never heard before about the making of one of our favorite movies and his insight on the business (then and now) was priceless.  He was amazing!  Right as Tom left, filmmaker Darren Lynn Bousman (SAW 2-4, REPO! THE GENETIC ROCK OPERA) and writer Clint Sears (TALES OF HALLOWEEN) joined us to discuss filming in Japan and their upcoming Japanese series CROW'S BLOOD.  As always, Bousman pulled no punches and the conversation was incredibly honest, compelling, and insightful.  Darren's episode of "The Movie Crypt" is one that we consider a turning point for the podcast and the moment where it became the show that it is today.  His interview during the live marathon was once again one of the best.
For our final commentary of the weekend, genre icons Sid Haig and Bill Moseley joined us to discuss the making of THE DEVIL'S REJECTS.  They were both incredible and full of information (Sid did a great job continuing to speak even as Arwen smothered him with dog kisses the entire time as apparently Sid Haig tastes great!) and this is yet another must-hear entry in our "Movie Crypt" commentary series thanks to the artists' terrific insight coupled with the unbridled love of the film that Joe and I share.  Perhaps we'll release as its own episode someday.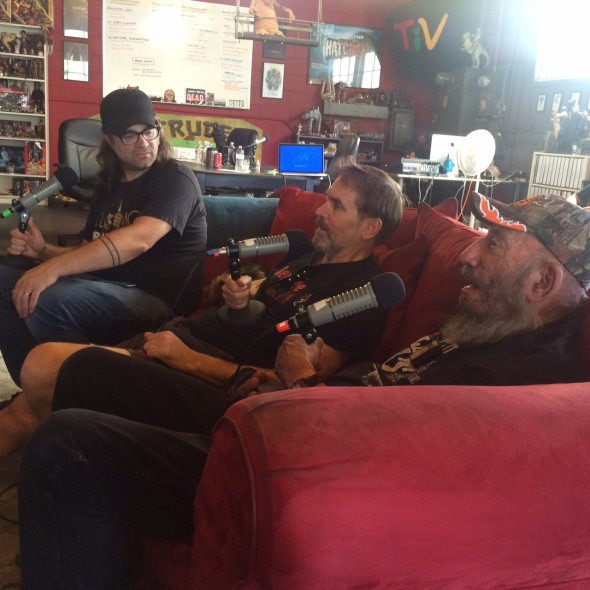 So what do you do for a grand finale in a weekend this unreal?  I'd like to think that we found a way- and judging by the overwhelming fan response it looks like we did.  We finished with a live reading of a new episode of HOLLISTON (from the upcoming 3rd season) performed by the cast.  Joe and I were joined by our cast mates Laura Ortiz, Corri English, and Paul Solet while director Sean Becker read the narration/exposition.  (Sadly, Dee Snider was in Germany performing with TWISTED SISTER or else he would have been there with us.)  The reading was extra special as it marked the first time that our cast has performed an actual new full-episode together since the tragedies of 2014 when we lost our dear brother Dave Brockie.  As I stated in the days leading up to it, no- this reading will not be rebroadcast.  It was meant to be something special to raise money for the Yorkie Rescue (and boy, did it- as we received more donations during the HOLLISTON reading than any other event of the weekend!) and we don't want to spoil an episode for too many fans this far in advance.  So if you were listening- you heard it.  If you missed it – you'll just have to keep waiting until you eventually get to SEE it.  (And like I said on the broadcast- for those fans who heard it… shhh!  Don't spoil anything on-line as the episode we chose to read revealed answers to several cliff-hangers from the end of Season 2!)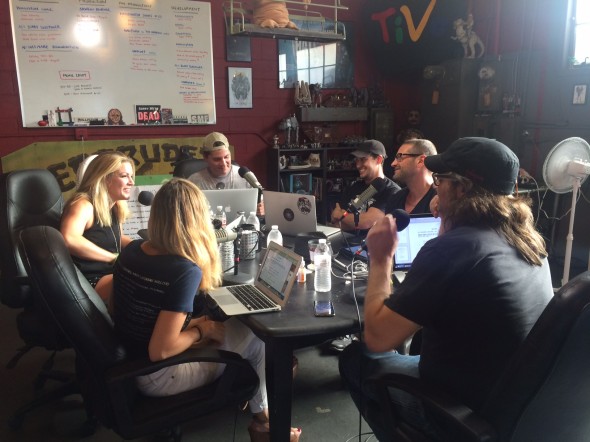 We ended with a final phone call to Marilyn Faughner who expressed her deep and heartfelt appreciation to us, to our guests, and to everyone who donated and made this the biggest and greatest fundraiser that SAVE A YORKIE RESCUE has ever had.
As exhausted as we all were- in a weird way it was very emotional to stop the broadcast and acknowledge to ourselves that it was over.  A year in the making, 3 months of incredibly hard work in the planning, and 48 hours of fun, laughs, tears, and NO-SLEEP… Joe and I were simply overwhelmed by the end.  The best way I can describe it is like the end of SCHINDLER'S LIST where Oskar Schindler is sobbing and saying "I could have saved more… if I had made more money… I could have saved more."  Yes, we were delirious from lack of sleep and all of the energy we had put out over the weekend, but no matter how much we had raised it was never going to feel like it was enough.  We were both a wreck by that point.
Now that we've had a chance sleep (a little) we're both just… thankful.  Thankful of everyone who donated.  Thankful of every artist who appeared on the show.  Thankful of everyone at GeekNation who helped us pull this event off (especially our engineer Ryan Plume who was here in person almost the entire time).  Thankful of Fireback Movies who sponsored the event (and who's ap is one that we both personally love and play often – download it today).  Thankful of ArieScope's interns Casey Hempel and Austin Bosley who stayed with us around the clock and who helped us out so, so much.  Thankful that there are people out there like SAVE A YORKIE RESCUE who have dedicated their lives to helping these wonderful dogs in need.  Thankful for each other.  And of course… thankful for "Arwen" who is truly the one who inspired all of this.
If you listen to the podcast then you know all about "The Steven Tyler Congratulations" that we always close with each week.  If you know the story then you can only imagine what this tweet from Mr. Tyler meant to us…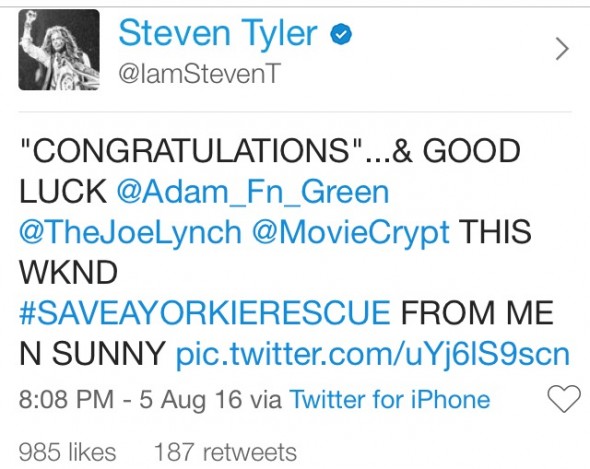 I mean… wow.
To everyone who listened and donated- you have my eternal appreciation, love, and respect.  Perhaps you listened but didn't donate for whatever reason… don't worry, I still love you, too.  Most of all- to the dozens of artists who took the time to come and share their voices and talents with us… it's moments like these that make all of this career's hard times and bullshit worth it.  Together we did something really, really good.  We stayed awake all weekend and we got through it!  It was hard work- but tonight there are a whole bunch of beautiful dogs sleeping peacefully, safe, un-afraid, and dreaming of the forever family that's just around the corner somewhere… waiting to love them.  And trust me, those dogs are going to give that love back in ways that those people can't even imagine yet.
Let's do it again next year, OK?  Until then, remember… sometimes it's all truly worth it.  And to my dear Arwen… you carried me and saved me when I needed it most. This was all for you.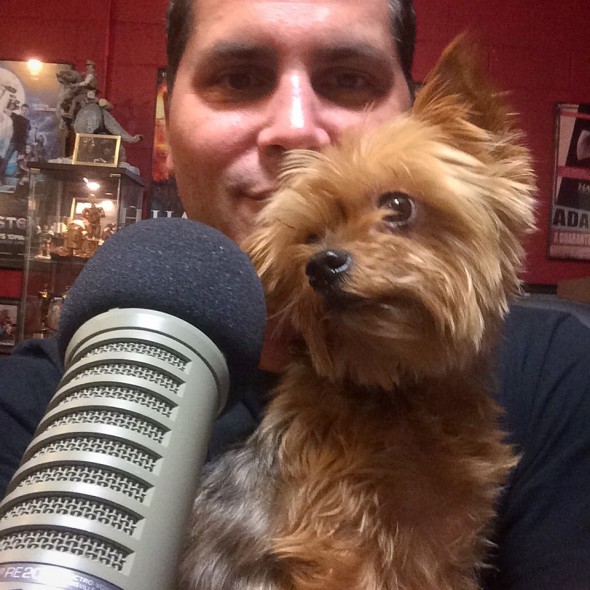 -Adam Green