The next issue of the HATCHET comic series (Issue #1) will hit stores this October, but you can pre-order your copies (autographed by Adam Green) right here, right NOW at ArieScope.com.  When you pre-order from ArieScope directly you save a few dollars off of the price we will be listing the autographed comics for (once officially on sale in October) and you are guaranteed to have your copy/copies shipped first, immediately upon arrival at our warehouse from the printer (which sometimes can mean receiving your copy/copies several days before retails stores)!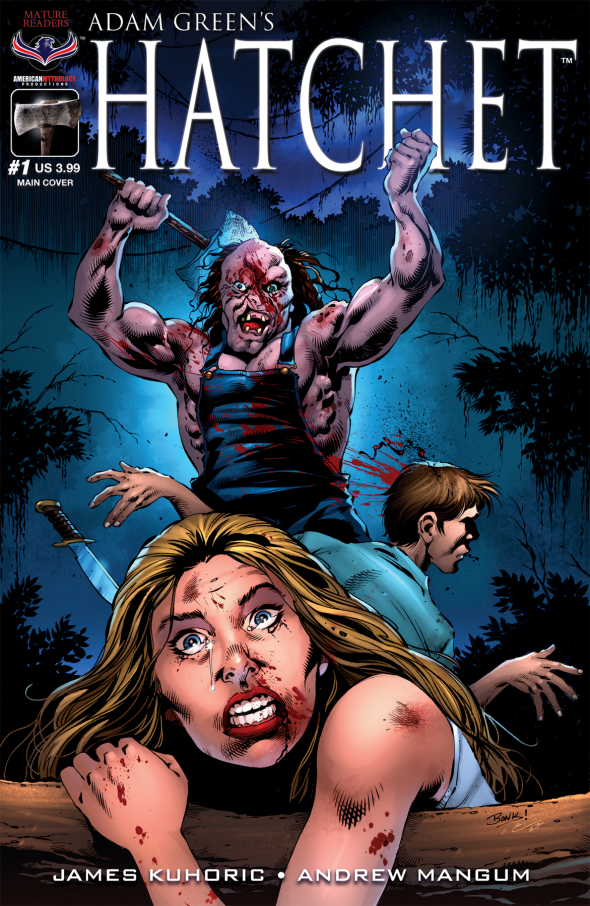 A first look at the main "Massacre" cover by artist Richard Bonk.
Return with us to Honey Island Swamp for a brand new tale of horror at the hands of Victor Crowley in the new issue of American Mythology's hit HATCHET comic series!  It's 1983 and a group of college kids with aspirations of creating the next blockbuster horror franchise set out to find the place where New Orleans' most famous boogeyman lived.  Old school American horror returns to comics with Adam Green's vision of rage and terror unleashed on the page!  If you loved HATCHET Issue #0 then you can't miss this brand new heaping helping of horror !  Issue #1 is written by James Kuhoric (ARMY OF DARKNESS, FREDDY vs JASON vs ASH) with art by Andrew Mangum (RE-ANIMATOR, EVIL ERNIE) and is available in FIVE different variant covers:  "Massacre" by Richard Bonk, "Gore" by Andrew Mangum, "Full Moon" by Greg LaRocque, "Hand of Horror" by Buz Hasson and Ken Haeser, and a special limited edition Rated MR version of the "Hand of Horror" cover (for adults only)!