UPDATED: Due to popular demand the Arclight Hollywood has now moved this event onto an even bigger screen at the theater!  That means more seats to go around for all!  We are kicking off the "HATCHET "10th Anniversary Tour" in style just with a FREE event for fans at the Arclight Hollywood in Los Angeles on Tuesday night 8/22!  It will be an incredible, star-studded night with cast members from all three HATCHET films and other celebrity guests walking the red carpet beforehand, a special screening that will include never before seen footage, a legendary Q&A after the film, and more as we celebrate 10 years of "Victor Crowley" together.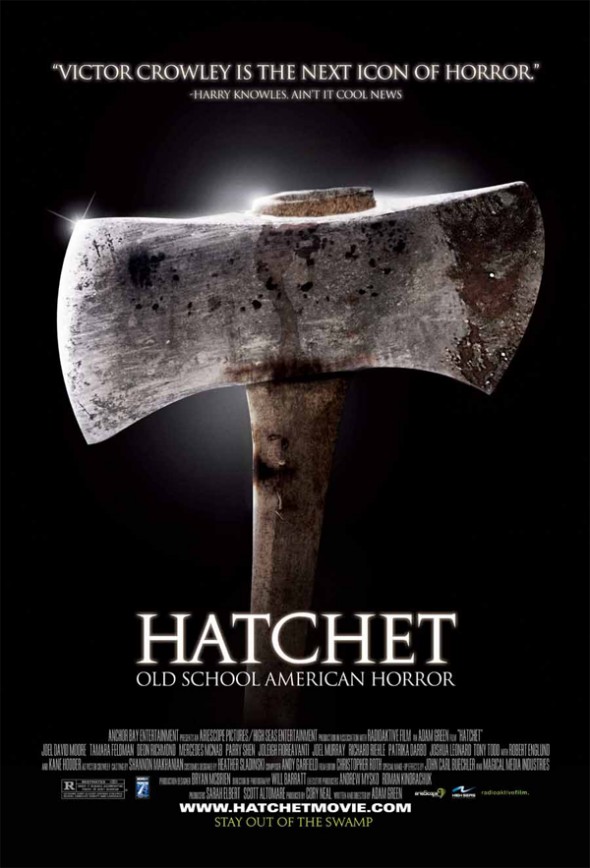 HATCHET officially opened in US theaters on September 7, 2007.
Scheduled to appear (so far): Adam Green, Kane Hodder, Parry Shen, Joel David Moore, Mercedes McNab, Joleigh Fioreavanti, Tamara Feldman, Richard Riehle, Patrika Darbo, Joel Murray, Derek Mears, Cody Snider, Tom Holland, Sid Haig, Caroline Williams, Sarah Elbert, Will Barratt, FX artist Robert Pendergraft, and more from the HATCHET franchise!  But that's not all!  Other celebrity guests will be attending the celebration to show their support for this milestone anniversary including TWISTED SISTER's Dee Snider, IMPRACTICAL JOKERS' Brian "Q" Quinn, MYSTERY SCIENCE THEATER's Jonah Ray, SLEEPAWAY CAMP's Felissa Rose, HOLLISTON's Joe Lynch and Laura Ortiz, SCARY MOVIE's Dave Sheridan, and many, many more.  With so much love and support from the entertainment industry and horror community- you never know who you might meet there!  So have your cameras ready, bring stuff to be signed, and have an arsenal of sharpie pens on you just in case you get a quick moment with someone you're hoping to meet.  Video cameras will be on site to document this special night and capture statements from the fans to be shared with the world- so if you see one of our cameras, go say hello!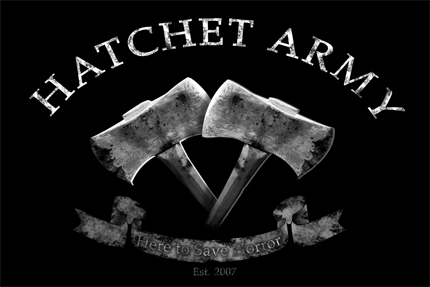 For 10 years now this symbol has represented the greatest fans on earth.
This fan celebration is FREE!  So then… how do you get in??  Pay attention here because this info is important:  While Arclight has now moved this event on to one of their bigger screens, it is still first come first serve.  Showtime is expected to begin around 8pm and we're told that the Arclight staff should begin seating fans around 7:15/7:30.  (Exactly when they begin seating people is entirely up to them so please be patient.)  We highly recommend lining up EARLY and not risking it.  Want to get moved to the front of the line?  Cosplay as your favorite character from the movies, wear your "Victor Crowley" Halloween mask, show your ArieScope pride (HATCHET, HOLLISTON, MARROW, MOVIE CRYPT, ADAM GREEN, ARIESCOPE and other shirts will surely help get you noticed by our staff) and you will be moved to the front of the line right before going in!   [NOTE: Use common sense.  No real weapons will be allowed inside so leave those out of your costume if you wear one.]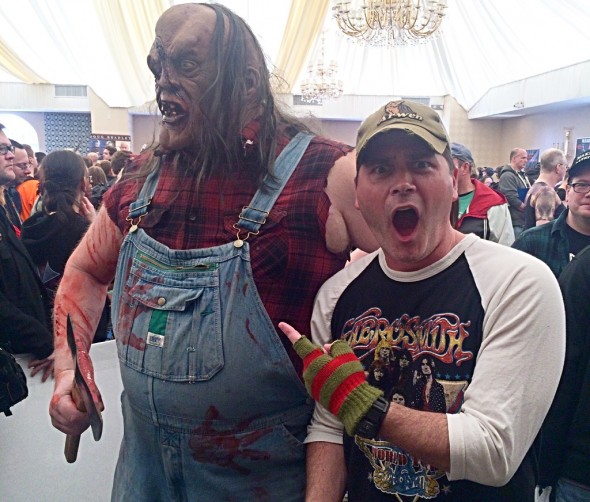 Be like this fan and get moved up in line!
For those who can't get to Hollywood for this special night… fear not as we're just getting started!  Cities, dates, and information about this Fall's tour dates, screenings, and convention appearances will be announced SOON- including a very special event when Adam Green and Kane Hodder ("Victor Crowley" himself) will return to New Orleans for a special Halloween night celebration to dismember!  Tour information will be available soon so keep checking back here and follow Adam Green on Twitter (@Adam_Fn_Green) to hear announcements first and find out how to purchase tickets to upcoming screenings/events.  Organizing a tour like this, traveling like this, being away from home (and having to stop work on other upcoming projects) for so long is incredibly difficult to pull off.  We're going to try and hit as many places as we can so please be patient and don't take it personally if this tour can't get to a theater near you.  We're doing everything we can and it's the biggest tour Adam Green has ever done.
For now- it's all about this fan celebration on Tuesday night August 22nd at Arclight Hollywood on Sunset Blvd.  Come early, come prepared to have a party, and be prepared to celebrate 10 years of "Victor Crowley" with us.  In a perfect world there would be limitless seats and enough room for everyone, but reality dictates that the theater can only hold so many people.  So really… if you want to get in… line up early.  It's going to be a bloody fun night!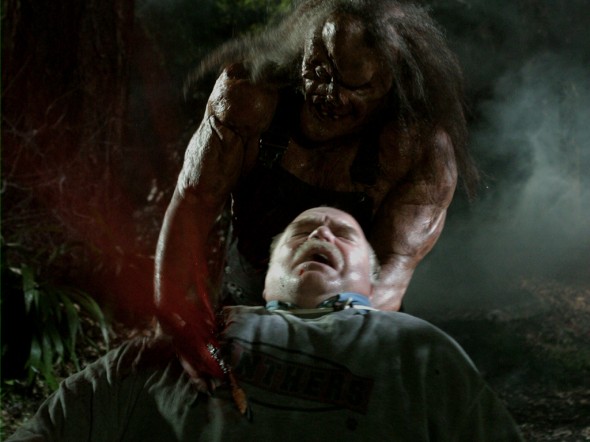 Victor Crowley returns to slay Arclight Hollywood 10 years later.