UPDATED 9/10: SUBMISSIONS ARE NOW CLOSED.  THANK YOU TO ALL WHO SUBMITTED.  ArieScope Pictures is currently accepting applications for a new intern!  Are you serious about a career in film and television production?  Are you outgoing, happy, fun, hard working, responsible, dependable, and trustworthy?  If the answer is "yes" to all of the above then perhaps you're cut out to become the newest member of our film family!  Please read the below thoroughly before submitting your cover letter and resume.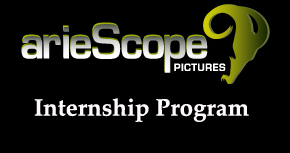 ArieScope Pictures Internship Program:
The intern position is an unpaid position, however if you are currently in school interning with us can fulfill college credits depending on your school's specific internship requirements.  (Check with your school first.)  You do not have to be in college to apply.  Must be 18 years or older.  Must live in Los Angeles and have your own means of reliable transportation.  Must be available to work in our North Hollywood area studio/office at least one day a week Monday – Friday.  Must be able to start right away.  Must love dogs.
The ArieScope intern position includes a variety of responsibilities from general office/assistant work to managing merchandise shipments to on-set and post production assistant work and beyond.  The position is really what you make of it as our interns are welcome to be a part of everything we do.  Our interns tend to stay on with us for many years or become permanent members of our family and have often been moved up to paid crew positions depending on what productions take place during their time with us.  You'll learn a ton by being an active part of our various productions from feature films to television projects to web series to short films to our weekly MOVIE CRYPT podcast and more.
Please send us your resume and a personal cover letter that tells us who you are, why you'd be a good fit with our team, and what you have to offer.  Want a leg up over the other applicants?  Sell yourself!  Do you have a versatile skill set?  Are you a proficient editor?  Do you know Final Draft?  Are you computer/web savvy?  Are you good with Photoshop?  Are you artistic or good with graphic design?  Do you know anything about audio recording or podcasting?  Tell us what you think would make you a special asset to our family if selected.
Send your resume and cover letter to info@ariescope.com right away.  If selected for an interview we will contact you to arrange a time for you to come in within 1 week of receiving your submission.  Due to the high volume of submissions we cannot respond to every submission so please just send the one email with your resume and cover letter.   Please do not email us more than once.
Good luck!  Perhaps we'll be meeting you soon!