Los Angeles!  On Sunday September 17th, don't miss the panel presentation for the new HATCHET movie VICTOR CROWLEY at SON OF MONSTERPALOOZA in Burbank, CA!  Writer/Director Adam Green, FX artist Robert Pendergraft, and actors Dave Sheridan, Laura Ortiz, Tiffany Shepis, and Felissa Rose will be showing scenes from the new movie, discussing the film's elaborate practical effects, and meeting/signing for fans immediately after the presentation.  If you've ever seen an ArieScope panel presentation at a convention than you know that we never hold back or tease!  Expect to see some serious shit from VICTOR CROWLEY which critics are already calling the scariest, funniest, and most gore-filled HATCHET film yet.  In fact, maybe wear a raincoat so you don't get any blood on your favorite black horror T-shirt.  It's gonna get messy up on that screen.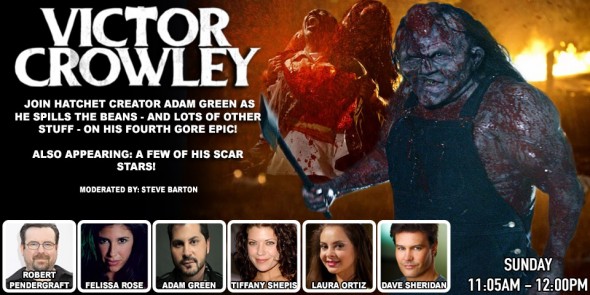 The VICTOR CROWLEY panel is slated to run from 11am until 12 noon at the Burbank Marriott convention center right across the street from the Burbank Airport.  For SON OF MONSTERPALOOZA ticket info and details click here.
We know, we know… you're still waiting for the list of cities and dates for the film's theatrical tour.  (So are we!)  We're told that the full list of tour dates will be announced any day now so just hold on to your hatchets, your belt sanders, and your pieces a little bit longer.  Adam Green and VICTOR CROWLEY will be coming for you soon.