This weekend THE MOVIE CRYPT podcast (Adam Green, Joe, Lynch, and Arwen) held their second annual 48-hour LIVE marathon to benefit SAVE A YORKIE RESCUE.  The podcast's three hosts went on the air live at 5pm on Friday December 8th and stayed on the air (with a non-stop program of special guests stopping by around the clock) until 5pm on Sunday December 10th.  In the end they raised an astounding $22,574.68 for the Yorkies!!!!  (Note: It's actually going to finish a little higher than that as late donations have continued to trickle in overnight.)  With last year's total being $13,480.00, THE MOVIE CRYPT crew had only hoped to surpass that amount, but when they exhaustedly crossed the finish line they actually shattered that goal! It was an extremely emotional ending as Santa Claus himself showed up to accept the boys' own donation of their Patreon earnings for this month (a $4,000.00 donation).
Thank you to every guest that stopped by to share their time and talents on this year's program.  Thank you to the entire ArieScope family who generously surrounded Adam, Joe, and Arwen with enough support throughout the weekend to make the event run smoothly in all aspects. Thank you to every listener who made a donation – whether it was a straight donation to the cause or by winning an item in "Arwen's Silent Auction" this year.  Thank you to all who tuned in, participated, and cheered the guys on all weekend long.  But most of all, thank you to the volunteers at SAVE A YORKIE RESCUE who so selflessly volunteer their own time, homes, and money to tirelessly heal and foster these neglected, abandoned, or abused animals all year long before carefully placing them in new, forever homes where they will live out the rest of their lives surrounded by love and never again knowing fear or suffering.
In a time when we are all pummeled with stories of sadness, terror, and tragedy on a daily basis, we hope that this event helped inject a little Christmas spirit into your heart and that you can rest assured that there will always be more good people out there than bad.  Together we made a difference for so many dogs that could never have helped themselves otherwise. There are a whole lot of dogs that will now be able to get the direly needed medical care, food, and shelter they need.  Dogs that in just a short amount of time will be meeting their new, loving families.
THANK YOU to everyone who made this year's event such a massive success.  We love you all!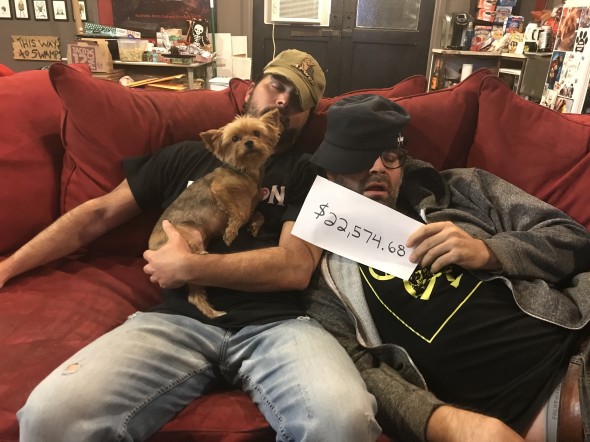 Mission accomplished.