5 years ago this weekend, FROZEN world premiered at the Sundance Film festival in Park City, UT.  It is hard to believe just how fast time has flown since then. Sundance 2010 still remains one of the best moments of my career and watching just how well FROZEN was received is still one of my greatest personal triumphs. It was such a joy to hear people in the audience (most of whom still didn't know what I looked like back then as HOLLISTON had not yet happened) say "Three people in a chair? This will never work." right in front of me… and then watch so many of those same people become exhausted, emotionally devastated, sweaty lumps in their seats over the next 94 minutes. And I truly owe it all to my fantastic crew and my three fearless actors who never quit on me no matter how many times I may have broken them with what I put them through. Emma Bell, Shawn Ashmore, and Kevin Zegers are still three of my biggest heroes and the movie never would have worked without them. While early reviews show signs that next month's DIGGING UP THE MARROW is going to give FROZEN a critical run for its money, FROZEN is still my best reviewed movie to date in the mainstream press worldwide. (HATCHET 2, released only 7 months later that very same year, is a close second as far as positive mainstream reviews go.)  The more time that passes the more I hear from people who ski or snowboard how they heard complete strangers talking about the movie while waiting in line for the lift at various ski mountains. Even more specifically, the conversations often include someone fearfully saying that they don't want anyone in their group to mention FROZEN when they are on the lift.  The MacGyver's of the world continue to debate "what they would do" and so many interviews I do (for completely different projects) wind up with the interviewer wanting to tell me their own 'stuck on a ski lift' story. And let's not forget the absolute comedy of the now infamous review that slammed the film for the "fact" that the actors were "so obviously on a green screen and not really in the elements" and because "the wolves were poorly computer generated." My actors (both human and canine) would still beg to differ with that critic. I love all of it. In the end, this simple yet insane idea struck a big chord and five years later I can only look back and wonder what we were thinking putting ourselves through such a brutal shoot. ("It's just three people in a chair, how hard can it be?")
Here are some rare behind the scenes photos, many of which you have likely never seen before…
Emma Bell was the very first person to audition.  She set the bar so high that no one else who came in after her could even compare.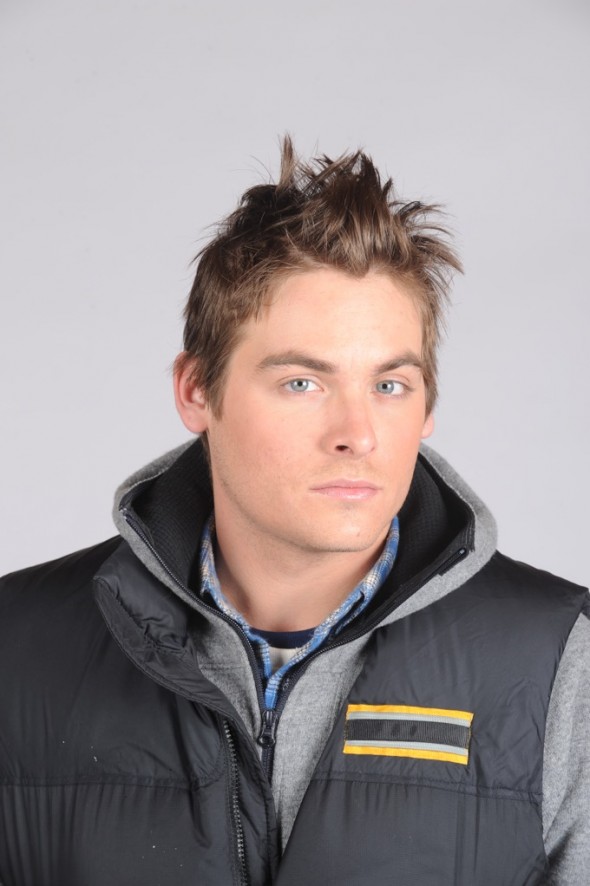 Kevin Zegers almost lost this gorgeous face to "Shadow", one of the scarier wolves used in the film.  In the scene where the wolves surround "Dan", you'll see a black wolf walk right up to Kevin and start to sniff his hat.  If we left even one more frame in that shot you would have seen the trainers come running in to take "Shadow" away.  Though the other wolves all ignored Kevin while we shot that scene, "Shadow" really wanted to know where Kevin got that hat and if it came in "Wolf" size.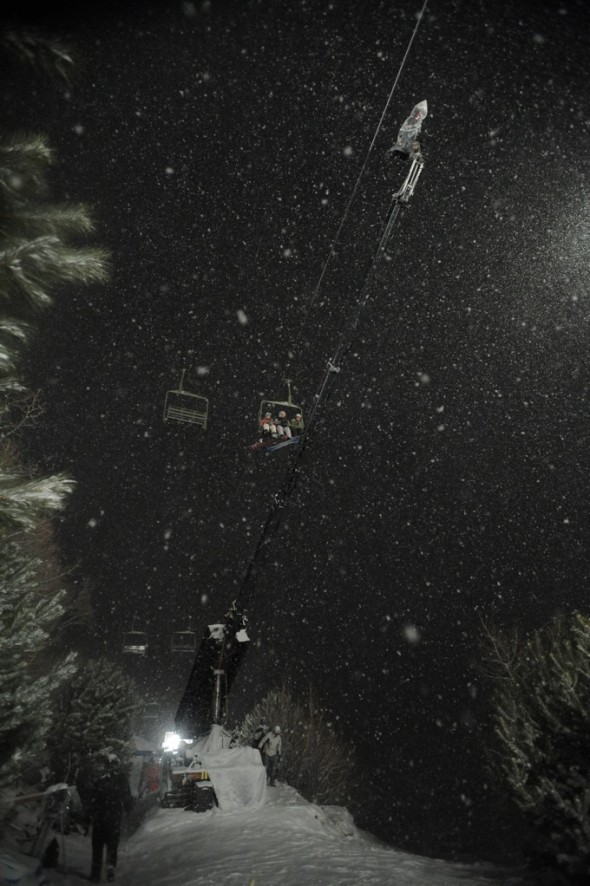 No.  They weren't in a studio against a fucking green screen.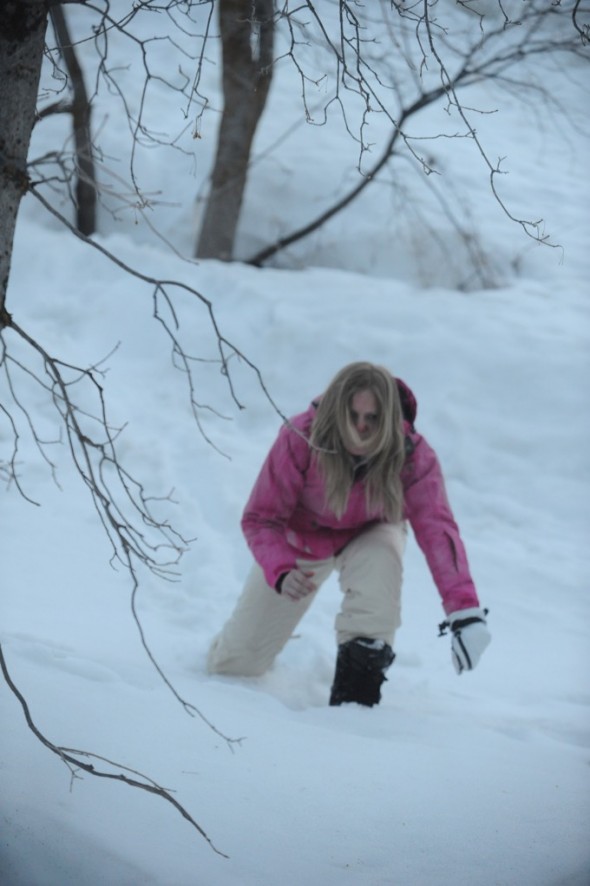 Emma bravely makes her way down the mountain.
Production Designer Bryan McBrien created a small ski lift set in the mountain's parking lot where we could safely wire the performers in for stunts and vertically move the chair up and down for the make-up team to apply certain make-up effects.  So why not shoot the whole movie like this?  Why make everyone go up the real mountain?  Well, had we shot the whole movie this way I would have been completely limited in my available shots and angles.  The film would have had no scope whatsoever and the camera would have seen the lodge and the parking lot had I shot any other angles than the ones that we specifically designed this set for.  You can see the amazing forced-perspective set that Bryan built in Adam Barnick's 90 minute "making of" special features on the Blu-Ray or DVD.  Still the best bonus features I've ever seen on an indie release, ever.
Some last minute direction before shooting.  You'll notice the yellow safety harness I am wearing.  That's because Will Barratt and I were the ones operating the two 35mm cameras for all of the scenes where the chair lift was actually moving.  (All of the scenes where the chair was stuck were shot using a 50′ Panavision techno crane that was operated safely from the ground.) The grip department built a rig that allowed Will and I to hang in front of the actor's chair but no one in the camera department felt safe shooting that way.  I bravely said I would just shoot it myself… and then almost pee'd myself once I was up there.  When I was looking through the lens I was OK because it didn't seem real.  But when I'd take my face away from the glass to change a lens or speak to the actors…I was terrified.  Will was way more brave than I was.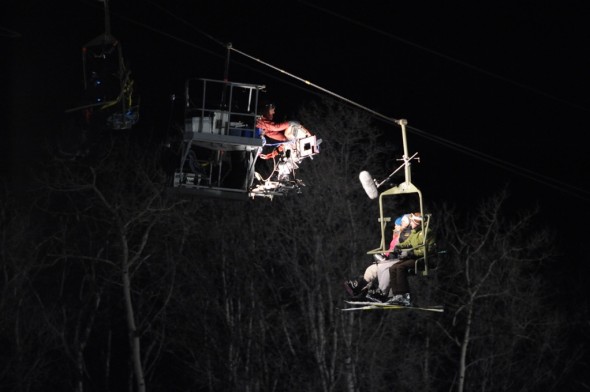 The rig/bucket that Will and I hung in to shoot the scenes where the chair was moving.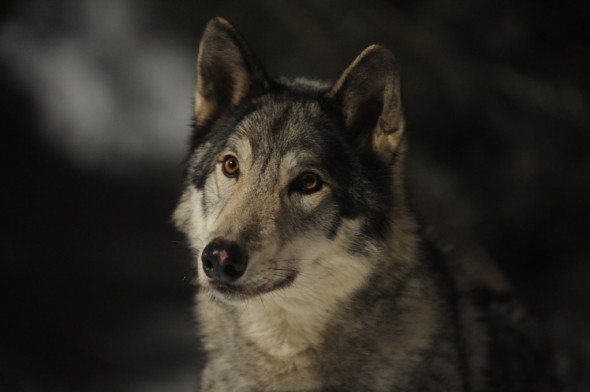 "Maverick" was so beautiful that it was a challenge to do as Sled Reynolds (our trainer) said and NOT try and pet him or make eye contact with him.  As an animal lover it was hell for me to follow instructions and obey the rules. But…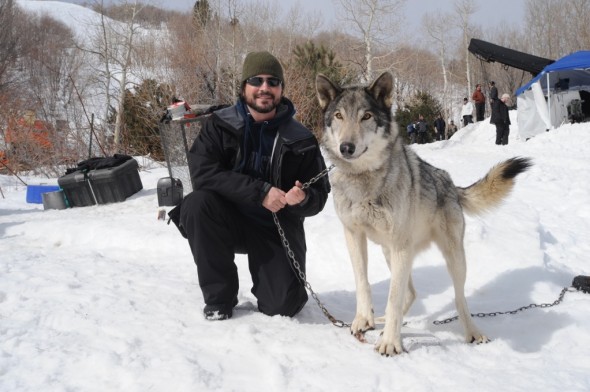 …thankfully Sled allowed me my chance on the last day of shooting with the wolves.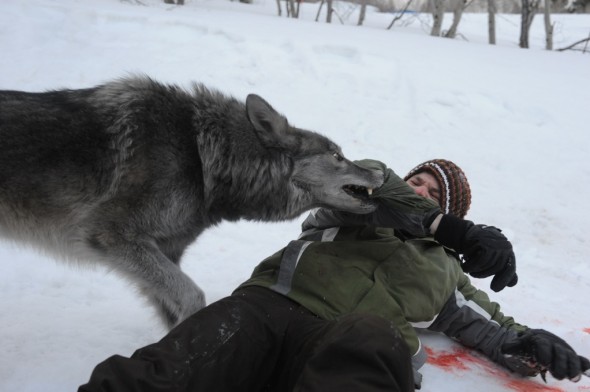 Even though Shawn had safety pads in his jacket and even though this was a wolf/shepherd hybrid (not one of the pure bred wolves), it was still a scary day of filming.  Especially for Ashmore.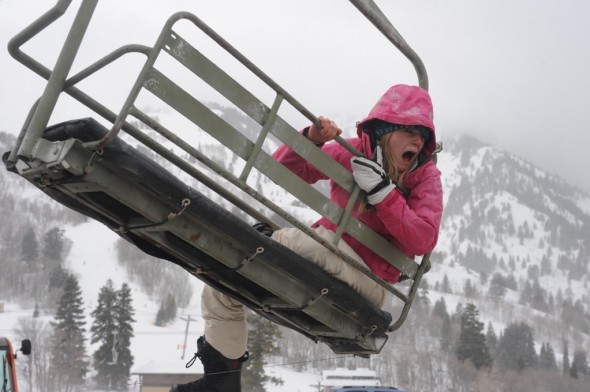 Emma Bell truly gave me everything she had.  I adore her.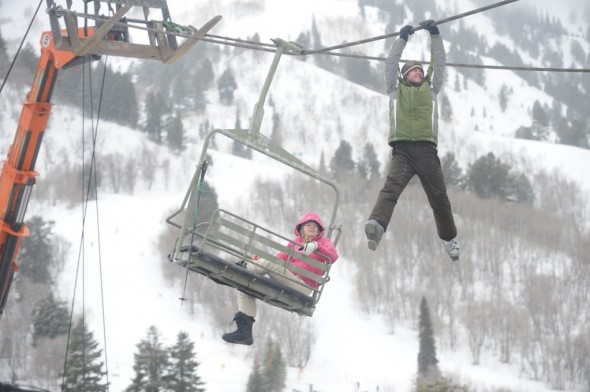 Shawn still has marks from the safety harness he had to wear to do these stunts.  The pain you see on his face in the movie is very, very real.  The wide shots of "Lynch's" climb across the cables were performed up on the actual mountain by stunt man Chester Tripp, but we filmed Shawn's close-up angles in the parking lot's forced perspective set.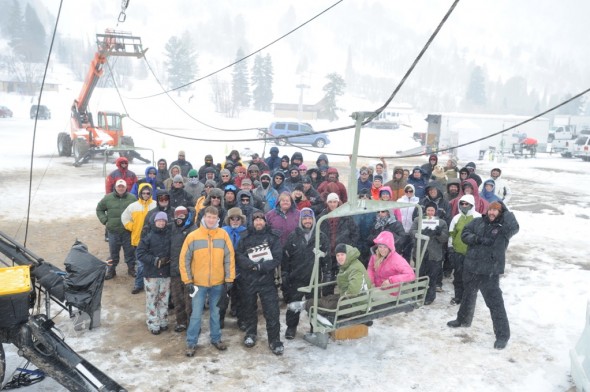 The real heroes of FROZEN.  Together we conquered a mountain.
Somehow we did it.  Thankfully I have a crew/family that just hasn't figured out how to say "no" to me yet. Without them I could never accomplish a goddamn thing. So as Sundance 2015 begins this weekend, I say "Happy birthday FROZEN!"
And stay off the slopes, you guys.  Skiing kills.