ArieScope is excited to announce the exclusive tour merchandise for Adam Green's DISMEMBER AMERICA 2017 tour with the 4th HATCHET film: VICTOR CROWLEY.  Please read all descriptions thoroughly.
These items will be sold exclusively at the US tour stops for Adam Green's DISMEMBER AMERICA 2017 TOUR.  (Yes, tour exclusives will also be available to order at the convention appearances that Adam will be during the tour, too.)  While some of these items will also be made available to the general public on ArieScope.com in the weeks after the tour, there will be differences between the exclusive tour versions and what we make available to the general public afterwords.
Q: "I'm attending a tour date that Adam Green will not be attending in person, can I still order the exclusive tour merchandise?"   A:  [UPDATE 12/13/17] We are not accepting any more on-line orders for tour merchandise.
Q: "The tour isn't coming to a theater near me!  Can I still get any of the tour exclusives?"  A: We suggest reaching out to your fellow fans on social networking who will be attending a tour date as perhaps you can find someone willing to get you the tour exclusives you're looking for.  With our 2015 "TOURING THROUGH THE MARROW" tour many fans connected with each other on-line to help each other out with getting the exclusives they were hoping for.  Again, most everything you see below will also be offered after the tour in our on-line store in a slightly different version (the differences are listed in the descriptions below) but if we were to offer the exact same things on-line then the items wouldn't be "tour exclusives" anymore would they?  For collectors, the fact that only a limited amount of these specific items will ever be made means everything.
Q: "But I want that stuff, too- just take my money!"  A: It's not about trying to sell as many things as possible.  Far from it as each item is expensive and time consuming to make per order.  It's about creating a special opportunity for the fans that asked their theaters to book the film and for those who traveled far and wide to attend a tour date and see Adam in person and watch VICTOR CROWLEY on the big screen the way it was meant to be seen.
Q: "I want to leave the theater with all of my stuff!  Why won't you have the tour exclusives physically there at the theater?"   A: Not only would it be physically impossible to travel from city to city every day with enough merchandise for every screening, but even more importantly almost every item is custom made to order by hand.  Only the DISMEMBER AMERICA TOUR 2017 posters will be physically there at the theater.  The other items will just have a prototype there for display only so that you can see exactly what it looks like.  No, display items will not be for sale.
Here are the tour exclusives!!!
1. VIP EXPERIENCE.  This is the most popular thing on every tour and it always sells out fast.  PLEASE READ THIS INFO THOROUGHLY.
The VIP EXPERIENCE is completely separate from your actual movie ticket.  It does not include admission to the screening.  You must purchase your actual movie ticket through the theater as we have nothing to do with the theater's side of things.  VIP EXPERIENCES are extremely limited (usually only about 15 or less per event depending on the size of the theater) so don't delay.  VIP EXPERIENCES ARE NOT OFFERED FOR SCREENINGS THAT ADAM GREEN WILL NOT BE ATTENDING.  If something changes and Adam is added to your tour city at a later date we will add VIP options for that stop if enough time permits.  Here's how it works:
With the purchase of a VIP EXPERIENCE for your city's screening you will be admitted into the theater (or another special area) 60 minutes before the general audience.  VIP's will have their names on a list at the front of the line and will able to meet Adam Green, get autographs, take photos, and buy tour merchandise before anyone else attending the event that night even gets into the theater.  The limited edition exclusive tour poster (seen below) will also be included with your VIP EXPERIENCE and you will be handed your poster there at the VIP meet and greet so that Adam can sign it for you if you wish.  It is up to you to make your way to the front of any line that has formed and let our staff member know that you are VIP.  Show your movie ticket and then give your name to our staff member.  He will check your name off the list and let you into the theater.  Most fans who get the VIP EXPERIENCE love it because it means you can go straight home after the Q&A.  You don't need to line up with everyone else for merchandise or for a chance to meet Adam and get autographs/photos.  Some of these screenings will let out very late so being able to get in first and then leave right afterwords sure is nice!   WE HIGHLY SUGGEST THAT YOU PRINT OUT YOUR RECEIPT FOR YOUR VIP EXPERIENCE AND BRING IT WITH YOU.  That will serve as your proof should there be any confusion with the list.  Important: if someone else tries to use your name or show a copy of your receipt a second time you will both be thrown out without a refund so be careful with your receipt.  VIP EXPERIENCES will not be sold at the event.  It is up to you to be on time.  We are not responsible if you are late and miss your VIP EXPERIENCE.  Price = $60 each.  (Includes the $45 tour poster so if you were already planning on getting the print- it's really only $15 for the early, more private meet and greet!)
To order a VIP EXPERIENCE for YOUR city, visit our "BUY STUFF" store here, read all of the details in the item description, and select the screening you will be attending.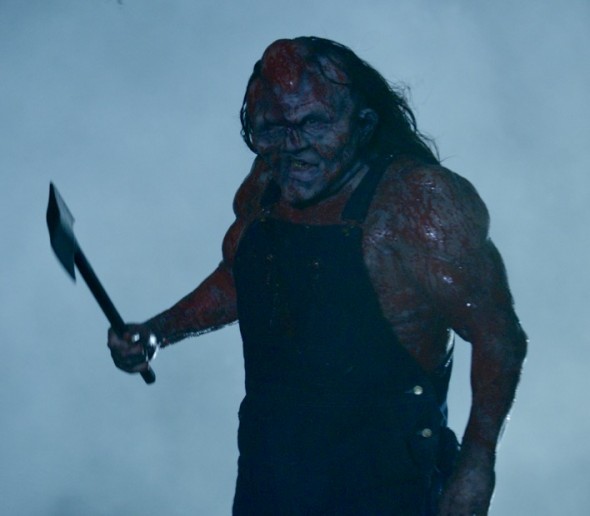 Look for THIS image in the "Buy Stuff" store to purchase your VIP EXPERIENCE.
2. VICTOR CROWLEY'S SKULL.  This one is f**king amazing, Hatchet Army!  Molded from the exact same screen-used mold used for Victor Crowley's exposed skeleton in HATCHET 3, these extremely limited sculptures are made of polyurethane foam and urethane plastic and are individually handmade and painted by the HATCHET series' FX team at Aunt Dolly's Garage.  The tour exclusive versions are each hand labeled "Tour 2017 / Series 1″ and come autographed by HATCHET series' FX artist Robert Pendergraft and creator Adam Green on the back.  (Should a limited run of these sculptures be made available to the general public on-line at a later date they will not be inscribed as "Tour 2017/ Series 1″ and will have other differences made to the sculpture/paint job itself.  These are the very first, one of a kind run!)   Because each skull is handmade to order (each one takes several days to make) and because there is absolutely no way to travel from city to city every night with these high-end props, you will need to order yours at the screening and it will be shipped to you when it is ready.  This is easily the greatest HATCHET item we've ever made available so do not miss out!  Price = $150 each.  Credit cards or cash only.  Limit of 3 per customer on tour.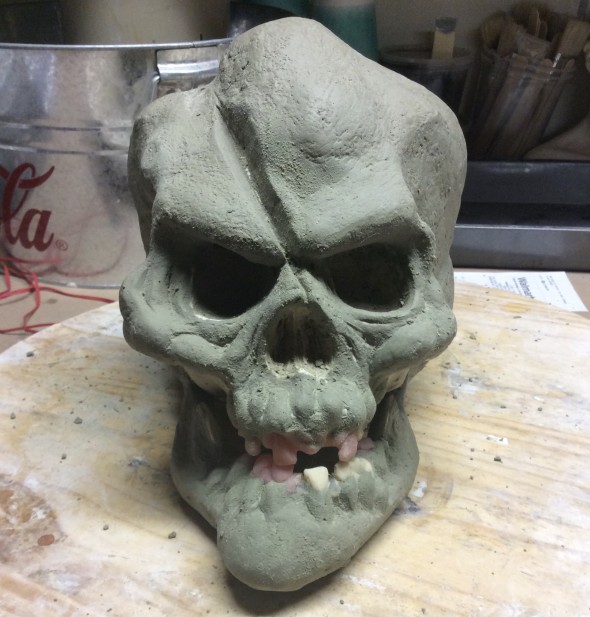 A look at the work-in-progress Crowley Skull sculpture.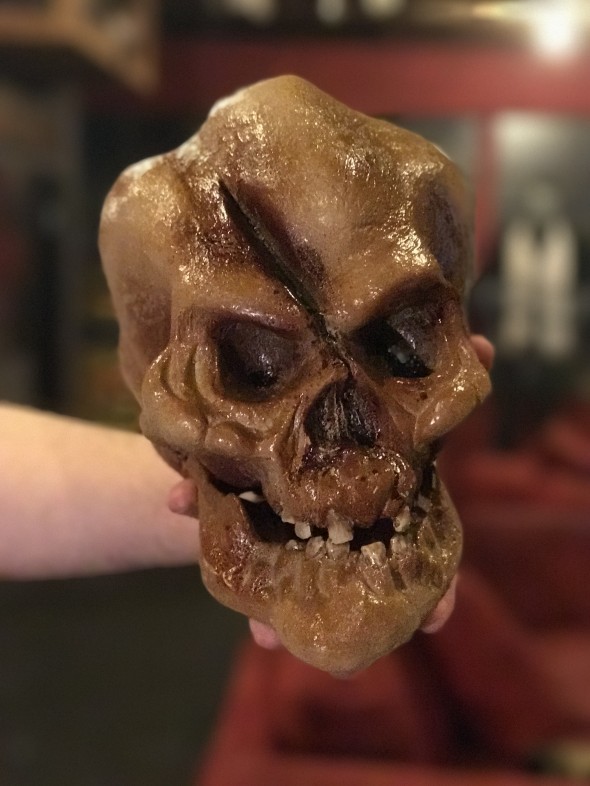 The finished fully painted prototype.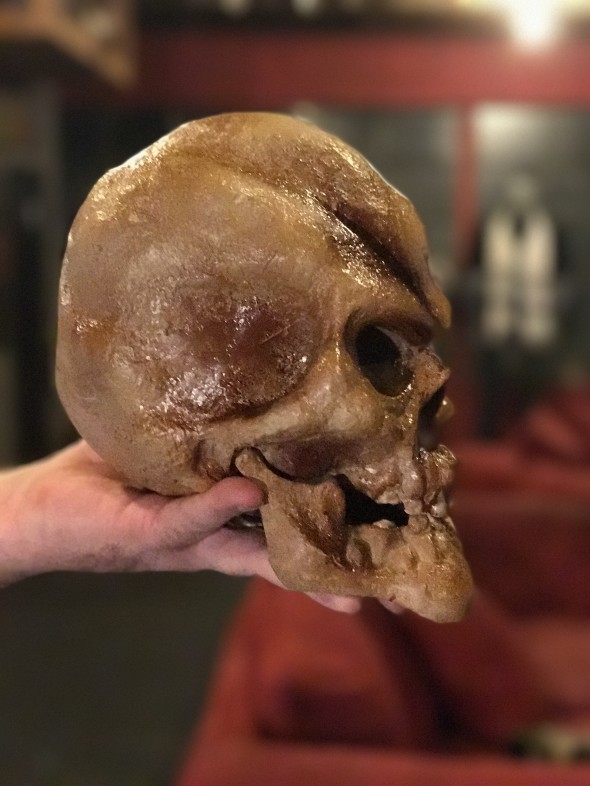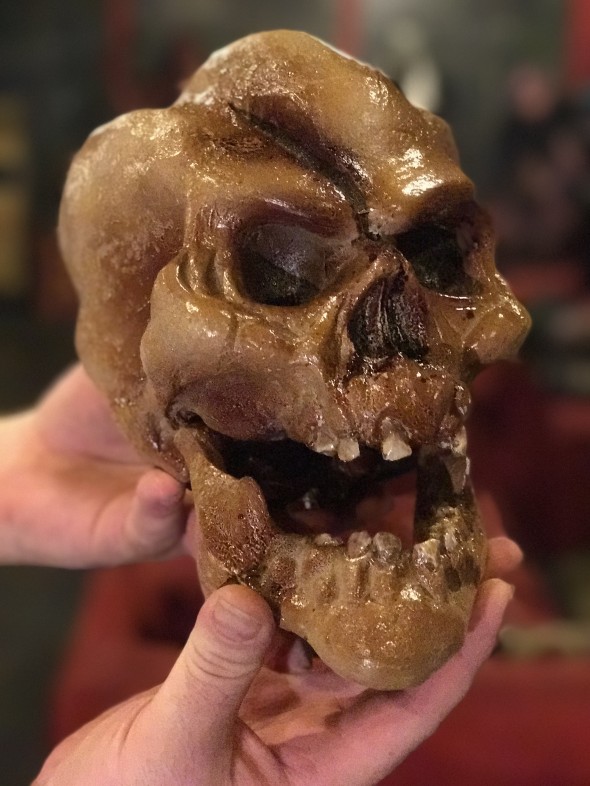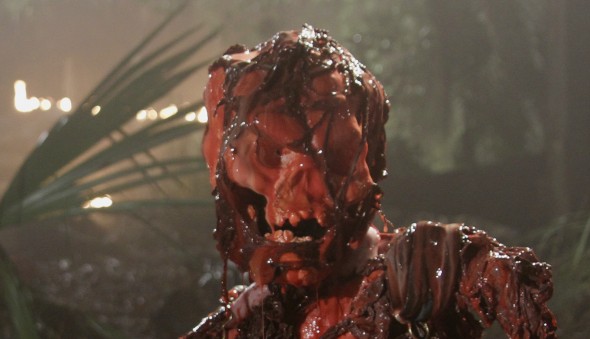 As seen on screen in HATCHET 3.
3. BLOODY PROP HATCHET.  Back by popular demand, these incredible prop hatchets are each handmade from the original mold that was used to create every one of Victor Crowley's hatchets used on-screen in all four HATCHET films.  These are exactly what you see Kane Hodder using in each of the films!  Custom made to order by the HATCHET series' FX team at Aunt Dolly's Garage, each hatchet has a unique blood splatter on the blade and no two are exactly alike.  Because each hatchet is handmade to order (each one takes several days to make) and because there is absolutely no way to travel from city to city every night with these high-end props, you will need to order yours at the screening and it will be shipped to you when ready.  (When a limited amount of these are eventually made available to the general public at a later date they will not come with the unique blood splatter on them.)  WARNING: Though these props are made of polyurethane foam they should never be used to strike another person or an animal!  Keep out of reach of children!  Price = $125 each.  Credit cards or cash only.  Limit of 3 per customer on tour.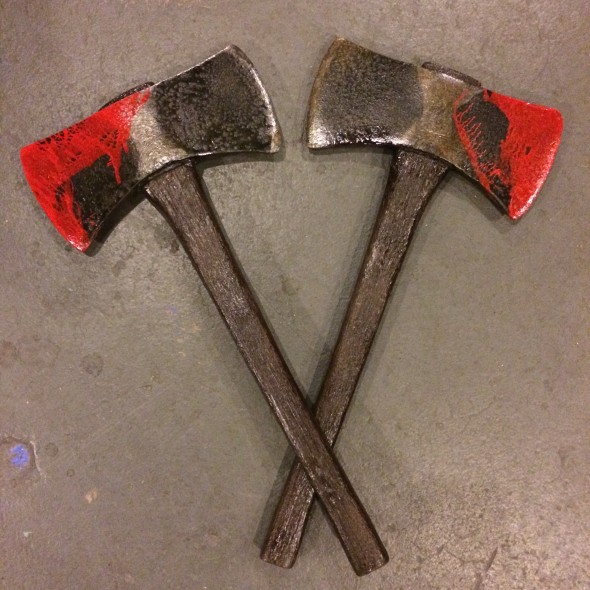 Two different hatchets are pictured to show the differences in unique blood splatters.
4. VICTOR CROWLEY DOLL. Exactly as seen in the new film VICTOR CROWLEY!  Victor Crowley has never been more adorably sinister!  Each cloth doll is handmade to order by series' producer Sarah Elbert (who personally deigned and created the prop dolls seen on-screen in the film) and comes with yarn for hair and holding a miniature hand-painted plastic hatchet in his hand.  While these soft dolls may seem suitable for children, please note that they are delicate and that the plastic hatchet can easily be pulled off and possibly swallowed so we advise that any interaction with children be carefully supervised (or that you pull off the hatchet before letting a child anywhere near it).  Because each doll is handmade to order by producer Sarah Elbert herself, you will need to order yours at the screening and it will be shipped to you when ready.  (An extremely limited amount of these will eventually be made available to the general public on-line at a later date.)  Price = $60 each.  Credit cards or cash only.  Limit of 3 per customer on tour.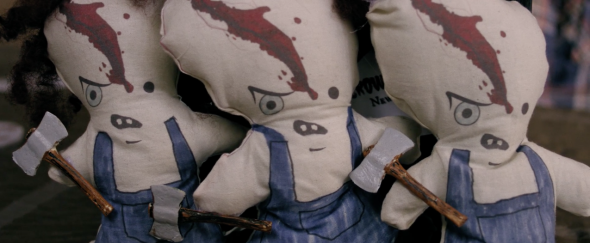 As seen in the film VICTOR CROWLEY!  Handmade per order!
5. "I, SURVIVOR" NOVEL.  Own the actual book seen in the film!  That's right, "Andrew Yong's" autobiography that he is promoting in VICTOR CROWLEY is actually a real novel written by Adam Green and Joe Knetter!  Now you can read "Andrew's" life story and his firsthand account of surviving the 2007 massacre in Honey Island Swamp- including the turmoil of his 2008 trial when he was blamed for the murders of over 40 people.  It's a movie prop come to life!  (How many movies have ever done this before?)  Each hardcover book purchased on the tour will arrive autographed by writers Adam Green and Joe Knetter.  When the book eventually comes out to the general public and is made available on-line the plan is that we will only be selling any hardcovers we MIGHT have left from the first run of printing and releasing the book in softcover form – so order yours on the tour!  Due to the publishing time frame and the fact that even if we already had them all in hand we couldn't possibly carry enough books from city to city each night of the tour, you will need to pre-order your copy at your screening.  Price = $45 each. (The tour hardcover copy arrives autographed by Green and Knetter).  Credit cards or cash only.  Limit of 3 books per customer.  NOTE: This is the one item that we can't control the manufacturing of ourselves and publishing hardcover novels in a limited run takes time.  So for this item, please plan on an early Spring delivery and that way you can be pleasantly surprised if it shows up much earlier.  Though not formatted for the printer yet the total page count is expected to be around 225-250 pages.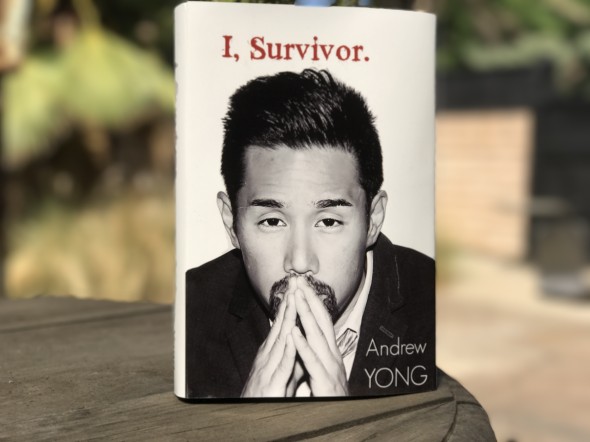 "I SURVIVOR" by Andrew Yong.  (Written by Adam Green & Joe Knetter)
6. EXCLUSIVE TOUR POSTER.  Created by artist Cody Schibi these high quality 16″ X 20″ full color lithograph prints are printed on 100lb cover weight paper stock using archival inks (museum display quality) and are only available on the tour.  (Unless you are attending a tour date where Adam Green and the merchandise table will not be there in which case you will be able to order a print when you email us a photo of your ticket stub/receipt as explained above.  They will arrive signed by Adam Green.)   Commemorate the fact that you were among the very first in the world to see VICTOR CROWLEY and display your gory memories of the night on your wall for years to come with this gorgeous print.  Adam Green will be happy to sign all prints at the theater that night.  (VIP EXPERIENCE fans will be handed their print when they meet Adam before the rest of the fans in line.)  Price = $45 each.  Credit card or cash only.  Limit of 2 per customer.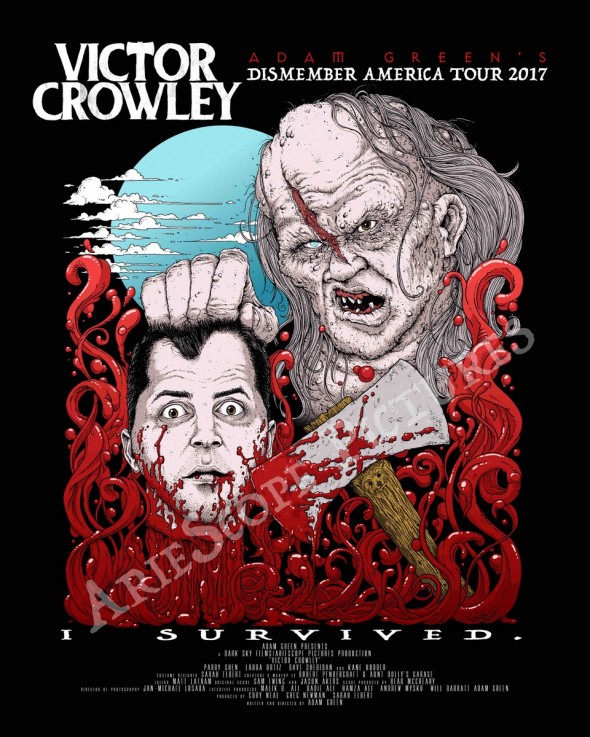 The official tour poster print for Adam Green's DISMEMBER AMERICA TOUR 2017 by artist Cody Shibi. (Image watermarked for display only.)
7. VICTOR CROWLEY HALLOWEEN SWAMP TOUR!  ***SPECIAL EVENT***  October 31st.  10pm – 2:00am.  To celebrate the Halloween night screening of VICTOR CROWLEY, director Adam Green and star Kane Hodder ("Victor Crowley" himself) will be taking a small group of fans on a late night haunted swamp tour to hunt for the real Victor Crowley after the screening at the Prytania Theater in New Orleans, LA!  If you're a fan of the HATCHET series this is the opportunity of a lifetime!
At 10:15pm we'll leave on the "Scare Bus" (a bus that is privately chartered just for us)!  The bus will transport our group of victims… er, tourists… directly from the Prytania Theater to Victor Crowley's swamp where we will climb aboard our own private "Scare Boat!"  Once we cast off, Adam Green and Kane Hodder will serve as your haunted swamp tour guides as they share stories from the making of all four HATCHET films, answer your questions, take photos with fans, and bring you an up close and eerie glimpse at Victor Crowley's real-life domain on Halloween night!  (The very night that Victor Crowley first died!)  Hold on tight, stick closely together, and get ready for every HATCHET fan's nightmare come true!  Fans are encouraged to bring their own Jack-O-Lanterns as we hope to lure the ghost of Victor Crowley as close to our boat as possible.The bus will return whatever pieces are left of our tour group to the Prytania Theater around 1:30/2am.  It will be a night to dismember!   $100 per victim.  Tickets go on sale here on Friday October 13th at 2pm.  More details are available in the item description.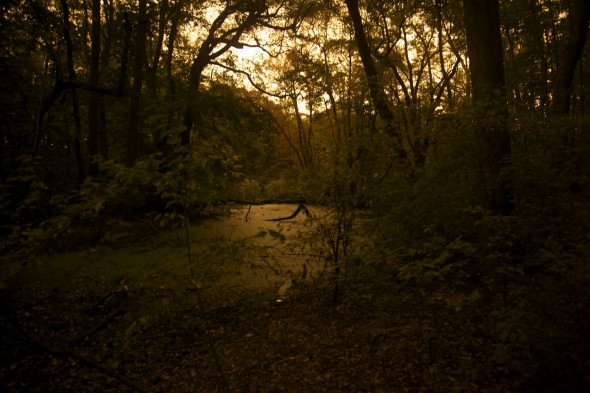 "Ya'll gonna die."  - Jack Cracker 
=======================
Order forms for these tour exclusives will be available at each tour stop where Adam is appearing.  You will order and pay there.  Once payment has been accepted our Los Angeles crew will begin the process of creating your items.  WE ARE NOT ACCEPTING ANY MORE ON-LINE ORDERS.  While poster prints will be physically available on site, all other items will be custom made as orders are received and shipped out in the order they are completed. (The novel however will likely have an early Spring arrival if not sooner.)  Please remember that the skulls, hatchets, and dolls are all unique, handmade items!  Each one takes several days to make and is custom made by hand with loving care.  Our crew will be working around the clock fulfilling orders and shipping them out- so be patient.  Plan on having them in hand before the end of the year and hopefully you'll be pleasantly surprised if your order arrives sooner.  We CANNOT stress enough that these are not being manufactured in mass quantities on an assembly line in another country or something.  These are very special, expensive collector's items that require time and labor to create.