Last week we wrapped production on a project that I've been keeping quiet on for the past few months.  Today the Hollywood Reporter formally announced it, so now I can share…
MTV PARTNERS WITH OUTFITTER FOR WEB SERIES
By Gail Schiller
May 3, 2007
NEW YORK — "Heroes" star Milo Ventimiglia is directing a new Web comedy series for American Eagle Outfitters called "It's a Mall World" that will premiere on MTV and in AE stores in the form of three-minute "minisodes." The full five-minute episodes will run exclusively on ae.com starting in August.
The 12-episode series, written by Adam Green ("Hatchet") and produced by Divide Pictures co-founder Russ Cundiff, will feature an American Eagle store along with a fictitious independent record store, lingerie shop and juice bar. It is the first original series from American Eagle Outfitters.
"We hope that 'It's a Mall World' is a source of entertainment and fun for our customers and in the long run creates an emotional connection with the brand, and that has real value for us," AE spokeswoman Jani Strand said. "We find that creating this kind of content increases traffic to our stores, increases sales over time and traffic to the Web site as well."
The minisodes will premiere on MTV during "The Real World: Sydney," set to air in the summer, as part of AE's overall media buy with the network. "Our audience is always looking to us for new entertainment experiences, from hit shows to content partnerships, that extend to both on-air and online," said John Shea, executive vp of MTV Networks Music and Logo Group. "American Eagle and Divide Pictures are helping us deliver on that notion, and we are excited to work closely with our partners to once again change the mold to deliver a new experience for our audience."
The webisodes will air on ae.com at 8 p.m. Thursday nights starting Aug. 2.
"Mall World" explores the lives and relationships of two record store employees, a greeter/salesgirl at the American Eagle store across the way, a "slightly psychotic" girl who works in the fictional lingerie store Gloria's Chest and a "bad-boy poseur from the requisite mall juice bar," American Eagle said.
The ensemble cast includes Sam Huntington ("Superman Returns"), Dianna Agron ("Shark"), Amanda Loncar ("The Loop"), Deon Richmond ("Hatchet") and Eddie Hargitay ("Neutral Ground"). Ventimiglia starred as Rocky's son Robert Jr. in last year's "Rocky Balboa."
Read the whole story at: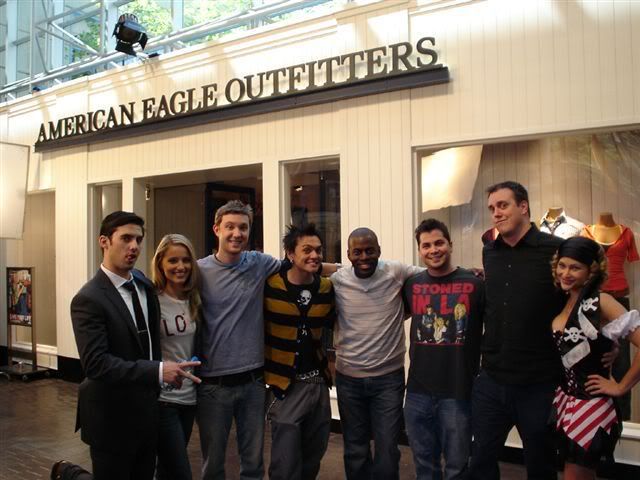 Milo, Russ, and myself with the cast of MALL WORLD.
"Crowley's CD & Vinyl" Record Store.
More shameless plugs on the movie theater marquee next door.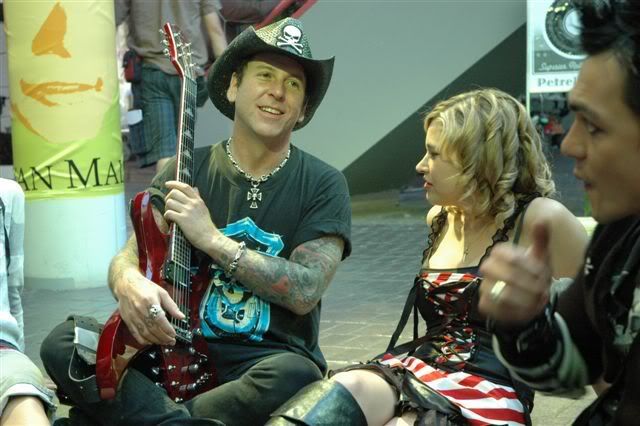 Yes, the rock star in the picture above is indeed Tracii Guns from LA GUNS.  I'm a huge fan and wrote a joke about his name in the script.  When we went to him to get permission he was so cool that he not only said "yes" but he showed up and did a cameo.
(On a side note, my very first concert was LA GUNS, DANGEROUS TOYS, and TORA TORA on November 4, 1989 at Boston's Orpheum Theater.)