IGNITOR RELEASE VIDEO FOR "HATCHET (THE BALLAD OF VICTOR CROWLEY)" THE THEME TO THE FOURTH INSTALLMENT OF THE HATCHET FILM SERIES.  ANNOUNCE SPECIAL VICTOR CROWLEY PICTURE DISC SINGLE.
FOR IMMEDIATE RELEASE:
IGNITOR, the NWOBHM inspired Metal project featuring DANGEROUS TOYS/former WATCHTOWER vocalist Jason McMaster, has released a video for "Hatchet (The Ballad of Victor Crowley)", the theme to VICTOR CROWLEY, the recently released fourth installment of the HATCHET film franchise. The track comes from IGNITOR's recently released sixth LP HAUNTED BY ROCK N' ROLL in stores now via EMP LABEL GROUP and ARIESCOPE RECORDS (the imprint label of iconic horror filmmaker ADAM GREEN).
The video can be viewed HERE.
ARIESCOPE/EMP will release a limited edition 12" vinyl picture disc, tentatively due in SUMMER 2018, featuring the film's main theme "HATCHET (THE BALLAD OF VICTOR CROWLEY)," paired with "SICK MIND", a brutal, rock-edged, hip-hop collaboration by Chino XL, Block McCloud,  Poison Pen, and The Jokerr, produced by Anno Domini.
Written and directed by Green, and distributed by Dark Sky Films, VICTOR CROWLEY sees legendary actor Kane Hodder (FRIDAY THE 13TH VII – X) reprising his murderous, swamp-dwelling title role, alongside Laura Ortiz (HOLLISTON), Dave Sheridan (SCARY MOVIE), Felissa Rose (SLEEPAWAY CAMP), and more.
Says Green, "The first concert I ever went to was Dangerous Toys when they performed at Boston's Orpheum Theater back in 1989.  From that moment on, Jason McMaster has played a pivotal role in my life, musically, and I've followed everything he's ever done since.  Almost thirty years later to be putting out IGNITOR's "Haunted By Rock N Roll" through my own sublabel ArieScope Records, with EMP LABEL GROUP, and for the band to have written the song "Hatchet" (The Ballad of Victor Crowley)" specifically for the latest entry in my HATCHET slasher film franchise… it is truly a dream come true.  IGNITOR represents everything that made me fall in love with metal to begin with."
IGNITOR vocalist Jason McMaster adds "A killer old school heavy metal video in the style of late 80′s bloody horror slasher films! This was a labor of love for blood and metal. I am proud of this moment, and very happy with the song we built for Adam's creation of the bloodiest freak of them all, the king of the swamp…Victor Crowley!"
Green is a cult icon within the horror genre having written and directed 10 feature films to date including 2010's Sundance darling FROZEN, 2014's genre-bending and groundbreaking DIGGING UP THE MARROW, and the hugely successful HATCHET franchise in which he created the modern day slasher icon "Victor Crowley."  Green is also the creator, writer, director, showrunner, and star of the popular television sitcom HOLLISTON.  After an extended hiatus following the tragic death of main cast member Dave Brockie (GWAR), Green is currently developing the third season of HOLLISTON.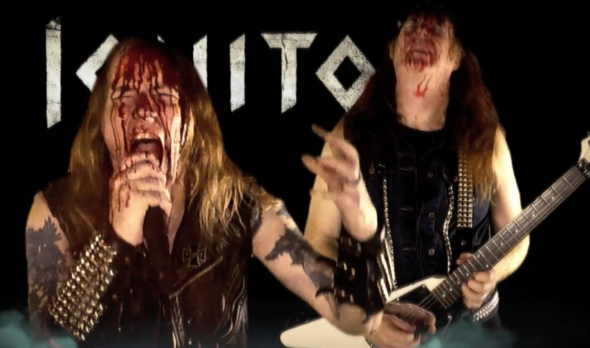 IGNITOR's Jason McMaster and Stuart Laurence