ArieScope mourns the sudden loss of our dear friend and HOLLISTON co-star Dave Brockie ("Oderus Urungus") who passed away in his Virginia home last night.  He was 50 years old.
GWAR's manager Jack Flanagan issued an official statement this morning:  "It is with a saddened heart, that I confirm my dear friend Dave Brockie, artist, musician, and lead singer of GWAR passed away at approximately 6:50 PM EST Sunday March 23,2014.  His body was found Sunday by his band mate at his home in Richmond, VA. Richmond authorities have confirmed his death and next of kin has been notified.   A full autopsy will be performed.  He was 50 years old, born August 30, 1963.  My main focus right now is to look after my band mates and his family. More information regarding his death shall be released as the details are confirmed."
Adam Green posted the following message on his Facebook page late last night:  "Thank you to every fan that has reached out with condolences in these early morning hours. I am at ArieScope with Joe and Laura now as we struggle through the night to try and accept that our dear friend is gone. Oderus Urungus has left planet earth to go home to Scumdoggia, and even more devastating, he has taken my brother Dave Brockie with him. I'll try and put proper words together when I can, but for now I just wanted to thank every member of the HOLLISTON NATION for your love and for sending your thoughts and prayers to the Brockie family, the GWAR family, and everyone else who was lucky enough to know Dave in this life. I am heartbroken."
A full blog posting from Green is coming, but for now HOLLISTON's cast and crew are together and drawing strength from the overwhelming support of the fans as they wait for more information.  Listen to Green's extensive interview with Brockie (recorded during last summer's San Diego Comic Con) here on The Movie Crypt podcast.
UPDATED: FEARnet will be airing a 24-Hour HOLLISTON marathon in honor of Dave Brockie beginning tomorrow (Wednesday) morning at 6am EST.  Details here.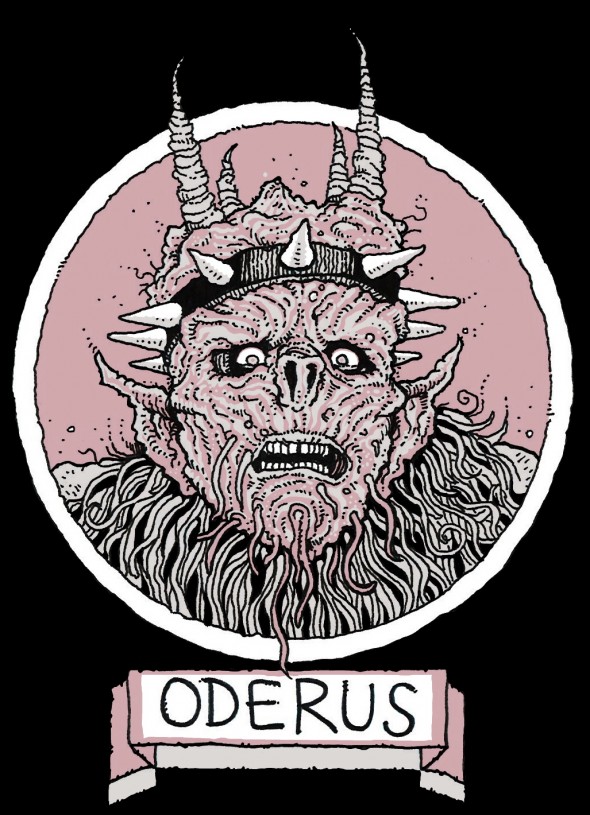 ADAM: "Come on, Oderus.  How am I supposed to figure out my life without you?"
ODERUS: "…Don't care!"
From HOLLISTON (Season 2, Episode 9 "Kevin's Wedding.")