UPDATED: For VICTOR CROWLEY tour dates keep checking here.  Dates will be updated as they continue to come in!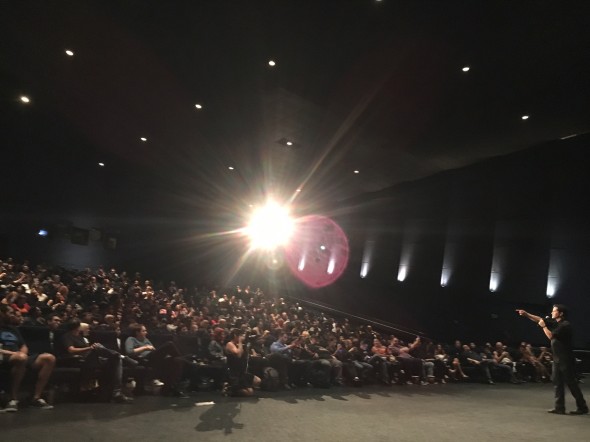 Last night in Hollywood, CA we surprised a theater full of diehard HATCHET fans by unveiling VICTOR CROWLEY – the brand new, 4th installment in the HATCHET franchise.  Billed as a "10th Anniversary Event", it was a star-studded night with cast from all 4 films walking the red carpet and a theater full of fans that were overjoyed with excitement when I stood before them and announced what movie they were really about to watch.  (Surprise!!!)  Produced in complete secrecy over the last 2 years, this film was a true labor of love if ever there was one.  Unveiled just in time for the 10th anniversary of the original film that started it all, VICTOR CROWLEY (or "HATCHET IV" as some will inevitably refer to it since, after all, it is the fourth film in the HATCHET series) is our gift to the fans who have carried the torch for this series of films further than I ever could have dreamed and who have turned "Victor Crowley" into a bona fide modern slasher icon.
I'm not going to spoil a single detail about the film here and I hope that no one who saw the movie last night or who will be seeing it soon on this upcoming tour spoils anything about it on-line either.  I realize that is a fairly unrealistic wish since a lot of genre sites are going to race to have a full review posted as soon as possible, but the best I can do is ask you not to read them.  It's not the opinions I want you to avoid (cause, man- if the way the film played last night is any indication it seems like we certainly pulled off something very special with this one), it's the people that feel the need to write blow by blow descriptions of the plot, spoil every possible surprise, and remove the fun of discovering this experiencing for yourself.  I'll never understand why some movie goers actually seem to want to have their movie watching experiences spoiled for them beforehand as you only get to see a film for the first time once in your lifetime.  Why would anyone want to know everything that's going to happen?  In the case of VICTOR CROWLEY… I mean, you just found out it even existed and now it's already touring and coming to select theaters over these next 2-3 months… which is exactly how we wanted to do this for you.  We didn't want there to be the typical year of announcements, various set visits, plot descriptions, set photos galore, a handful of clips from the film, many different posters, several trailers, and dozens of reviews all made available a year or more in advance.  We're trying as hard as we can to make this experience be just about you and the movie we made for you.  Like I did with DIGGING UP THE MARROW I'll be asking every audience that sees the film on tour in advance of its full-on release to please respect and protect their fellow fans and not spoil the film.  At every screening of MARROW I had said "go ahead and say whatever you thought about it- that you loved it or that you hated it- but please don't spoil it for everyone else with beat by beat recaps of what happens in the film."  So please… resist temptation, don't look at anything posted on-line, and just see it for yourself when you get the chance!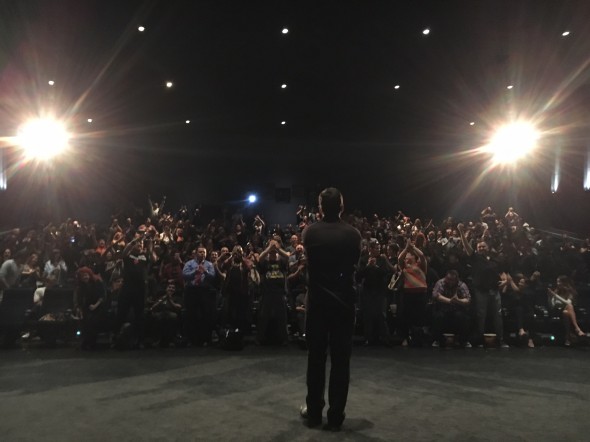 The audience gave the film two standing ovations last night.  Unreal.
I made this movie for all of the right reasons.  My cast and crew worked so hard to keep everything under wraps and to keep this pure and exciting for the people out there who love HATCHET.  We had pulled off keeping a movie under the radar with DIGGING UP THE MARROW but making a new HATCHET movie in secret was a completely different and incredibly difficult feat to attempt.  I'm so eternally grateful to every cast and crew member involved with this film who kept their lips sealed for the last two years.  I know just how hard it was to not spill the beans and I love you all for honoring the spirit of what we were trying to pull off for the fans that care about these movies so passionately.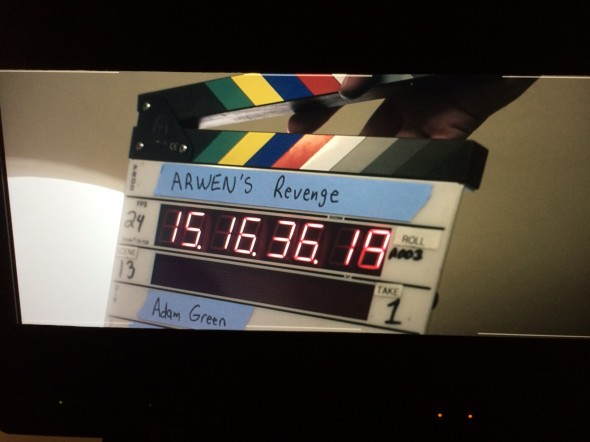 Our first day of principal photography in September 2016.  The screenplay was called ARWEN'S FANCY DINNER but the title was changed to ARWEN'S REVENGE once filming began. It was just a shorter, easier title to fit on our camera slates.
No, we don't think that this is like some secret new STAR WARS movie or a surprise HARRY POTTER film that is going to change the world.  It's a new HATCHET film.  None of us think that the entire world woke up this morning, heard the news about what happened last night in LA, and had their lives changed forever over it.  But for the fans that we made this for… the Hatchet Army… yes, the surprise of a new HATCHET film suddenly screening (that they never even knew was being made) sure does mean a hell of a lot and it is incredibly exciting news for them.  Thats what the secrecy was all about.  Them.  YOU.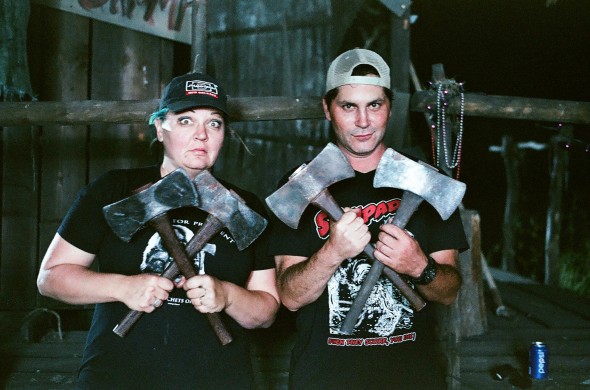 With Producer Sarah Elbert on our 4th tour of Honey Island Swamp.  Each time we come back we're missing more and more pieces of our sanity.
So why return to the swamp?  Why put ourselves through all of this crazy shit once again?  How many times did I say that HATCHET III was the end?  How clearly did I state that HATCHET was always meant to be a trilogy and that I was done with "Victor Crowley" forever?  Well, that was most certainly always the case and by the time HATCHET III made it across the finish line I was thrilled to see it come to an end and to know that we had finished what we set out to accomplish.  Since 2013, rarely did a day go by where someone didn't ask me for a fourth HATCHET movie.  On any of the various social networking platforms I take part in, at conventions or other appearances I've done… "Will there ever be a HATCHET IV?" was always the most common question.  My answer was always a very honest and legitimate "no."   But life works in mysterious ways and if I've learned anything since finishing HATCHET III in 2013, it's that no matter how meticulously you try and plan life out- life's plan for you will always change.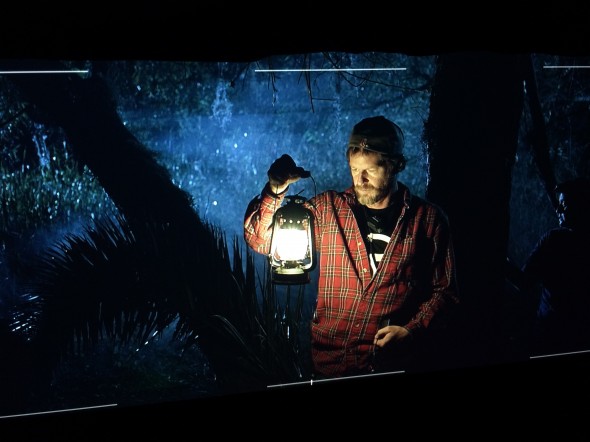 Dave Foy has been part of the HATCHET family since long before the first film was ever shot.  From playing a local fisherman in one of the earliest mock trailers on the original website, to acting in some of the films, to being a production assistant… Foy graduated up to 2nd Assistant Camera (and more) on VICTOR CROWLEY.
Believe me when I say that making a HATCHET film is never a walk in the park.  It isn't all fun and games like what you see in the various "making of" features that Producer Sarah Elbert so lovingly put together for each of the DVD/Blu-Ray releases we've had so far.  In real life it's hard.  It physically and mentally hurts.  And it damn sure isn't about the money.  It's all about one thing… the fans.  And no matter how hard the process is each time or how scarred up and beaten down we always are by the time we crawl across the premiere carpet… when we get to experience an audience watching what we worked so hard to create… when we hear your laughs, your screams, your applause… when we see the giant smiles on your faces leaving the theater… that is why we do it.  That is everything.  However, the decision to make another HATCHET film wasn't only about the "10th Anniversary" or about making the "Hatchet Army" happy.  There was a lot more to it.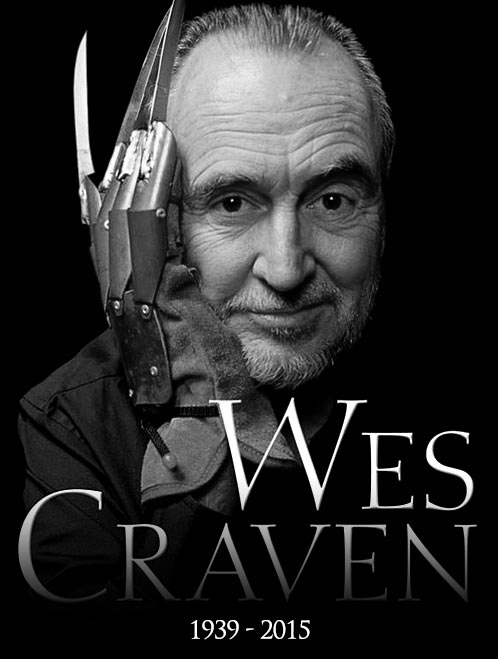 Wes Craven (August 2, 1939 – August 30, 2015)
On August 30, 2015 Wes Craven passed away.  (Almost two years ago to the very day that we unveiled this film.)  Wes was one of my biggest idols.  He was an absolute master of his craft and an artist that everyone in my generation of filmmakers worshipped.  So very many of us became the horror fans that we are today and picked up our first camera to try and express our own nightmarish ideas because of Wes' inspiration.  When Wes died I was already at my lowest and feeling like I had lost my way so his passing hurt deeply.  (If you're new here- see any of my blogs below from 2014-2015 to understand why I was in such a bad place.)  Phone calls, texts, and emails immediately started happening between my generation of genre filmmakers and suddenly the mortality of every artist we collectively look to as our mentors became a terrifying reality.  A common thought was, "What have we accomplished so far?"  "Does anything we've contributed even matter?"  At Wes' memorial service the same fear that someday our idols and true masters would all be gone was omnipresent.  The reality that no one lives forever was a common, tragic, and painful life lesson that I was personally taught in very hard ways in 2014.  Sadly, the three years that followed seemed to find even more ways to remind me about that harsh reality.  Our world has lost so very many more incredible artists since Wes Craven passed away.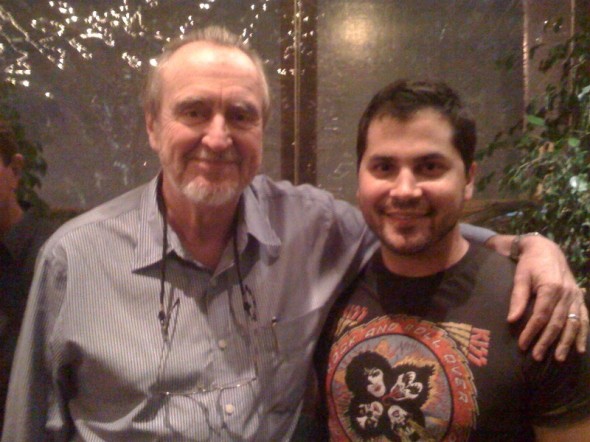 With Wes in 2010.
After all I had gone through in 2014, by the time Wes passed away my head was anything but on straight.  In my dark depression I had very much started to resent "Victor Crowley" for some reason.  To be totally honest, I had actually started to hate him.  During my lowest moments in 2014 I would find myself here in the ArieScope studio, staring at our life-size "Victor Crowley" display, and literally cursing him out.  I know what you're thinking. "HUH?"  Yes, I am well aware that HATCHET is what put me on the map and launched my career.  I am well aware that if it were not for "Victor Crowley" I may have never gotten to go on and accomplish all of the other things I've done since.  I'm eternally grateful that the movie ever even got made and that fans around the world have embraced it the way that they have.  But for all of the success the HATCHET series has had- those of us who actually made the films have never seen the financial fruits of our blood, sweat, and tears.  It's nothing new in the movie business whatsoever, but the millions that HATCHET generated all went… well, not to any of us.  So when my floor fell out from under me in 2014 it became very hard to feel joy whenever I'd see "Victor Crowley" tattoos on people or see the Halloween mask right alongside the much larger, longer running icons that came before him like "Jason," "Freddy," "Leatherface," or "Michael."  In my own opinion, "Victor Crowley" will always exist in their enormous shadows (much like how they will always exist in the even larger shadows of the classic Universal monsters that came before them), but to walk by a convention booth and see a "Victor Crowley" Halloween mask for sale alongside masks of the iconic monsters that I grew up adoring… it's a very weird and bittersweet feeling to try and explain.  Am I grateful?  You can't even begin to imagine just how grateful I am.  If not for the success of HATCHET I could be digging ditches right now for all I know.  But am I conflicted over the fact that my creation has generated a lot of money of which I will never see?  Yes.  And you most certainly would be, too.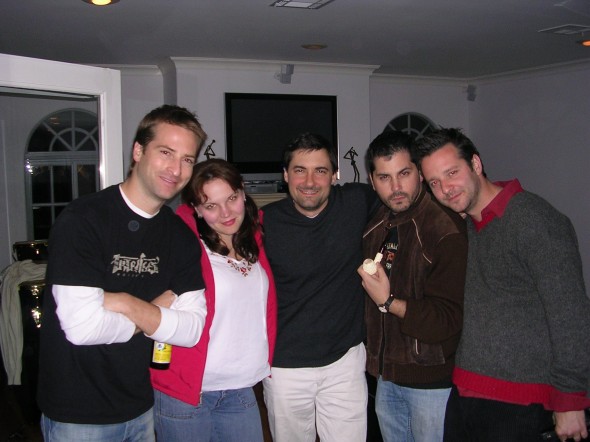 April 2005: The original Hatchet Army was just 5 people.  This photo was taken the night before production on the first film would begin and change our lives forever.
Right out of the gate HATCHET generated well over 7 million just on US home video alone.  And that's an old, old number from just its first few weeks on video.  The last time we heard how well our film had done from its original domestic distributor profits were supposedly well over 11 million and rising in the USA- and that was maybe 6 years ago now and only what they told us. (2010′s FROZEN would apparently go on to beat HATCHET's record but we'll never know the accurate numbers.)  Throw in the more recent years' streaming revenues or how much money the HATCHET series has generated around the entire rest of the world since it first came out in 2007 and whatever the exact dollar amount generated actually is it is fair to say that our scrappy little indie slasher film was a financial success for somebody.  In the grand scheme of Hollywood's studio tent poles, A-list star driven titles, billion dollar super hero franchises, or widely released (and fully marketed) genre films- is HATCHET's success really all that significant?  No- there is no comparison.  But for a little indie movie made by a group of friends, released by a small distributor, and mainly promoted by myself alone… it was an impressive feat to pull off and if we had personally seen those millions it would have been life changing.  But that's just not how things work on the business side and nobody likes to talk about that.  We were not the first to make others rich and we will most certainly not be the last.  And no- we weren't maliciously "ripped off" by anyone – it's really just how it goes most of the time and it is how the deal went for us.  I've written and re-written this section of the blog over and over again going into great detail about the specifics for how it all went down- but in the end I scrapped it as honestly, who cares?  Truth is, I'll never really know how much money HATCHET has made exactly, it's nothing new, anyone interested can learn about how messed up the financial side of this business is by reading up on the business of indie filmmaking or watch documentaries about other franchises, and HATCHET is in no way the greatest example of financial injustice in Hollywood. It all just is what it is.  The only reason I'm even mentioning this in this blog is so that you can understand where my head was at by the time the original trilogy was finished.
Among the many, many indie releases that barely break even or that actually wind up losing money for the distributor, HATCHET happened to have a filmmaker (me)  behind it who would stop at nothing to get the word out about the movie that he and his friends had made.  From 2005 to 2007 I maxed out every credit card that I could apply for by traveling around the world promoting HATCHET at any and every festival and convention that would have me.  I believed in what we had accomplished together and I didn't want to let my beloved cast and crew down after the enormous trust that they had bestowed upon me.  All I wanted was for "Victor Crowley" to have a chance and no one was going to make that chance happen for him if I didn't do it myself.  Did I ever think I'd have to self-promote my film to such great lengths?  Did I really even know what I was doing?  Not at all.  But I did whatever I could possibly do.  At the end of the day, a movie like HATCHET never had the kind of promotional money behind it that could buy a shot at success.  Success had to be earned one fan at a time starting by just letting them know that the movie even existed.  So in the very beginning I would stand up before half-filled convention ball rooms and nervously introduce myself to everyone. I would tell my "Dee Snider story" about where I came from and why I never gave up on my dreams.   I would passionately discuss how and why we made HATCHET and then (once I had people's eyes on the screen/stage and willing to give me a chance) I would show a clip reel from the film that could speak for the movie itself.  I would show a variety of scenes, like when "Victor Crowley" runs after "Mrs. Permatteo" and tears her face in half… and the crowd would go wild every time.  At some conventions the audiences even demanded that I play the clip reel a second time.  Word would spread and at the next city's convention the room would be a little more full, and then a little more full… until the panels for HATCHET became standing room only.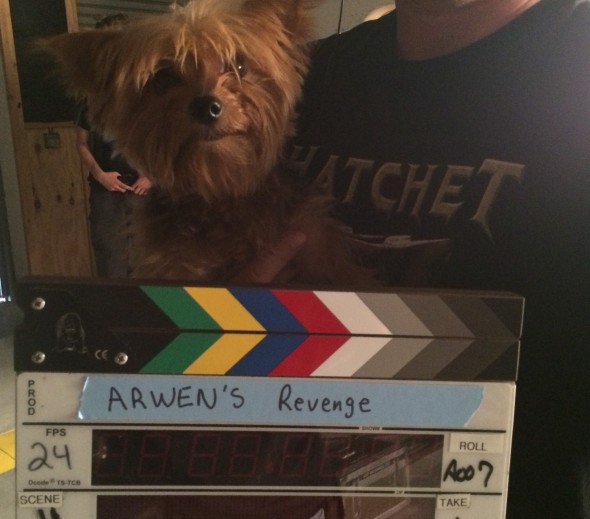 No, it isn't really a movie about my dog.  She was disappointed.
From the time HATCHET world premiered at NYC's Tribeca Film Festival in 2006 until the time it was theatrically released on September 7, 2007 I had spent 18 months hard core promoting it and I was buried in insurmountable debt.   A decade later, HATCHET now has three sequels, various forms of apparel, Halloween masks, comic books, and other pieces of merchandise that fans of the series own.  The staying power of "Victor Crowley" and the fact that he seems to only get more popular with each passing year is just incredible.  In 2005 I went to conventions just hoping someone there would listen to me or pay attention to what I was trying to offer.  Now I go to horror conventions and I see "Victor Crowley" tattooed on people.  I see fans walking around dressed as him.  I see HATCHET T-shirts everywhere.  Those big budget studio horror movies, remakes, and sequels that were topping the box office back when HATCHET came out…?  Well, time already seems to have forgotten about many of them.  HATCHET may be a cult film (whatever that actually means) but "Victor Crowley" is still here and he doesn't seem to be fading into complete obscurity anytime too soon.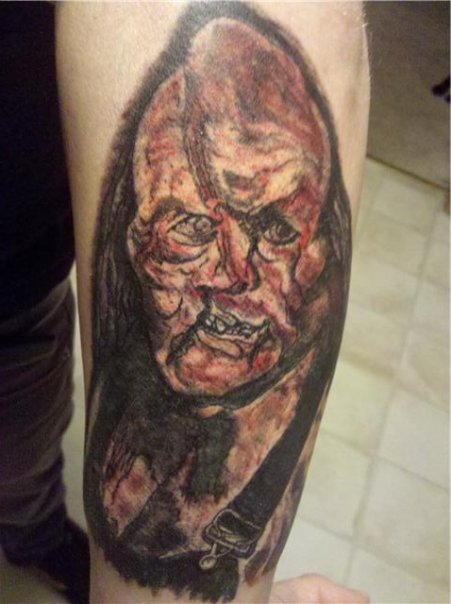 Victor Crowley has become a permanent part of many fans' lives.
So to circle back to where my head was in 2015 when Wes Craven passed away and explain why I could no longer look upon "Victor Crowley" with any joy… it was really all just a toxic byproduct of what I was going through at the time.  In 2014 my dear friend and HOLLISTON cast mate Dave Brockie had died.  Dave's tragic death and the sudden dissolving of our home network (FEARnet) in a corporate merger just three weeks later had thrown HOLLISTON (my most important project and life's work) into industry purgatory.  I was still reeling from a painful divorce that happened at the very same time.  Several other projects I had dedicated a year or more of my life to had turned out to be frauds as the producers involved never actually had their financing to begin with.  It was just hit after hit after hit all at once and I found myself in a very dark and very emotionally unhealthy state.  My personal battle with depression aside… financially I was spiraling down in flames as projects I had vested all of my time and heart into suddenly evaporated around me overnight.  Though money was really a secondary concern for me given how bad my actual health was at the time- hopefully you can understand why I couldn't look upon "Victor Crowley" with any love during all of that.  I was in the fight of my life just trying to force food down or get out of bed, my bank account had been eviscerated, and meanwhile I'm watching "Victor Crowley" (my creation that had generated several millions of dollars for others) continue to get bigger and bigger.  When someone would show me their latest HATCHET tattoo, when I'd see the Halloween mask walking around conventions, when comic book companies would contact me trying to pitch me ideas, or even when I would just walk into ArieScope and look at the giant "Victor Crowley" display… all I could do was think about the money he had generated and how it all went elsewhere.  Again… am I grateful for what HATCHET did for me in regards to putting me on the map?  Am I indebted to the loyal fan base I now have because of him?  Am I fortunate that HATCHET's success gave me a chance to make more films?  Abso-fuckin-lutely.  But when I was down for the count (or so it seemed) and in my darkest hour with everything going wrong, it was impossible to look at "Victor Crowley" and see anything other than the money he had generated for everyone besides those of us who had truly bled and risked it all to bring him to life.  So before you pass judgement, think about all that my friends and I have sacrificed and gambled over the past 13 years just to make these films and put yourself in our shoes.  Especially after how incredibly difficult HATCHET III had been to make… by the time I found myself on the floor in 2015 I was happy to know that "Victor Crowley" was finally dead and that my intended trilogy had come full circle.  I had finished what I set out to do and now I could move on.  I hated to even look at him and I often debated moving him out of the ArieScope studio so that I could try and forget him along with everything else that I had ever loved and been hurt by in return.
Listen, I'm not saying any of this makes complete rational sense.  I'm just being honest about where my head was at when Wes passed away and when the conversations and self doubt started happening between my inner circle of filmmakers.  In coming to terms with the fact that my idols were not immortal human beings, I looked at my own work and by unhealthy weight of comparison I felt like I had contributed nothing of significance so far.  As if I had never done a single thing that mattered.  I felt like an absolute failure.  I'd walk into ArieScope, look at the wall of our movie posters, the case filled with awards, the latest stack of fan mail, the merchandise… and all I saw was failure.  Artists that I looked up to would say "How can you possibly say you haven't done anything that mattered yet?"  Well, it sure didn't feel like it while I was going through the shit and battling depression.  Not that I was of sound mind during that time but I could only  feel disappointment and doubt in myself.
However, during Wes' memorial service another one of my filmmaking idols told me that that what I was feeling was completely normal.  "How do you think my generation felt standing in the shadows of artists like Hitchcock or Kubrick?  Your generation now looks at the things we did with reverence but it sure didn't feel like that for us at the time.  You can never see how much your own work matters to others or where it will stand in the test of time.  All you can do is keep doing what you do for as long as you can do it."  It was probably the most sensible thing I could have been told at that time, but still… I was overcome with so much self-doubt and self-loathing that I could listen to the words but not truly hear the message.  A common side effect of depression, I know, but the truth is, I don't think any artist should ever look at their own body of work and not doubt it.  Believing you can always do better is exactly what makes each next project worth doing.  You have to keep trying harder.  You have to believe you can do better.  You have to prove yourself all over again with each and every step.  No one is above that.  Even if the words of experienced wisdom that I received at Wes' memorial fell on deaf ears, I retained them somewhere deep down inside nevertheless and they set the stage for what life was going to throw my way next…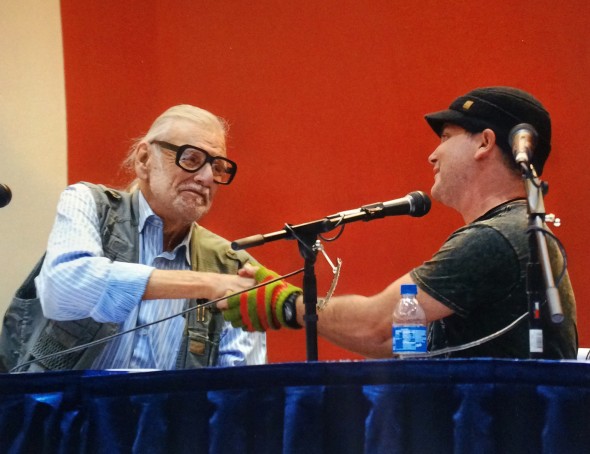 October 17, 2015.  Rock And Shock in Worcester, MA.
Just two months later I had the extreme honor of doing a one-on-one panel with George A. Romero at Rock And Shock- an annual horror/music convention in Worcester, MA.  Even though I had known George for almost ten years at that point, nothing could ever change my sheer reverence for him.  So to be on stage before the crowd there discussing filmmaking and the ever changing state of the industry with another one of my biggest idols…?  Are you kidding??  I'll never get used to moments like that or take them for granted as I will always be a fan first.  The pioneer of indie cinema and the one who showed us all that you don't need a major studio's money to go for it, George A. Romero was so much more than just "the Godfather of zombies."  He was the original indie horror filmmaker as far as my generation is concerned.  So even though I was still deep in the midst of my personal issues- there I was on stage with a man who is undoubtedly one of the most important filmmakers that ever lived… and he was speaking to me as if I were a fellow artist?  He was speaking of my work as if it actually mattered?  It was one of those divine intervention moments that came right when I needed it the most.
At the end of the panel, George briefly set me straight.  He knew what I was going through personally and that I was struggling to get the light in my heart turned back on again.  As much of an open book as I may be there are still some experiences that I need to keep to myself, so you'll have to forgive me for not sharing all of what he said to me.  To publicly share something that was meant only for me would cheapen it.  All that matters in comprehending this story is the gist of what happened.  George A. Romero, one of my biggest heroes, put his giant arm around me and picked me back up off my feet.  He gave me a heart to heart that made me feel like I was crazy to not see that what I do matters.  He told me to look hard at the faces of the fans standing on their feet and clapping and to accept the many reasons why.  He asked when I was going to give them another HATCHET film (or in George's words "another Crowley picture").  I told him I was never going to.  That "Victor Crowley" was right where I wanted him…  DEAD.  I rationalized how the obscenely small budgets we are now forced to work with in this current indie landscape have made making another HATCHET film not only next to impossible but utterly pointless.  He laughed and said "you're telling me this?"  (If you know George's trials and tribulations with NIGHT OF THE LIVING DEAD and beyond then you know that truer words have never been spoken.)  Now, I'm majorly summing up this conversation in order to keep the most personal aspects of it to myself… but George told me that I couldn't allow any of the shit I was going through to disenchant me from who I am or what I do.  He asked me again why I wasn't going to "give the kids another Crowley picture."  I politely reminded him that in the grand scheme of things HATCHET doesn't matter as much as the more mainstream slasher franchises like NIGHTMARE ON ELM STREET or HALLOWEEN or FRIDAY THE 13TH, etc.  That the world would go on just fine without ever seeing "Victor Crowley" again and that I was done with it forever.
George sternly called "bullshit" on that way of thinking.  He reminded me (in so many words) that HATCHET is my gig and though it may just be one of many sides to who I am and what I do- I needed to look at "those kids out there" who love it and start seeing it the way they see it.  He told me to stop looking at things for what they're not and to instead start seeing them for what they are.  That "Victor Crowley" now belongs to the fans who love him and that nothing is over until they say it's over.  He was realistic, of course.  He was not saying to just keep on making HATCHET films forever or to let the fans dictate my career and whatever I do next.  He was merely trying to show me that what I do matters.   Industry shenanigans, money, budgets, and all of that bullshit aside…"can you look at these kids and then honestly tell me Crowley is dead in your heart?"  I emotionally responded, "But I killed him in HATCHET III.  I'm finished with him, George.  He's dead."  And like a scene out of a movie, he peered down at me over his giant glasses, smiled, and said, "You're not finished and Victor Crowley isn't dead."  And like that, he was gone.  Whisked down the little walkway behind the curtains that outline the celebrity guest area at Rock And Shock.  I never saw him in person again.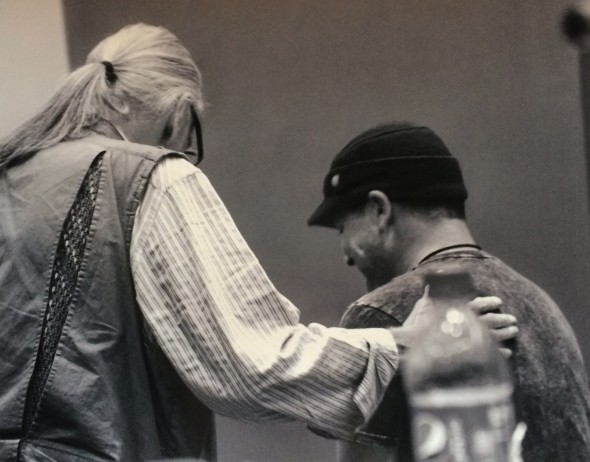 The very moment when "Victor Crowley" came back to life in my heart.  A fan snapped this photo and gave it to me the next day.  It's one of the most important photographs I'll ever have and it has hung over my desk ever since.
When Romero speaks you listen.  Is it sad that it took a real master telling me that what I do matters in order for me to start being able to see it that way?  Wouldn't this story be better and wouldn't I be a stronger human being if I had come to this realization on my own?  Probably.  But whether it makes me sound weak or not, the truth is that when it comes to the various artists I look up to…. their opinion of me and of what I do means far more than just a lot.  George saying that HATCHET has its place, that it means something, and that it needs to keep going… I mean… for once even I had no words. I'd share his reasoning for why my little slasher series was needed right now but there's no way to do that without coming off extremely self-serving.  (He was far too generous with his words.)  Let's just say that George appreciated the fact that what I do is never mean spirited and therefore has a way of making people happy.  If you are a long time weekly listener of THE MOVIE CRYPT then you undoubtedly know the story of "the Steven Tyler congratulations" and how being congratulated on my various achievements by someone I admire so, so much had sort of saved me in a way.  I may have found the will to hang in there thanks to one simple word ("congratulations") but during that moment with George at Rock And Shock, when deep down inside I was overflowing with misery and self doubt… the only thing that could have pulled me out of it was hearing George say that.  Life changed my plans.  Entirely.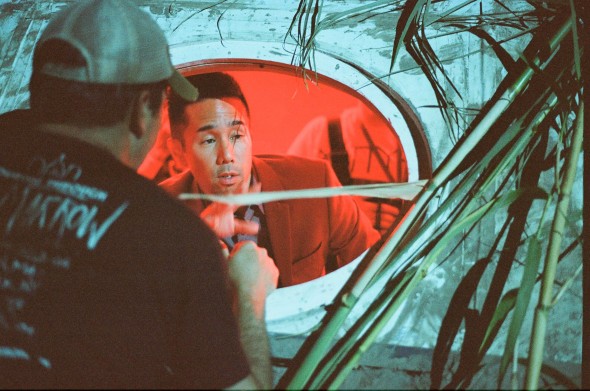 The true "final girl" of the HACHET series, Parry Shen is back for round four.
I flew home to LA filled with the kind of excitement I hadn't felt in years.  My mind was racing with ideas.  I was on a mission.  And no, I certainly do not mean that "making more HATCHET films was now my life's purpose."  Far, far from that.  I mean that I finally felt like something I do matters.  I wasn't going to let depression keep beating me down or continue to disenchant my spirit.  I was no longer concerned with the things HATCHET didn't do for me or with the things it may never be.  As I continued to write I fell more and more back in love with it for what it is.  I was doing this for myself just as much as I was doing it for the fans that love it.  George was right.  HATCHET, "Victor Crowley"… goddamnit, this is my gig.  Making another HATCHET film wasn't gonna matter to everyone in the world.  It wasn't going to hurdle my career to the next step.  It certainly wasn't going to make me rich.  It may be the last HATCHET film I ever make for all I know.  But creating a new Crowley movie was setting things straight again inside my clouded heart. It was making me happy again.  Bringing VICTOR CROWLEY back was just what I personally needed to do right now.  If that meant putting other things on hold for a bit while I went off to make a movie that I had never planned on making… then so be it.  I needed to climb back onto my horse before I could ride it again.
I had to put a lot of other projects on the back burner once VICTOR CROWLEY took over my life in October 2015.  But I was perfectly fine with that.  As hard as I had already been working at writing the new season of HOLLISTON, it still hurt too badly to work on a show that I was not even close to done grieving over.  Forcing myself to push out a new season when I was still so devastated over the loss of Dave Brockie… it wasn't helping anyone.  My many other projects?  They all just had to wait for a little bit longer.  At that very moment in Worcester, MA I knew exactly where I needed to go next and that was back to Honey Island Swamp.  It didn't matter what anyone else thought… I had to do this.  For those of you waiting for a new season of HOLLISTON or for an update on projects like KILLER PIZZA that you haven't heard anything about in a long time now, rest assured that they are very much alive and that my attention will soon be turning back to them fully.  I've just been kind of busy for the last two years.  And now you know the real reason why.
After Rock And Shock I returned to LA, I hugged "Victor Crowley," and I sat at my desk all night long just churning out pages.  I had been through a lot since HATCHET III was made and I now had something to say with HATCHET again.  A few weeks later I had written a first draft of my favorite HATCHET script yet.  My depression, my struggles, my hardships… I worked them out in jokes, over the top kills, and heaps and heaps of gore.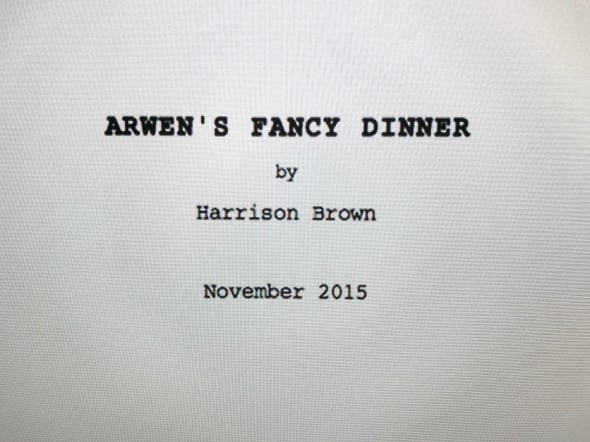 In order to protect the secret of VICTOR CROWLEY the screenplay was originally called ARWEN'S FANCY DINNER.  My middle name is "Harris" and (much like "Green")  "Brown" is both a common last name and a color…. thus "Harrison Brown" as the credited writer.  No, this isn't a pseudonym I actually use or anything.  It was just to help keep things quiet in case someone ever caught a glance at the script. 
So why not call it HATCHET IV?  There were a few reasons for that choice.  Even though this film does indeed play like a sequel, it also kicks off a new chapter for the series.  As you know, the original trilogy was meant to be one long film.  The story of parts 1 – 3 took place over the same few consecutive days and each film started on the very next frame the previous film had ended on.  VICTOR CROWLEY picks up 10 years after the events of the first three films.  While you'll certainly enjoy this movie that much more if you've seen the original trilogy, you don't have to have seen the first three films in order to understand or enjoy this one.  When we began testing out early cuts of VICTOR CROWLEY we made sure to include people who had not seen the previous films just to make sure of this.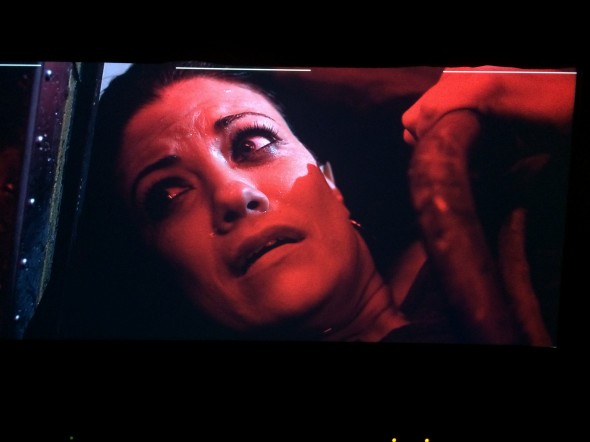 Tiffany Shepis was put through hell on this movie.  And she never complained once.
When I first told my partners in crime what I was writing (Will Barratt, Sarah Elbert, Cory Neal, FX artist Robert Pendergraft- the key people that have been part of HATCHET since before the first film was ever shot and who have remained with the series straight through) their response was… confusion.  We always get our asses handed to us and we each age about 10 more years with the making of each HATCHET film so everyone knew what this would mean.  Thankfully, once they read the script they too fell back in love with HATCHET, they understood why I personally needed to do this, and as family does- they rallied alongside me to head back out into the trenches again knowing full well that they'd return with a whole batch of new scars and missing pieces of their sanity when all was said and done.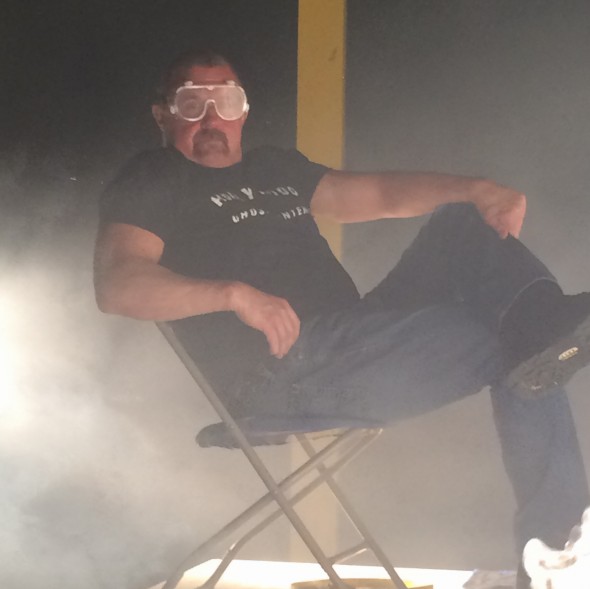 As our stunt coordinator, the man who plays the murderous "Victor Crowley" is also the very same man who keeps us all safe during production.  Kane Hodder was overjoyed when I first told him that I was writing a secret new HATCHET movie.
Our band was back together.  Again.  However, this time out we'd ultimately wind up bringing some much needed fresh blood into the family in very crucial positions.  Artists who's enthusiasm and monumental contributions shine through loud and clear in the finished product.  I've been dying to be able to tell you about some of the incredible artists I got to work with and fight alongside on this most recent tour of Honey Island Swamp, but more on all of that once I can speak more specifically about the movie itself.  I know you're going to be as blown away by their work as I was on a daily basis.  On the red carpet for last night's premiere I joked that working on a HATCHET film is kind of like doing time, but if you've ever worked on one of these then you know it's not really a joke.  A better term might be "enlisting to serve your genre" but the point is- the handful of people who are on these movies from the very start until the very finish sacrifice a lot.  As hard as the shoot itself may be, at least it's over in a matter of weeks and the cast and crew gets to go back about their lives or onto other projects.  But for the producers and especially the key members of the post-production team, enlisting in the HATCHET universe is like boarding a ride that you can't get off of and that never seems to end.  On the behind the scenes special features it may look like we're having a ball, but what you never see are the months and months of sleepless nights toiling away in dark edit suites as the movie comes together.   That's the thing with the HATCHET franchise… no matter what we're handed for a budget on each production, each film gets bigger and more ambitious than the last.  So how do we pull it off?  It's the people I have around me.  I'm so insanely lucky that I've always had truly dedicated individuals surrounding me.  Artists who match my passion for these films and who put so much of themselves into each one.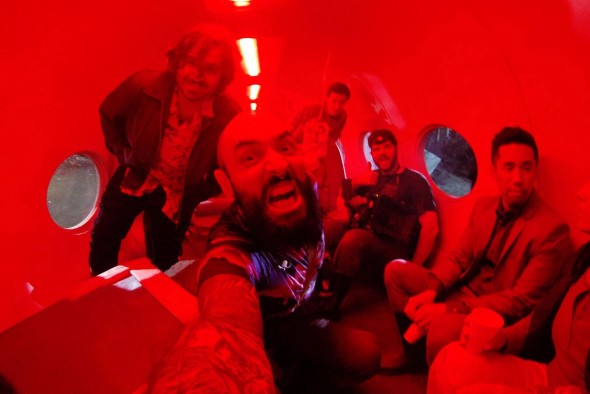 Director of Photography Jan-Michael Losada kept our ship from sinking on set. 
My one insistence in making VICTOR CROWLEY was that this time it all had to stay secret.  It was something that everyone fully agreed on including Dark Sky (who has financed and distributed all three HATCHET sequels) and each and every cast/crew member.  We were somehow going to make the movie completely off of the public's radar and then surprise unveil/announce it at a "10th Anniversary Screening."  Then I would immediately launch into a tour that would bring the theatrical experience we created to as many cities as I could bring it to.  The very first the public would hear about VICTOR CROWLEY was by seeing it.  We wanted to keep this experience pure and without any expectations or outside interference.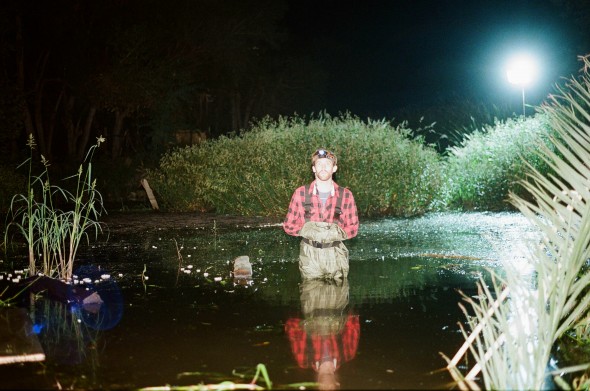 During Austin Bosely's interview for an internship with ArieScope we warned him that he'd soon be in deep shit.  He didn't know that we meant it literally.
And so our 4th battle began.  It was the hardest one yet for about a million reasons but you'll hear all about that stuff in due time.  I'd have to imagine there will be a commentary or two on the eventual DVD/Blu-Ray but for now… the less you know about the making of VICTOR CROWLEY the better.  I just hope you enjoy it even just half as much as the audience in Hollywood enjoyed it last night when we unveiled it.  I'll be touring with the movie throughout the Fall (cities and dates will continue to be updated here) and then there will be the official release shortly after.  See VICTOR CROWLEY with a theater full of fellow slasher movie fans if you can.  These upcoming tour screenings and Q&A's will most certainly be a blast!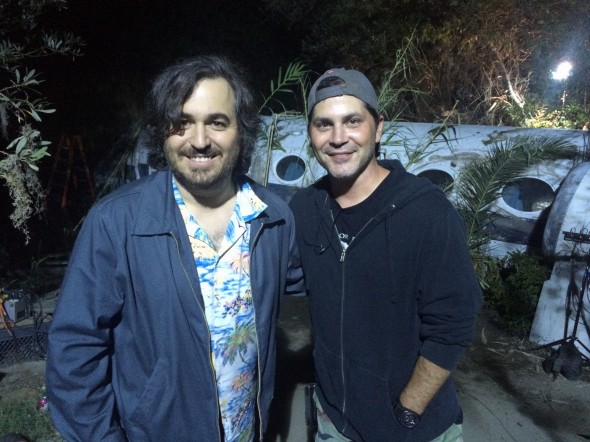 Actor Brian Quinn was like a kid in a candy store throughout the entire shoot.
George A. Romero passed away on July 16th.  37 days before the surprise unveiling of this movie.  37 days before I was going to finally tell him what I had actually done.  37 days before I was going to publicly thank him for saving the love I still had for what I had created.  The plan was always to share the above story at the surprise unveiling and hopefully with George present… but I missed the chance by just 37 days.  In hindsight… why did I wait?  I should have told him two years ago when I first took his words to heart and wrote the script.  I should have thanked him as soon as I knew that we were indeed making the movie.  But I wanted to tell George by showing him.  I wanted to share this story with him sitting right there in the theater if possible.  Though I may have missed my chance to tell him by actually showing him the movie, I have great faith that he was there with us when we unveiled the movie last night.  Smiling down over his signature huge glasses.  And just maybe Wes was also there with him.  Looking down on a theater filled with filmmakers they both inspired and fans that adored their work.  Watching the spirit of the genre they helped build live on.  I'm merely one of many trying to do my part in carrying the torch they held as best as I possibly can.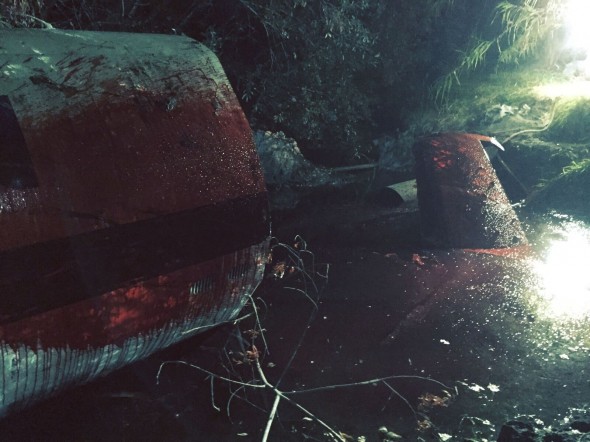 Every time I take "Victor Crowley" anywhere we wind up making a horrible mess.
Out of the ashes of various tragedies, personal struggles, and a whole lot of heartbreak I was taught how to love "Victor Crowley" once again.  He'll likely never be a household name like "Dracula" or "Freddy Krueger" but he's my contribution to cinema's legacy of monsters.  He's my friend.  I'm sorry that I ever lost sight of just how dearly I love him.  Whether this franchise goes on for more films or ends once and for all with this fourth one…  I did it all for the right reasons and I'm very confident that it shows in the finished product on screen.  Do I have a new master plan and more HATCHET films in mind?  Of course I do.  However, something I learned from my time in the darkness is to live for the moment and not be so concerned with controlling what happens next.  As I write this, "Victor Crowley" is watching me from inside the cage I keep him locked away in.  He's steadily pacing back and forth, ready to leap into action if I call upon him.  Whether or not I ever set him free again and bring more HATCHET films to fruition all depends on you, the fans.  Support VICTOR CROWLEY where it counts and perhaps you'll see him in a fifth or sixth film someday down the road.  One step at a time as there's no way of knowing what life has planned for any of us.  For now it's only about this moment.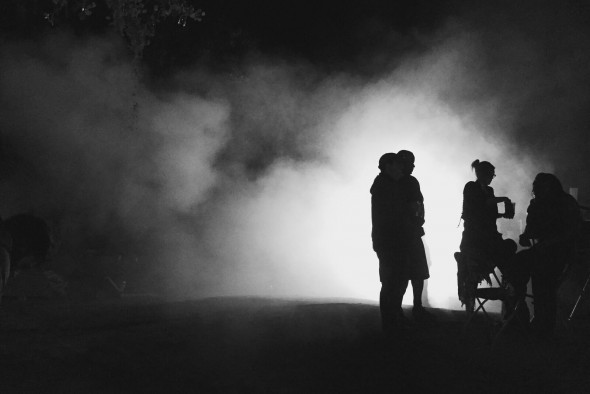 The make-up effects team prepares "Victor Crowley" for battle.
For Wes Craven and George A. Romero… thank you.  Your examples inspired me to take a risk and try.  Your kindness and support for what I do encouraged me to keep going along the way.  And even in your passing you both taught me how to love and appreciate my own creation far more than I ever loved or appreciated it before.
ArieScope's slogan has always been "in the dark of the cinema we are united."  For those of us who are still here… I'm so eternally grateful for these wonderful moments that we get to share together.  The upcoming tour screenings where I'll get to hear your laughs, screams, and appreciation for what my friends and I have accomplished together… those are the moments that make what we do worth it.  I'm so thankful that I'll get to see your smiling faces, get to shake your hands, get to hug you… get to share life with you.  After spending much too long in a dark and scary place… I'm just so happy, so fortunate, and so blessed that I get to still be here entertaining you.  It sure is wonderful to be alive, isn't it?  I certainly know it.
Welcome back to the swamp, Hatchet Army.  Victor Crowley lives!  -AG