Another year gone, another year to look forward to, and so, so much to be grateful for.  Where to begin?  2012 saw the television premiere of HOLLISTON "Season 1″ which was an enormous success far beyond our expectations. The promotional tour leading up to the TV premiere last April and the many events surrounding the DVD/BLU-RAY release this past October were all a phenomenal good time. In the Fall we filmed both the 1-Hour Christmas Special and all of Season 2 which was probably the most creatively rewarding experience I've ever had. When you take into account the fact that this TV show was 13 long, hard years in the making and that in making it I get to work with only my closest of friends both in front of and behind the cameras, there is no doubt that 2012 really goes to HOLLISTON.  The making of Season 2 was made slightly easier on me thanks to director Sean Becker who directed 8 of the 11 episodes we shot (including the Christmas Special) and who really helped bring the show to the next level and into it's own.  Though being the creator, the sole writer, the show runner, a director, and the star of a sit-com would already be more than enough for any sane person to handle, HOLLISTON was of course not the only focus for me this past year.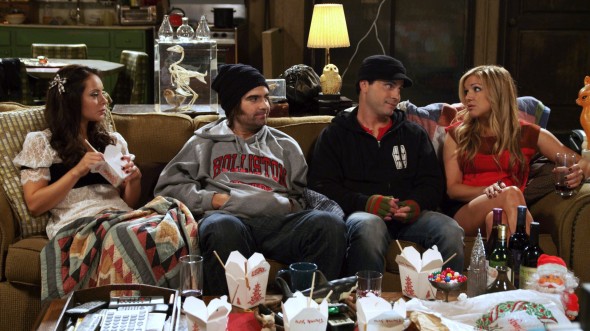 The 1-Hour HOLLISTON Christmas Special has its television premiere on December 18, 2012.  It will also be available on FEARnet On-Demand and HULU for those that still don't get FEARnet where they live.
Around all of my HOLLISTON duties, I also wrote and produced HATCHET 3 which, like HOLLISTON, is another one of my dearest of children and something I have vested a huge chunk of my heart and soul into ever since creating "Victor Crowley" at the tender age of 8. As explained in previous blogs, I was under a lot of pressure and stress with HATCHET 3 having made the decision to pass the directing torch and the making of the movie was no walk in the park like you'd think it should have been with it being our third go around and with someone else taking on the massive responsibilities of directing and leading the way. But it was an incredibly ambitious script and as I promised the Hatchet Army from the get go, I was going to remain intensely involved and make sure that the fans got the movie they deserved. I'm confident that we delivered the goods and I know that when the movie is released next year that HATCHET fans are going to have a blast with it. So where is the first trailer? Where's the poster? Where's the release date? All coming soon, my gore-loving friends. Dark Sky is getting closer and closer to nailing down their release date and once they do, the trailer, clips, stills, and other promotional pieces will follow suit in the appropriate time line.  In an effort to try and combat the bit torrenting and illegal pirating of movies that are slaughtering the indie film industry, distributors worldwide are now trying to combine their efforts and release films as close to each other (date wise) as possible.  So even though HATCHET 3 will be completely done in just a few short weeks, don't be too surprised if Dark Sky holds until late Spring/early summer so that other countries have time to also gear up, prepare, market and release the film together at the same time.  Hopefully we hear the specific release date soon but I'm told that a first trailer is not far away at all.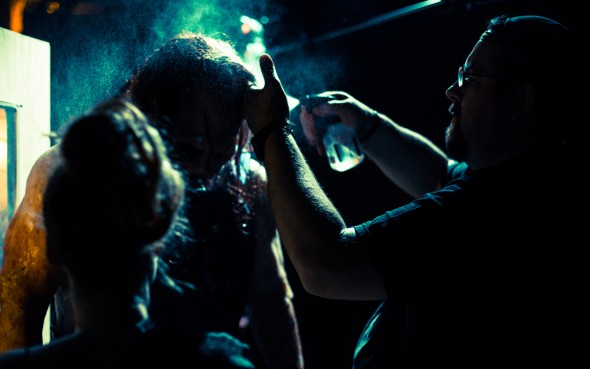 Make-Up FX Supervisor Robert Pendergraft prepares "Victor Crowley".   Photo by Dustin Pearlman.
While all of this was going on I was still hard at work on the script for KILLER PIZZA.  (Remember that one?)  KILLER PIZZA is a project I am doing for 1492 Pictures and some of Hollywood's greatest producers including among them one of my biggest screenwriting and directing idols Chris Columbus (HARRY POTTER, GREMLINS, GOONIES, HOME ALONE), producer Michael Barnathan (THE HELP, HARRY POTTER, RENT, FANTASTIC FOUR) and producer Raffaella De Laurentiis (CONAN THE BARBARIAN, DUNE, BACKDRAFT, DRAGONHEART).  Unfortunately, this is one of those projects that falls under the "can't spill any details just yet" category and I know that's frustrating for many of you as the project has been in that category for about 2 years now, however if things keep moving like they have been lately I just may be able to start sharing some information early in 2013.  It's been a long road (as is to be expected with a bigger film like this) but the people I am working with have been so incredibly supportive and wonderful to work with.  I can't tell you what an amazing opportunity it has been to go through this process.  Normally in this business, projects are shaped by "suits" and you find yourself getting notes from people who got into their position based on who's phones they answered coming up the ranks rather than any actual filmmaking experience or abilities.  So with KILLER PIZZA, getting notes from actual filmmakers (who also happen to have made some of my favorite movies) it makes for a world of difference and this script has just gotten better and better and better with each step in its evolution.  The project started as a work-for-hire adaptation of Greg Taylor's children's book, but through the development process it has become something deeply personal and exciting for me.  Not just in the work itself but in the demonstrations of character and integrity I've witnessed by the people who gave me this chance.   Again, hopefully I'll be able to say more about it in the coming months, but for now I'll sum it up with the words "grateful" and "wicked excited".  For those who keep asking who is directing the film and when it is being made, I just don't know those answers yet and (as is always the case with these things) it could all come to a screeching halt or fall apart at a moment's notice.  But I'm praying that it WON'T go away and I expect to hear some concrete news to share early in the new year.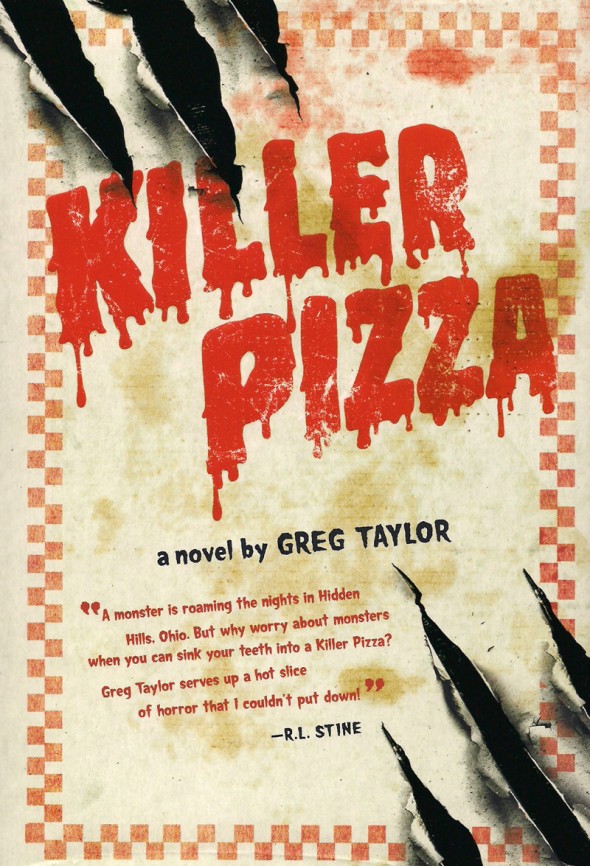 "Killer Pizza" by Greg Taylor.  Original cover – 2009.
There was more to 2012 including further progress on ArieScope's monster documentary with artist Alex Pardee DIGGING UP THE MARROW (file under "more info coming soon" but know that we're actively working on the movie) and the production and release of our 14th annual Halloween short film DRIVING LESSONS which was probably one of our biggest hits since JACK CHOP.  On a more personal note, 2012 also brought more changes and accomplishments for "Adam Green the real person" (as opposed to "Adam Green the filmmaker/public figure guy").  Acting and being on-camera as part of an ensemble cast that carries a sit-com required me to get into prime physical shape, something I had never had to worry too much about when I was mainly behind the camera.  For season 1 of HOLLISTON I was able to drop over 20 pounds and 4 pants sizes to prepare for shooting.  As anyone who has attempted physically changing their own bodies can attest, rigorous dieting and working out is not easy which is why so many quit or fail at it.  But there's probably no greater motivation than to know you'll not only be on-camera and eventually seen by a million people or so but that you'll also be having to shed your clothes in a scene or two and even be featured stark naked on giant billboards and the sides of buses in major cities.  At least in my case I have the help of an incredibly talented make-up artist (Desiree Falcon) and a genius costumer (Autumn Steed) who are the secret weapons behind the looks all of us in the core HOLLISTON ensemble.  But they need a decent pallet to work with and while the girls on the show (Laura and Corri) are already naturally as camera-friendly and beautiful as they come, once Joe and I made the commitment to acting in the show we took it dead seriously and worked as hard as we could on ourselves.  Dee as well.  While he's already in better shape than all of us combined, even he put the work in to himself as "Lance Rockett" wears some pretty hilarious and revealing clothes on the show.  The main four of us made working out together part of our regular rehearsal regiment (lead by my personal assistant for pre-production, Terrence) and director Sean Becker even joined the training and worked out right along side us so that it would truly be "one for all".  By the time cameras rolled on Season 2 I was down to 153 lean pounds which was 25 pounds less than I weighed during the making of FROZEN (2009) and 7 pounds less than I weighed when I graduated High School (1993).  The healthy eating, the training, the workouts, it all paid off.  But it was not easy so you can be damn sure that I'm listing my physical transformation as one of my unlocked achievements for the year.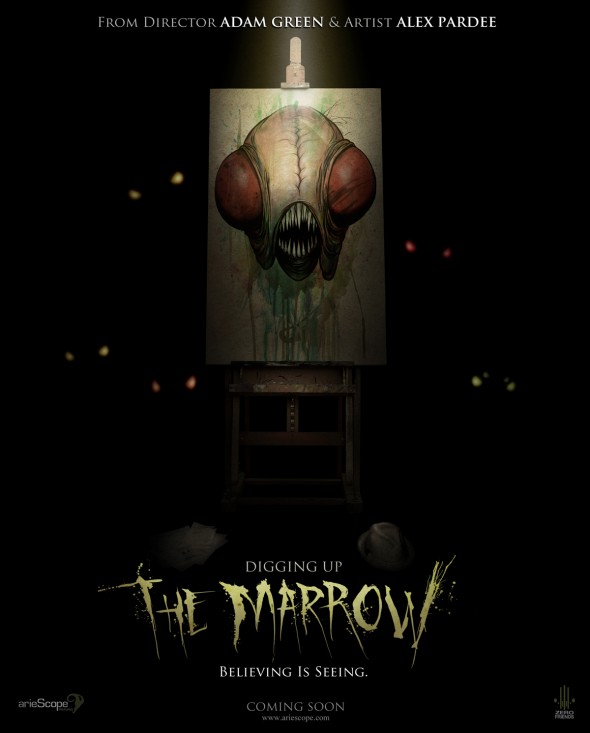 DIGGING UP THE MARROW teaser poster.  Now filming.
So what's to come?  Looking ahead, 2013 will surely be my greatest and most active year yet if that's even possible.  HATCHET 3 will be released and with that comes all of the press and (hopefully, depending on my schedule) appearances in support of the film.  Season 2 of HOLLISTON will premiere in the late spring/early summer and that too will require tireless promotion, travel, and press.  Season 2 is my proudest moment yet and it's absolutely killing me to have to wait for you all to see it.  We're also diving right in to a ton of filming for DIGGING UP THE MARROW as we hope to finish that project in 2013 and, if things keep moving like they are with KILLER PIZZA, I'll see my biggest script and largest production yet take place in 2013.  It also just so happens to be the 15th anniversary of ArieScope Pictures which is kind of a big deal.  It's surreal just how much we've accomplished as a company (a worldwide franchise with the HATCHET series, a successful TV series, two Sundance hits, eight successful and critically acclaimed feature films- six of which are now in regular rotation on cable television almost nightly) and come Halloween time of 2013 we will have so very much to celebrate.  For the past 14 years we've always approached the annual Halloween Short as something we do with the rule of no money, one night. and just for fun- but if time allots for it, this time out we are hoping to tackle something much larger and much more serious for the 15th annual Halloween short.  Of course there's a few other projects brewing but nothing I dare speak of publicly yet.  How I could possibly fit anything else into this already jam-packed year, I don't know, but I'm sure I'll find a third end to burn my candle at if given the chance.
…Or will I?
Among my "personal accomplishments" I've also started putting much more effort into my own health and happiness and I hope that continues into the new year.  I pushed myself beyond what is physically safe this past year and after so many sleepless stretches, marathon work days, and a ton of stress, it took my friends, family, doctors, and my extremely understanding and supportive wife to make me realize that all of this will be worth nothing if I don't live long enough to actually enjoy it.  They say to always remember to "stop and smell the roses" but the first step is being able to see that there are roses there in the first place.  (Besides, I can't afford to die too young as I have WAY too much work on my plate and I'm not a quitter!)  Between my hands uncontrollably shaking,  my mental health deteriorating, and the day that I nodded off on my feet in the middle of a take during the filming of Season 2 of HOLLISTON… it was time for a wake-up call and it's a call I'm taking very seriously.  Through the work I've been doing on myself I'm learning how to get my real life back and put things into perspective in a more healthy way.  I'd be full of shit if I said I have the balance between work and real life all figured out (I'm still far from having things in check) but I'm making a serious effort to put things in their appropriate place, cut out a lot of the negativity and unhealthy people and methods I have accrued in my life over the past 8 or so years of success, and I'm learning how to not loose sight of what really matters at the end of the day.  I'm proud to say that my very FIRST order of business in 2013 involves a real vacation and time to celebrate all of these accomplishments as far away from work as possible.  I could pontificate on all of this and share anecdotes on what I've learned in the personal work I've been doing for my mental health, but who cares?  All I'll say is that if I can give ANY advice worth taking, it's to put yourself and your real life first (more than just every now and then) and that every so often you need to assess your surroundings and "sweep the deck" of the negativity.  All of us accrue flawed ways of handling things, unhealthy habits, and negative people around us as we progress in life, ESPECIALLY those of us who work in the entertainment industry or have any level of success, however big or small.  Don't let the barnacles stick around and suck the joy out of you on your journey and certainly don't avoid cutting them loose simply because you fear they'll be disappointed in you or not like you anymore.  Try it some time.  You'll see it feels amazing to be happy instead of obligated, used, or taken for granted.
For Rileah and I, 2013 is starting off here…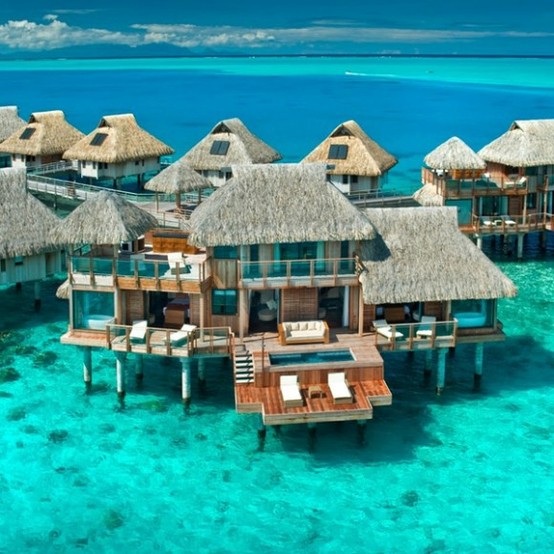 Heaven.
…and we can't wait!
There's still one more blog of frequently asked questions and answers coming before the New Year, but in signing off on this "year-end-blog" I just want to say I LOVE YOU.  To the extremely talented and loyal people that I am so lucky to work with each and every day and who make every difficult step forward worth it- I love you.  To my crew and especially to my cast mates/brothers and sisters on HOLLISTON – I love you.  To my friends both old and new who are with me for all of the right reasons and who pay back what I give to them ten fold- I love you.  To my family who has stood behind me for my entire life – I love you.  To every fan around the world who unconditionally supports what I do and who has given me the amazing opportunities and eclectic career that I have, to the Hatchet Army and the Holliston Nation- I love you.   And to Rileah who stands WITH me all the way through, who believes in me more than anyone, and who carries me when I need the help – I love you, I love you, I love you.  I hope that during this next year ALL of you get to feel even just a fraction of the happiness that I have in my heart.
So let's do this, 2013.  Picture is up!   Let's roll camera, roll sound, and… "ACTION!"
-AG