On May 28th-30th 2013, I held a 3-Day fundraiser to help raise money for the One Fund to benefit the victims of the tragic April 15th Boston Marathon bombing.  Events included:
A free HOLLISTON poster signing at Fiske's General Store in Holliston, MA.
The "HOLLISTON Comes Home to Holliston" 3-episode preview screening at the Holliston High School with myself, Joe Lynch, Laura Ortiz, and Derek Mears – hosted by Kevin Barbare and including an after-party at Casey's Public House (known as "Casey's Crossing" on HOLLISTON).
The "Boston Strong" celebrity auction and fundraiser in Worcester with special guests including myself, Joe Lynch, Laura Ortiz, Joel David Moore, Kane Hodder, Zach Galligan, Derek Mears, Kip Weeks, and Mick Garris.
A HATCHET MARATHON of all three HATCHET films (including the first ever public screening of HATCHET III) at the Revere Hotel's Theater One in Boston with myself, Joel David Moore, Kane Hodder, Zach Galligan, and Derek Mears.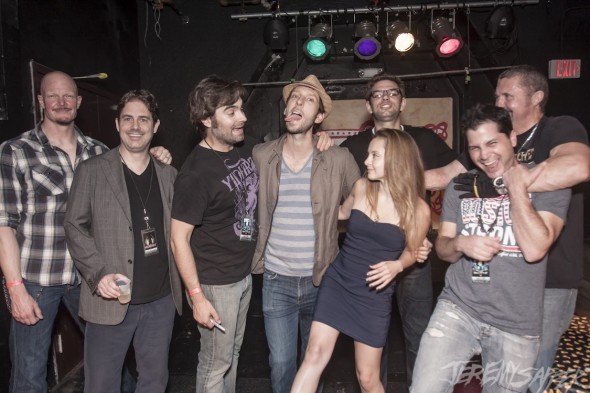 Joking around between photos: Mears, Galligan, Lynch, Moore, Weeks, Ortiz, Green, Hodder
The outpouring of love and support (from both fans and Hollywood alike) was absolutely astounding.   I was so grateful to have friends donate rare one-of-a-kind items for the auction including Chris Columbus, Wes Craven, John Carpenter, Eli Roth, Rob Zombie, Dee Snider, Sid Haig, Oderus Urungus, Alex Pardee, Dark Sky Films, Anchor Bay Entertainment, Tyler Mane, Joe Knetter, Marcus Dunstan, Patrick Melton, Zakk Wylde, Darren Lynn Bousman, Joe Hill, Metal Blade Records, and many, many, many more.  Too many to possibly name them all.  Together we raised $15,000.00 for the victims of the tragedy (after all expenses for holding the event were paid out).  It was nothing short of amazing.
I've put off writing a full on blog about this event for a variety of reasons.  For starters, I did this for charity and to help my hometown simply because I believe that anyone in my position would do the same.  Therefore, I tried as hard as I could to promote the event but not to let the event itself become a publicity event for the opening of HATCHET III, the season premiere of HOLLISTON, or for myself.  So I wanted to wait to fully comment on the event until long after those release dates had passed.  But most of all, there were moments throughout the three days that were so touching that I could never put them into cohesive words.  From the "thank you's", to the sincere hugs and hand shakes, to watching my fellow Bostonians dig deep and give money to help, to witnessing fans travel in for this from far and wide, to the two minute standing ovation that the crowd gave me at the end of the final night… this just isn't the type of thing I can easily "recap".
Thankfully, others did that for me.
So rather than write all about what happened I thought it would be more fitting to present you with a video and an article that sum it all up from the perspectives of the volunteers who generously donated their time to help pull all of this off and from a fan who traveled in from Texas just to be there.  It's so important to note that Gina Migliozzi from ROCK N SHOCK and Stacy Buchanan from WICKED BIRD MEDIA worked tirelessly on this event for a solid month, helping organize everything and giving their all to promote the events and get the word out.  I am so proud and so lucky to be able to call these two amazing women my friends.
First up is a video that was created as a gift to me by the volunteers who worked their asses off for these three days (and more).  For all of the charity work I have done throughout the course of my career so far, no one has ever done something like this to thank me and these four and a half minutes truly mean the world to me.  You can watch it here.
Secondly is an article written by Amanda Rebholz, a fan who took it upon herself to share her experience at this three day event with the rest of the world.  You can read Amanda's article here.  It's beautifully written and I urge you all to take the time to read the whole piece.
To everyone who donated their time, their money, and their spirit- thank you.  As I said on stage each night, the one upside to every tragedy like this is that it results in people coming together to show what they are actually made of and who they really are.  The individuals who plotted and performed this attack (sorry, but I just can't refer to them as "men") FAILED.  They took lives and injured many… but they did not accomplish their mission to change us, to scare us, or to prove whatever point they thought they were making in their twisted, evil minds.  We rallied and came together not just to mourn the tragedy or to make donations, but to show that we are untouchable as both a society and as a culture.  As human beings we are resilient in our kindness.  As souls our spirits are unbreakable.  As the horror genre community we are more caring and generous than any other.  And as Boston… we are truly strong.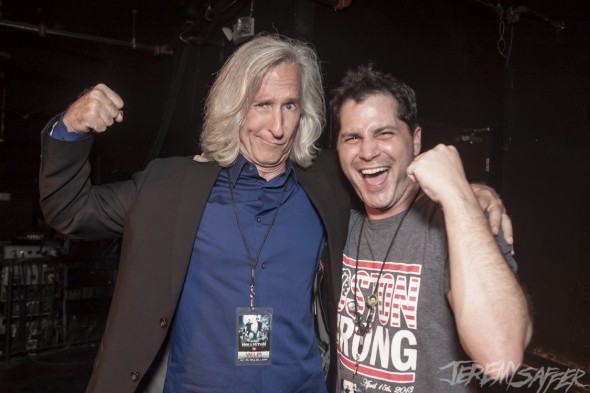 Standing strong with Mick Garris.
To the families that this money is going towards helping, I know the support that we raised is but a mere dent in the help that you need and that the biggest losses are things that no amount of money can ever fix.  But I also know how much this meant to you and I know how much this meant to the rest of the people of Boston touched by this tragedy.
Some may not be able to ever look back on this tragedy and see more than the terror, the tears, and the loss.  But I choose to look back on this and see the helping hands, the smiles, the cheers, the laughter, and the applause that were louder and more meaningful than any amount of hatred could ever amount to.
Most sincerely,
AG