I just wrapped production on my next movie.  No, seriously.  Seems like 24 hours ago I was on the promotional tour campaign for HOLLISTON and HATCHET 3 and somehow photography is already wrapped on DIGGING UP THE MARROW.  Don't worry, I'm just as confused as you are.  This is where it gets frustrating as I know people want to know details.  What is it?  What is it about?  Who's in it?  When will it be ready?  We're not revealing much about DIGGING UP THE MARROW yet, mainly because it's constantly still unfolding and we're still constantly creating.  The project started "officially" almost 3 years ago and a very small group of us have been chipping away at this very unique movie ever since.   In fact, right after CHILLERAMA was finished shooting in 2010 we were going to drop everything and dive head first into THE MARROW, but then HOLLISTON was green-lit and we had to put off the "main shoot" while we went into production on our TV show.  (We were still shooting and working on some stuff for THE MARROW even back then.)  When Season 1 was finished it was right into the swamp again for HATCHET III and then right back to HOLLISTON for Season 2.  (Again, we were still working on THE MARROW all the while and I was on draft number "I lost count" of KILLER PIZZA – which there is still no start date I have heard of yet, sorry.)  However, this past July we really buckled down and spent almost the entire month getting all of the big stuff shot and now I'm already about a week deep into post-production with a long way still to go.  Here's what I CAN say… it's completely different from any other feature I've done.  It all started with a crazy package of fan mail I was sent by a fan who was creatively/crazily claiming that "Victor Crowley" was actually indeed real, that I had messed up Crowley's true story in the HATCHET series, and that he/she could prove his existence.   (Reminder, I invented "Victor Crowley" when I was 8 years old and before you ask, no, THE MARROW has nothing to do with "Victor Crowley" or HATCHET.)   While those in the office on the day that the package arrived joked around about calling the fan out and showing up with our cameras to follow him/her around and have them "prove it", obviously we were never about to actually waste our time doing that and chances were good enough that this person may have killed all of us if we actually took the bait.  However, the general notion really started to turn into a viable story idea when I met and joined forces with artist Alex Pardee and saw his paintings for an exhibit he did called "Digging Up The Marrow" where the whole concept behind it was that he had painted "real monsters" as discovered by a former police detective.  You take those general ideas, stick two creative people together, add in an unhealthy amount of mutual respect and fandom for each other, mix in an even more unhealthy amount of love for all things "monsters" and you wind up on a very long and creatively stimulating ride.  We began interviewing artists: painters, filmmakers, actors, you name it… and we started seeking out the magic behind where "monsters" come from.  And by "monsters" I don't mean real life dictators, serial killers, child abusers, etc.  I'm talking about the things that go bump in the night, that lurk in the woods, that have slimy tentacles, horns, tails, lots of eyes… you know, the kind of "monsters" that people like me (and so very many of you) have always wished were real.  Then our imaginations really took over and the project itself started leading the way.  Close friends and family would ask what my next movie was exactly, what I was doing in the woods with a shovel and a camera all night long, or what I was smiling about…and I would answer in all honesty, "I don't know".  So is it a documentary?  Sorta kinda I guess but not entirely.  Is it a found-footage movie?  No, but there is "footage" presented within it, I guess.  Is it 100% real or is it 100% fictional narrative?  Well.. that's up to the viewer.  I can't define the line anymore.  DIGGING UP THE MARROW is imagination running wild.  It's us doing something that WE felt like doing which was taking art and bringing it to life.   When it's ready to be shown I'll have so much more to say, but for now just don't think too much about it or read too far into any of it and wait and see for yourself.  We're just having fun and we'll share it with you (for better or worse) when it's ready. Promise.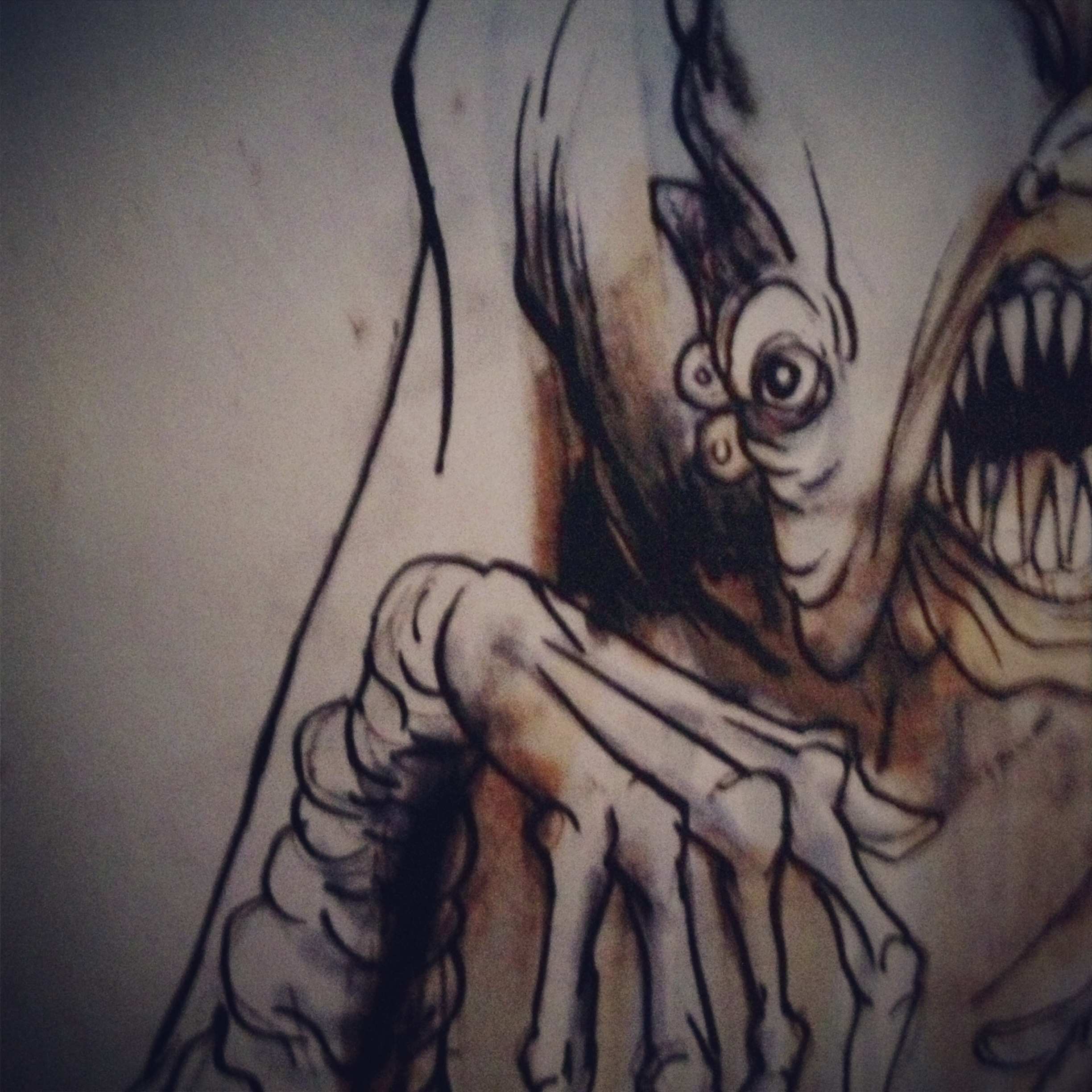 The Marrow is real…
In the meantime, it's been a huge last two weeks.  HOLLISTON's Season 2 finale aired and the response was just astounding.  Not just the response to the actual season finale episode but to the entire second season and the full series so far.  Some of the letters and postings we've received are so passionate that they're actually downright moving.  (Those who joined in on our final "live cast chat" of the season on the Holliston Nation U-Stream Channel witnessed me get so emotional that I had to abruptly sign off at the end because I was so overwhelmed.) FEARnet and HOLLISTON's Facebook pages have essentially become "shrines" for a Season 3.  The show has touched more people than anything else I've ever created and the reactions are so far beyond what I ever expected or hoped for.  I guess I still don't want to put it all into mere words in a blog because it's more special to keep it all inside for now.  But to answer the common questions… the second season is going to be on iTunes and Amazon streaming literally any day now.  As soon as it is up we'll obviously announce that it is there, but just know it's coming very, very soon.  We have not heard the DVD/BLU-RAY release date yet but if I had to guess I'd say Thanksgiving/Christmas.  It's probably a safe bet that the second season will hit Hulu right around or soon after the DVD/BLU-RAY is released, but again I haven't heard any details just yet.  As far as a Season 3 goes, don't expect to hear anything until much closer to the end of the year.  Maybe even early next year.  I know that sucks (believe me, if ANYONE is anxious to hear the plan it is US) but that's just the way the TV business works.  It all comes down to budgets and internal business affairs that have nothing to do with us or the show itself and those meetings and decisions won't happen or have concrete outcomes until the end of the fiscal year.  However, the fans rallying behind the show and making so much noise on-line, posting non-stop on FEARnet's Facebook page, tweeting about "#Holliston", checking in to the show on GetGlue (our season finale hit the #7 Top Trending show on TV the night that it aired!), buying the series on iTunes and Amazon, pre-ordering the DVD/BLU-RAY when it becomes available… IT ALL MAKES A DIFFERENCE.  No network wants to not bring back a show that their audience won't shut up about and the more noise you make the more it pushes the people behind the-behind the scenes to make something work no matter what. Will we return?  What will happen of Adam, Corri, Joe, Laura, Lance, Oderus, and Axl?  We shall see.  I have faith that the show will go on.  And that's because I have faith in all of you.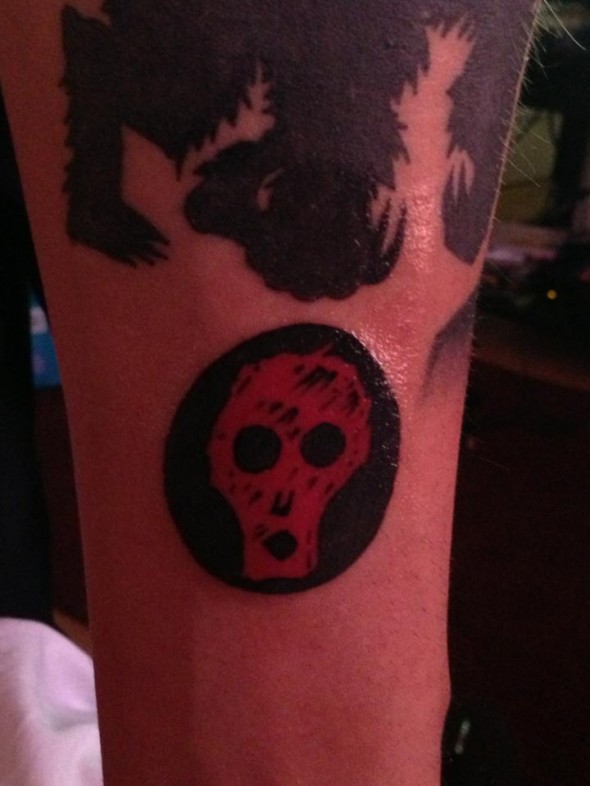 "HOLLISTON" fan tattoo sent in by Anthony Rubio.
HATCHET III hits DVD/BLU-RAY this week!  It's incredibly exciting as these next few weeks will be when the film really hits its audience.  Some got to see it in theaters and many saw it on Video On-Demand, but it is always the DVD/BLU-RAY release when the majority of fans see a movie.  I've already posted my look back on the decade I put into HATCHET and what a long, hard, but insanely amazing journey it has been (see the blog a few below this one) but HATCHET III's director BJ McDonnell (who doesn't have his own blog going at this time) wanted to share a message to you all and asked that I post it here.  As I've said countless times, we're all incredibly proud of the movie and when all is said and done, BJ proved that we chose wisely in giving him this opportunity as HATCHET III finished up my story in a huge, epic way and the HATCHET ARMY is thrilled with it.  I hope that the HATCHET fans debate which of the three films is their favorite of the series for years to come and we're all so proud of what we accomplished together with this slasher trilogy.  Here's what BJ wrote in:
—- Well wrapping up everything HATCHET III with the release of Blu Ray and DVD August 13th, I have to say what a ride it has been. Was it a blast at times, Yes, and was it painful at times, most certainly yes. I want to thank Adam again for the 3 films not only 1&2 as the operator, but the chance to direct part 3 and collaborate on everything that this movie became. I want to clear up any misconceptions of involvement in the process of Adam during filming that may have come across in interviews. Was he there every day in New Orleans at the location, yes he was. Was he on set behind the monitor watching every single shot we did, no. The fact that Adam trusted me and did not have to watch over every single frame was actually a great thing. It was great to know that Adam trusted me with the third installment and did not feel as though he had to hold my hand through the process of filming. Of course he did have producer duties and dealt with a lot of behind the scenes things, as well as writing the second season of Holliston while we were there. So thank you again Adam for this great opportunity and I'm proud of what we created together as the final product. 
Will Barratt I thank you . Will, you really were under the gun with this one and I'm proud of what we got in such a insane schedule. Short nights and short shooting schedule along with elements and heat. The film came out looking dark and gritty as well as bigger than it really was. Thank you Adrienne Lynn for helping me with all support and locations, etc…. The list is too huge to even ramble on. You went above and beyond.  Dark Sky films thank you 1 million times over. Without your support and love of the HATCHET films none of this could have happened so thank you everyone from Dark Sky. Greg Newman thank you and Todd Wieneke, and Malik Ali thank you too!!! Ed Marx you are a editing genius.  Also a huge thank you to the producers and the whole cast and crew of H3. It was honestly a insane brutal shoot and you guys coulda bailed on it but you didn't. Thank you!!!!! I know I'm forgetting a ton of people but to all who were involved with this picture- thank you. And lastly, thank you Hatchet Army and the fans of these films. Horror would never be the same without all of you keeping it alive. 
Where to go from here? Well the sky is the limit. I hope I  get to direct more films in the near future and I hope everyone liked how HATCHET III came out. All in all at the end of the day I am happy to have been a part of this ride with the HATCHET series. Thank you everyone for the warm open arms and acceptance of me taking on the responsibility of directing part 3. Is Victor Crowley dead? Who knows.  My advice …….Stay out of the swamp. – BJ MCDonnell ——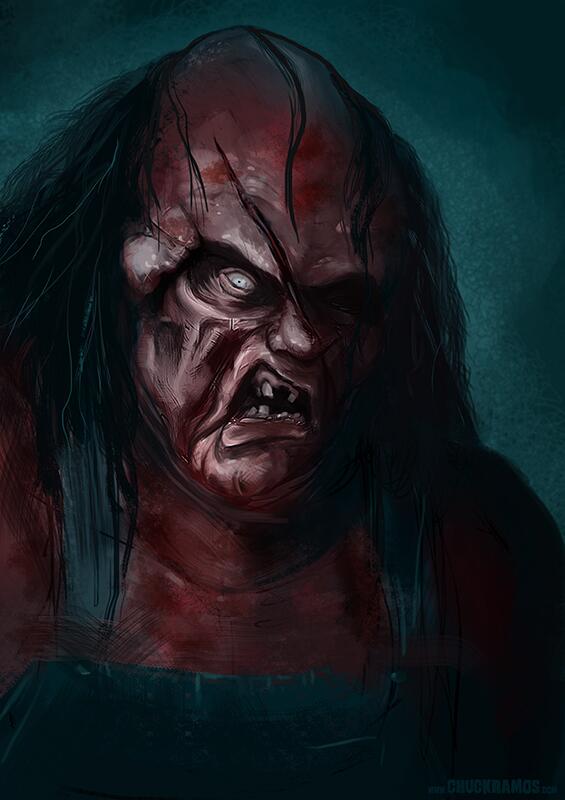 "Victor Crowley" fan art by Chuck Ramos.
Now, what are you waiting for?  Go pick up HATCHET III on DVD or BLU-RAY today and watch the whole trilogy back to back with your friends, loved ones, and gas powered belt sanders.  Every victory we've experienced is sweeter and every hard time we have struggled through is worth it for all of us each time you enjoy these three truly special films that we've created.  Thank you for all that YOU have given back to all of us.
OK, back to editing!  Enjoy HATCHET III, Season 2 of HOLLISTON, THE MOVIE CRYPT PODCAST, and everything else I've put out there so far this year.  More is on the way…
-AG