On April 8th HOLLISTON Season 2 finally comes home to Blu-Ray.  Hopefully by now you've pre-ordered your copy from us directly but if you haven't already done so… just click here.  While all Season 2 Blu-Rays ordered from ArieScope.com come with both my autograph and Joe Lynch's autograph on the cover, only pre-ordered copies will come with a third surprise cast member's autograph on the cover as well.  It likely goes without saying, but when you buy stuff from us you support all of us and our projects directly… so THANK YOU for buying your copy here.
OK, so why is Season 2 only being released on Blu-Ray and not also on DVD?  First of all, don't shoot the messenger!  If I had $10 for every angry tweet or other social networking message I've gotten about this matter, Season 3 would already have been financed and shot.  Seriously, it's not my fault nor is it the fault of anyone else associated with making HOLLISTON itself.  If it were up to us, of course DVD would also be an option for you to purchase, but unfortunately it isn't up to us.  So that you can hopefully understand their reasoning, Image Entertainment (HOLLISTON's distributor) made this decision based on a few key factors.  The most obvious factor being that DVD is going the way of VHS extinction now that Blu-ray players are so affordable and common (most all modern gaming systems even come with a Blu-Ray player built in) and now that so many people have big screen high definition TV's.  If you've ever watched a DVD on a big screen TV and compared it to what watching a Blu-Ray looks like, then you know just how awful a DVD actually looks all blown up and stretched out since DVD resolution is so much lower than that of Blu-Ray.  According to a representative from Image, the Season 1 Blu-Ray far out sold the DVD which is another major factor in their decision making.  But most importantly is that Season 2 contains well over 340 minutes of content.  (That's about 4 feature films for those keeping track.)  While a Blu-Ray disc is big enough to fit all of that content on one disc, a DVD release would likely take 3 if not 4 discs and therefore more extensive packaging… thus making it remarkably more expensive not only to produce but also more expensive for you to actually buy.  So as unpopular as their decision may be for those still holding on to their old DVD players, VCRs, and cassette tapes… times are changing and there's nothing we can personally do about it.  Of course Season 2 is already available to purchase quite cheaply on Amazon streaming, on XBOX, and on iTunes (where you can get the full un-cut Christmas Special as well) for those who are still anti-Blu-Ray.  So no matter what, there is a way to buy and watch the show legally.  Still want to gripe to someone about the lack of a DVD release?  Image Entertainment has a Facebook page here.  But be nice!  Remember that without Image supporting HOLLISTON from day one, the show very well may never have been made in the first place.
But now for the fun part!  The coveted special features on the Season 2 Blu-Ray release!  Though I usually like to wait until I've got the disc in my own hands and after I have watched it through myself before declaring what exactly will be on it, Image has not yet sent me a check disc to view.  So if any of the below winds up not being on the Blu-Ray, don't blame me.  However, Image assures me that the below information is accurate and that they have included everything that we created and delivered to them.  So here goes…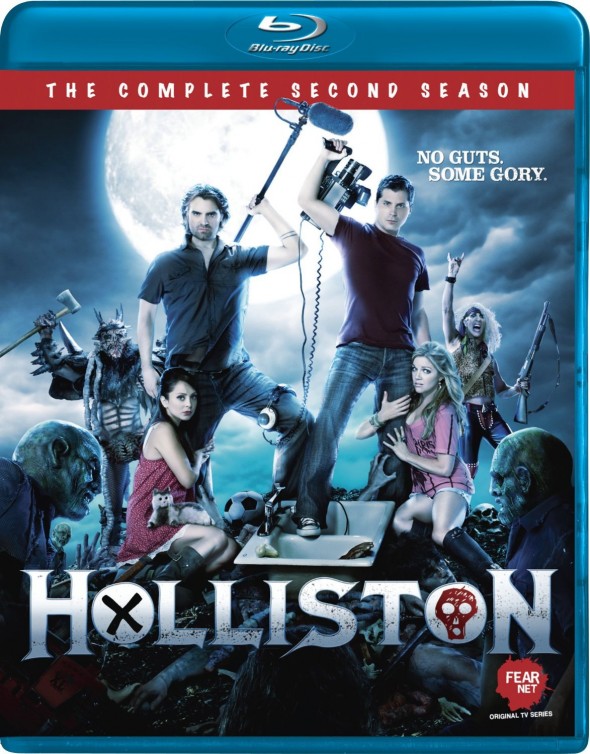 Not only does the Blu-Ray include all ten episodes from Season 2 and the un-cut full version of "The Christmas Special" (it was cut down by 5 minutes for television) but also over 70 minutes of special features!  Bonus content includes: THE MAKING OF SEASON 2 (A behind the scenes piece that covers the making of Season 2 overall), BECOMING LANCE ROCKETT (A piece detailing Dee Snider's incredible make-up and wardrobe in Season 2), THE SEASON 2 HOLLYWOOD PREMIERE (See what you missed from the red carpet and after party), THE BLOOPERS (Yeah, sometimes we fuck up and we know you love to laugh at our mistakes just as much as we do! You'll even get to see the raunchy joke that I was supposed to perform at the end of Episode 9 "Kevin's Wedding" where I instead completely choked by not being able to stop laughing…), ELEVEN DELETED AND ALTERNATE SCENES (See what didn't make the final cut and find out why as I give an on-camera introduction and explanation for each set of clips before they begin), "LOVE IT DOWN YOUR THROAT" MUSIC VIDEO (See the entire music video for Lance Rockett and DYVER DOWN's first 'original Van Halen cover song'), "CAN YOU HEAR ME" MUSIC VIDEO (Corri English's band BROKEDOWN CADILLAC was kind enough to give us their official music video for "Can You Hear Me" which Corri performed on stage during the 'Farm Festival' in the Season 2 finale), "THE ROAD BEHIND" FULL PERFORMANCE (See my entire performance from the opening of Episode 7 "Blobby" where I fully embarrassed myself in front of my dolls- I mean, action figures), HOLLISTON "LIVE AT ROCK AND SHOCK" (The very first full 30 minute live performance/table read that the cast ever did at a convention.  It's an original script that I wrote specifically for the event and the performance includes surprise celebrity guest stars), and finally… COMMENTARY TRACKS on 10 of the 11 included episodes featuring myself, Joe Lynch, Laura Ortiz, and Sean Becker (who directed many of the episodes this past season).  The only episode we skipped doing a commentary track for was Episode 7 "Blobby" simply because we could only fit 10 commentaries on the Blu-Ray.  Since 80% of that episode is animated it was the likely choice to skip.  Don't fear though, any good stories we had about that episode were discussed in the other commentary tracks.
It is important to point out that we personally created all of this content and gave it to Image Entertainment for free.  Why did we do that?  Because we LOVE YOU for spending your hard earned cash on supporting our show and we want to give you everything that we possibly can and make your purchase special with content that you will only be able to see if you buy the Blu-Ray.  The truth is that we know just how many fans of the show choose to watch HOLLISTON as cheaply as possible, whether that be only watching it when it airs on television, downloading it on streaming sites like Amazon, XBOX, and iTunes, or when the show eventually hits places like Hulu or Netflix (no release dates for those two outlets set yet, sorry).  Sadly, far too many "fans" also steal our show on illegal torrent sites which is a big reason why there is still no announcement of a third season.  A show like HOLLISTON is not cheap to make given its high production quality and all of those incredible guest stars that you love to see.  But unlike the major network or high-end cable network shows you watch, HOLLISTON is an independent production made on an extremely modest budget with our collective hearts, blood, sweat, and tears.  No one involved is getting rich off of this show.  In fact, many people involved (like myself) often put a lot of their salary back into the show in order to bring you more episodes and in order to keep the quality as high as possible. That's why HOLLISTON can be so original and not quite like any other sit-com out there.  We wouldn't be able to do half of the stuff that we do if we didn't have such complete creative control.  By making the series independently we were able to make a sit-com that blends outrageous humor, heartfelt drama, tear-jerking emotion, gory horror, heavy metal icons, and all of those genre stars that you had never before gotten to see perform comedically in a traditional sit-com.  Until HOLLISTON, network sit-coms just didn't seem to cater to us – the horror fans, the "outcasts", the struggling artists, the "geeks", or the "metal heads".  They underestimated us and it truly seemed as though they felt that if you were in the demographic that liked horror than you wouldn't possibly also like to laugh, to cry, or to see yourselves represented in a format that was simply never made for people like you or I.  In my opinion, we were most always shown in a condescending way by the sit-coms that would portray us through pedestrian heightened stereotypes or as minor characters and supporting sight-gags.  But if anyone out there knows what it's like to struggle to chase a dream, to repeatedly have doors slammed in our ambition's faces, to be broke as shit, and to suffer real relationship heartbreaks… it's us.  That's why more so than any other genre, we are our very own culture.  Thankfully places like FEARnet and Image rolled the dice, believed in us, believed in YOU, and pre-licensed HOLLISTON so that we could put together the budget needed to make the show correctly.   But while the show may be considered a success based on the audience reactions, critical reviews, and incredibly passionate fan base… if the series doesn't recoup its budget or show some sort of profit for those outlets, it simply will not continue.  The cards are against us as FEARnet is still a very small network that not everyone can watch and when the show hits places like iTunes and Blu-Ray there is no marketing or advertising in place to support it.  (You'll notice that HOLLISTON doesn't even have the pull or financial support to be listed in "new releases" but instead just kind of shows up in the "H" section randomly one day.)  It has all been up to the cast, the crew, and the fans to let the world know about it.  And man… that ain't easy.  But as Han Solo said, "Never tell me the odds."  We can continue on if you help us.  Support the show and buy the Blu-Ray or buy a season pass on iTunes.  Tell everyone you know about it and make noise on-line about it.  Know someone who is illegally stealing it from us on-line?  Punch them in the dick.  Help us make a third season happen and help us get enough episodes made so that the show can finally start being distributed in other countries, too.  "Adam", "Joe", "Laura", "Corri", "Oderus", "Lance" and "Axl The Cat" need your help if they're to keep the lights on in the apartment at "13 Francine Street", if they're to keep "Mass Cable Network" in business, and if they're to keep that generic beer flowing at "Casey's Crossing".  Buy the Blu-Ray… keep HOLLISTON going.
A blog with more details on where we are at with future seasons of HOLLISTON and news about my upcoming film projects is coming when I can.  Promise.  It's already been an amazing and crazy year so far (just wait 'til you read about my afternoon with the great Steven Tyler!) but it's only just getting started.  In the meantime, hopefully you are listening to THE MOVIE CRYPT podcast and keeping up with all of the stories and everything that's been happening on a weekly basis.  For HOLLISTON fans, Corri English will be our guest next week (airing on iTunes and GeekNation.com starting Monday March 17th) and we'll be speaking at length about where we are at with a third season- so don't miss that episode!
In the meantime, I continue to thank and love you all.  Enjoy the Season 2 Blu-Ray and for those in Los Angeles, a bunch of us from the show will be appearing at Dark Delicacies bookstore in Burbank on the night the Blu-Ray comes out (April 8th).  Check out the "NEWS" section of this website for the details.
"In Market Basket we shop."
-AG