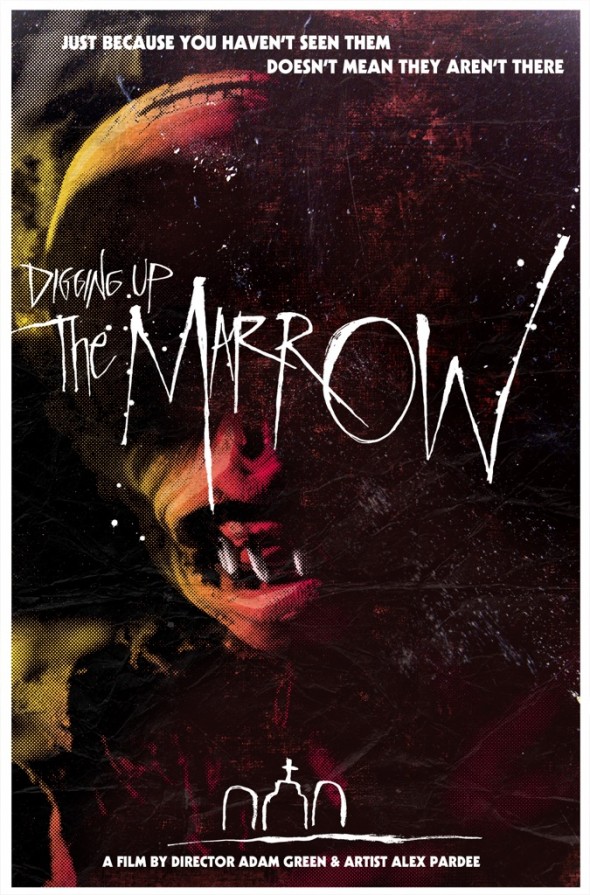 DIGGING UP THE MARROW variant poster #1 of 4, made exclusively for the world premiere at Film 4 FrightFest in London.  
This past weekend DIGGING UP THE MARROW unearthed in London at Film 4 FrightFest, a festival that I have not only attended and premiered 8 of my films at to date but also a festival that I have declared to be my absolute favorite genre film festival on the planet again and again (and again).  It was an absolutely spectacular premiere and one of my favorite film premieres that I've had in my career so far, despite my decision to keep it an intimate affair- which I will explain the reasoning for in a bit.  But before I get to the triumph that was this past weekend, I want to point out just what MARROW's premiere was coming on the heels of…
I know that so many of you who read this blog also listen to my podcast THE MOVIE CRYPT religiously, so by now you likely know just what a colossal machete in the heart and personally devastating year 2014 has been for me so far and why I have not done any appearances, conventions, or festivals.  For those still catching up or who perhaps don't listen to every single episode of the podcast, Lynch and I opened Episode 65 (the E.T. commentary) with me spilling some of the details on just what kind of personal heartbreak this year has had in store for me so far- and I want to take a moment to say "thank you" again to everyone who heard it or who heard about it for honoring my request to not ask me about it or comment about it further as it is more appreciated than you can possibly understand.  The gist of it all is that for many months earlier this year I was reeling after being divorced by my wife and in a very bad state though I did my best to keep a brave face on publicly wherever and whenever I had to do so.  As explained in the podcast, keeping the whole thing private for so long helped make it so that there was no unnecessary outside pain and suffering added to it by strangers who can't resist the urge to make it their business and also so that by the time it became public knowledge it would be "old news", something not worth people taking the effort to gossip about, and something I was already emerging on the other side of.   So I hid myself away and save for a couple of wonderful friends who took care of me through the worst of it, I did everything I could to avoid facing the rest of the world.  But as life always has a cruel way of doing, I lost one of my closest friends right at the moment when it felt like things couldn't possibly get any worse and on March 23rd Dave Brockie suddenly passed away.  While I was able to somewhat secretly go through the pain of the divorce by myself for the first half of the year, with Dave being such an iconic public figure and a main cast member of HOLLISTON, there was no way to not step up and acknowledge it, accept it, and deal with it.  As fate would have it, there was an in-store signing that the HOLLISTON cast had already committed to doing here in LA on April 8th many months prior to Dave's passing.  The date of the event unfortunately fell mere days after we lost our friend, but as fans of the show had traveled from very far away to be there we had to "go on with the show" despite the fact that we were still mourning and in shock.  We had watched Dave go through this same kind of thing himself when GWAR lost guitarist Cory Smoot in 2011 but had to continue on with their tour anyway.  It was awful to have to watch the band carry on without being able to deal with their loss properly, but that's show business unfortunately.  While canceling on the HOLLISTON fans who live in LA would have been completely understood and accepted by them, canceling our scheduled appearance on the ones who had already paid so much money on flights to travel from all over just to see us at a signing wasn't an option and therefore we went through with it.  Thankfully we have the greatest and most sincere fans that exist, so we were ultimately glad that we did the appearance as the outpouring of love and support that we received that night truly helped us through it in many ways.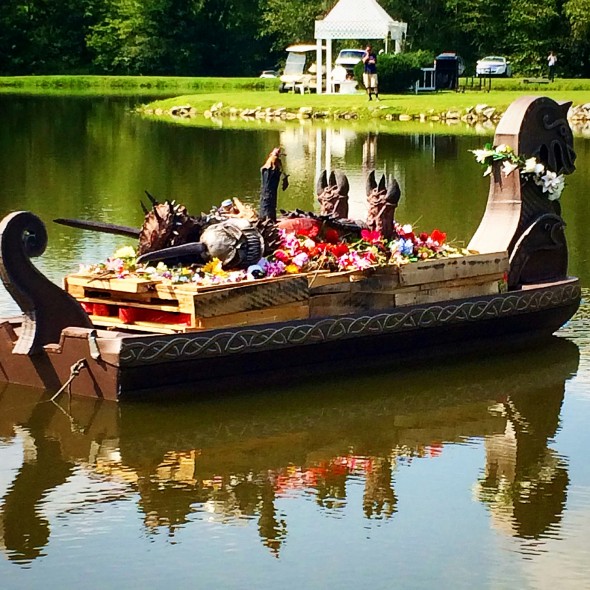 The "Oderus Urungus" costume at Dave Brockie's memorial in Virginia, August 15th. 
Two weeks ago I spoke at Dave's public memorial in Richmond, VA and delivered my eulogy before the thousands of fans who pilgrimaged from all over the world to pay their final respects.  It was a beautiful service complete with a viking-style send off where the "Oderus Urungus" costume was burned on a boat in the lake and once the weekend was over it felt like a bandage had finally been put over that massive gaping wound.  Images from the weekend are everywhere on-line and my eulogy can be seen here in this video that someone in the crowd shot on their phone.  It starts around 14:40 in the video and while the person shooting it sadly had to change their battery right at the most memorable part (where I had the entire audience turn to acknowledge their "metal family" standing beside them and a few thousand metal heads all held hands together- something I'll never forget the sight of)- the majority of my speech is all there.  Giving that eulogy was one of the most difficult but most inspiring moments of my life so far.  If you watch the whole thing, you'll see just what a hard time I was having getting the words out as I'm usually a bit better at public speaking.  I do this stuff quite often.  It's part of this career and normally I actually enjoy doing it as it's "entertainment".  But while I was pacing the backstage area before going on, it dawned on me that this time was like no other as I was about to speak before a crowd as myself as opposed to playing the part of "Adam Green the filmmaker" or "Adam Green the actor" or "Adam Green the comedian".  Randy Blythe (LAMB OF GOD's singer who was speaking right before me) put me at ease when he put his arm around me and said "that's exactly why you're here."  He reminded me that no one was expecting a "show" and that they were there to hear what I, the real person who knew and loved Dave, had to say.  That it was OK to fumble through the words and say "um" a thousand times or to have to keep stopping to compose myself. And when I heard him introduce me and say "Dave was on a TV show called HOLLISTON" and the entire place began cheering… I realized that I was among family and suddenly the words I had prepared weren't all that important.   The fans gathered there didn't care if I cried, if my voice trembled, if I got overwhelmed, if I stuttered and got confused, or if I sang out of key because I was trying so hard to not break down.  And as you'll hear if you watch the clip… the fans carried me through the entire thing.  They cheered me on when they could see I was losing it, they let their voices be heard when they appreciated something I said, and they sang for me when it was becoming clear that I was struggling to find the notes.  I say it all the time how much I love the fans… but just in case I haven't said it enough… I LOVE THE FANS.  I got through this difficult moment of saying goodbye to Dave publicly because I was surrounded by truly wonderful, passionate, and caring real people.  I'm so grateful for the hearts of everyone who was there at Haddad's Lake that day and I'll never forget that feeling as long as I live.  In fact, for the first time in so very long… I started dreaming about HOLLISTON again and contemplating another season with excitement instead of resentment, sadness, or fear of what it will be like to stand on set in front of a closet door that won't open again.   For those still wondering and waiting… the team behind HOLLISTON is now talking much more seriously not just about how to return to HOLLISTON, but more specifically… when.  I'm writing again and, well, we'll see what happens from here.  Hopefully 2015 sees "Adam", "Joe", "Laura", "Corri", and "Lance" back together again…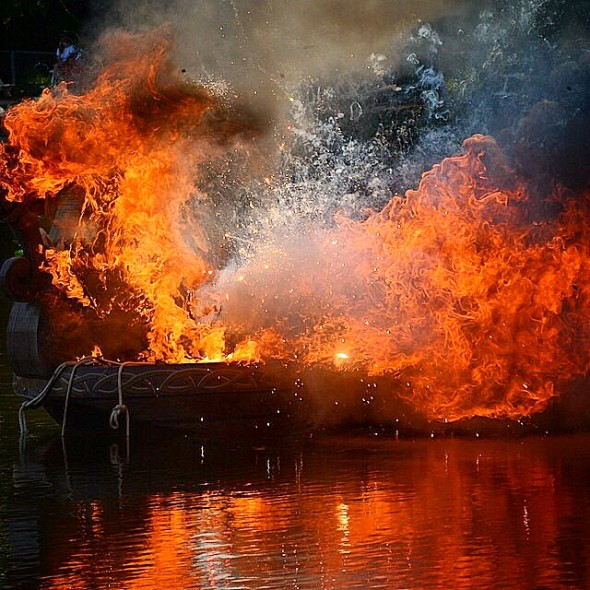 The best image I've found on-line of the burning boat.  An amazing send-off.
A mere 72 hours after the memorial I was on a plane to London for the world premiere of DIGGING UP THE MARROW.  It was a bittersweet journey to London as it was hard to go celebrate the very first official screening of the film coming off of such a tragic and heartbreaking 8 or 9 months.  Of course at that point if I had the choice I would have rather stayed home with my pets/family and wallowed in depression on the couch, but as cruel as life can be at time… it also has a way of giving you what you need, whether you can clearly see it that way at the time or not.  As you've noticed, we've been handling DIGGING UP THE MARROW very delicately and quite differently than how we usually handle a film.  From calling it "an art documentary" for the 4 years that we were working on it just to stay under the radar (by now you've probably figured out that it's not so much of an actual documentary as it is a fantastical story that uses the documentary format as a launching point), to not releasing a trailer publicly (yet), to not releasing stills and other images or clips from the film… we've kept it all very close to our vest(s).  You can read one of my previous blogs about it or hear more about all of that on various episodes of THE MOVIE CRYPT, but FrightFest felt like the perfect venue to officially unveil the finished film for the first time.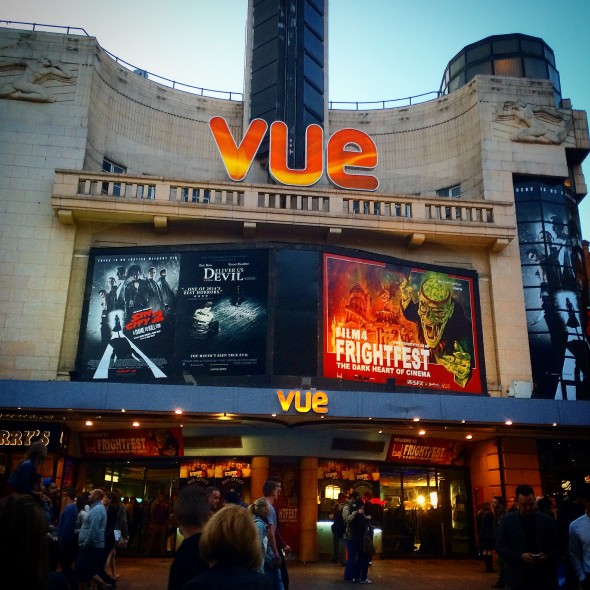 The Vue Cinema in Leicester Square, London – home of FrightFest 2014.
In discussing the placement of the film within the festival line-up with the festival heads (Alan Jones, Ian Ratttray, Paul McEvoy, and Greg Day) we opted to only have the film play once on the "Discovery Screen" at a prime time (Saturday evening) as opposed to having it play 3 separate times on the 3 "Main Screens".  It was a bold choice to head into a festival world premiere with only one smaller screening available for the audience to attend and without making any specific information or footage of the actual film available to anyone beforehand- but it turned out to be the absolute right decision.  The reaction was way beyond what we had hoped for and even better, we've managed to keep this little shroud of mystery around the film going for at least a little bit longer.  So far, fans and critics who attended have honored my request to not spoil the film itself within their glowing praise for it on-line and while I know that there are folks in the press who are frustrated by the fact that we have not created any screener copies for anyone, thankfully many turned up to watch the film properly- on the big screen and with a real audience.  Now that we've begun the process of closing on our distribution plans, of course there will eventually be a trailer and other materials made public as there is no getting around that.  Will seeing that stuff spoil a little of whatever magic we hopefully created?  Probably.  But you can't release a film without those things and expect general audiences to want to see it.  As I said to the cinema on Saturday night, all of us involved with DIGGING UP THE MARROW feel like sometimes there can be too much information made available about a film before it is ever screened and we wanted to try and deliver a unique experience, free of self-imposed expectations, spoilers, and preconceived notions.  It was overwhelming to see the cinema sell-out with fans who were there not because of hype, a trailer, or clips they saw on-line beforehand… but simply because they were happy to go into a movie absolutely cold with no idea about what they were going to see and because (at this point in our track record of films) they trusted that we would deliver the goods.  I'm so incredibly grateful for that trust and while I can't promise that every single fan will always love every single thing I create equally when I do so many different types of things… I can promise that I will never abuse that trust.  We've earned it over the past 16 years since Will Barratt and I first started ArieScope Pictures and all of us who work on these crazy projects cherish that trust deeply.  It was easily one of the best responses I've ever had to a film premiere at FrightFest and the audience response during the film and afterwords was just terrific.  So what's the deal?  Normally isn't the goal to try and plaster the internet with your trailer, reviews, and hype everywhere you can?  Are we crazy for purposely choosing to only screen the film once at a festival knowing that so many would not be able to get in to see it?  Are we keeping details too under wraps?  I don't know.  Maybe?  But in full transparency and honesty, as much as we may be "making it up as we go", it has of course been a calculated choice to handle it all this way.  This is a very different movie and one that I never would have been able to get financed or produced right out of the gate in my career for a number of reasons.   Even though the movie may feature so much "reality", in the end it still is a "fantasy."  We just tried something different this time and approached the project very experimentally right down to the fact that it is inspired by art.  While you may often see movies that are "based on a true story" or based on a novel, it isn't every day you see a movie that says "inspired by the art of Alex Pardee" in the credits.  We won't be able to keep this vagueness going forever as eventually someone who sees it will take it upon themselves to spoil that for everyone, but the fact that we've been able to keep MARROW somewhat of a mystery for so long is really, really great.  For now at least- what we're doing seems to be appreciated and it's been great fun to do it this way.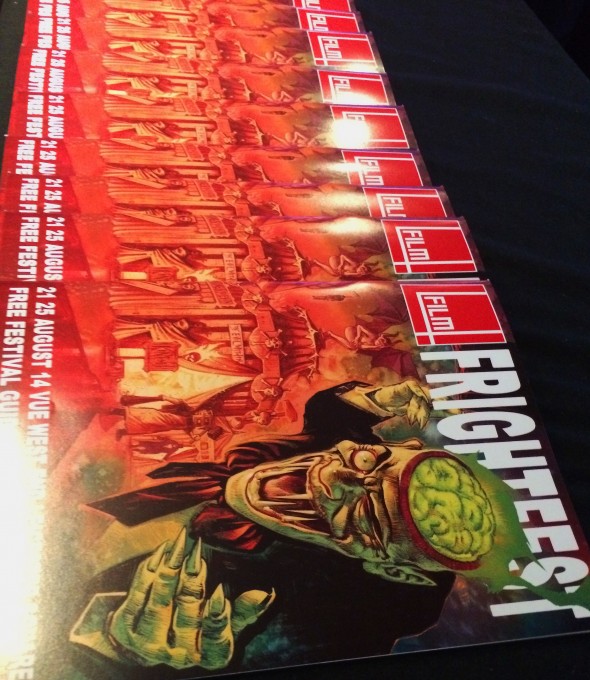 FrightFest program 2014.
So when can YOU see it?  Well, even though last weekend was the very first time we ever screened the film publicly and normally I'd be saying "it's still going to be awhile before we know about any of that stuff", I can tell you that we are in the truly rare and extremely fortunate position of having already accepted an offer for US distribution and that other countries around the world should hopefully not be too far behind in terms of figuring out who we will be going with.  I got on the plane back to Los Angeles hearing that the screening had been a huge success and landed to news that we had closed on the USA and that it was from one of the places circling the film who we knew would really, really "get it".  More info on who will be putting our film out soon.  We can't say anything until after they do, so for now we're just happy to know that we'll be working with them on this and patiently waiting to hear and share more details.
I've made an incredible summer for myself, despite being drowned in ashes and coming off of so much heartbreak and pain.  I found my spirit again through applying myself creatively in work, through the solace of an amazing circle of friends and family, through the love and support of my fans, and through the music that I love.  From seeing GUNS N ROSES play in Las Vegas in June, to seeing DANGEROUS TOYS play in San Antonio in July, to seeing AEROSMITH & SLASH play in Los Angeles in July and in Las Vegas in August, to the big upcoming end of summer finale of seeing my personal "holy grail band" TWISTED SISTER play in New York City next weekend… everything's gonna be alright.  Plus, it's impossible to forget just how loved and appreciated you actually are when you come home from a trip to this…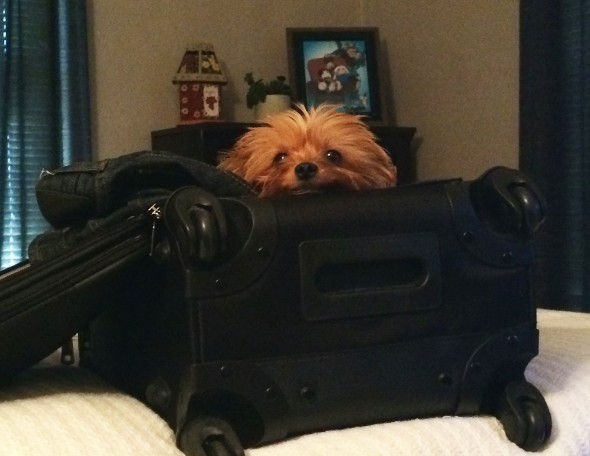 Arwen was about to ship herself off to London she missed me so much.
It's been one hell of a difficult year so far to say the least, but I'm still here, I'm still alive, and I'm doing fine.  It sounds so cliche but it is true that it's always darkest before the dawn and like the end of AEROSMITH's "Get A Grip" record proclaimed… "Remember, the light at the end of the tunnel may be you."  It really is true.  Don't give up… go on.
Indeed.
-AG