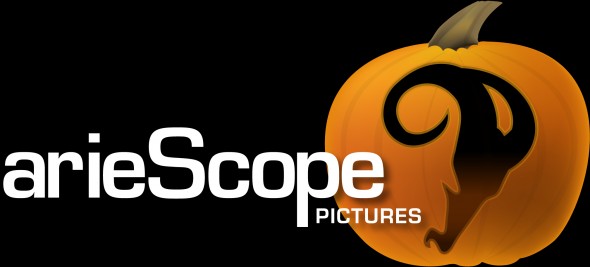 "It's the most wonderful time of the year…!"
Last week we launched our 16th annual ArieScope Halloween short film, "Happy Halloween".  Starring our friends Shawn Ashmore (FROZEN, THE FOLLOWING, X-MEN) and Brea Grant (HEROES, DEXTER) and featuring the fantastic debut of Sam Barratt (Will's youngest son), "Happy Halloween" was our biggest opening day for a Halloween short film in all 16 years of doing them.  Yes, even bigger than "Jack Chop" which took about a week to catch on and blow up into the viral hit that it eventually became- although "Happy Halloween" will never come close to "Jack Chop's" popularity being that it's a serious piece.  (Serious shorts aren't exactly the "Oh my God, I need to forward this to all of my friends, family, and co-workers right away" kind of shorts.)  Moments after we launched the short our site was crashed by all of the people trying to view it.  It came back on-line just a little while later only to be crashed again.  And again.  And again.  All day long.  Even better… reactions have been phenomenally positive and we have yet to receive a single complaint over the fact that we chose to go "serious" with the concept this year instead of the usual irreverent and silly concepts that our audience has come to expect from us each year.  We try our best to never repeat ourselves with the Halloween shorts and to always surprise the fans in one way or another (down to the fact that we never reveal any information about them or say who will be in them until the moment they are released), thus no "Jack Chop 2″.  "Jack Chop" was (to quote "Nicolo" himself) "one… and ya fahkin done, kid."  Of course the "Nicolo" character has lived on as a re-occurring character in HOLLISTON, as a quick cameo in 2010′s Halloween short "Just Take One", and he'll be back again in something else one day, promise.  After "Jack Chop" became a big hit it was not easy to follow it up the next year as we knew that no matter what we did it would never stand a chance at hitting as big.  So we went for "cute" instead of "hilarity" when we did "Just Take One" in 2010.  But that's how these shorts work.  Given how fortunate we are to always be so busy with our various "real" projects (films, the TV show, etc- not to mention our actual lives) and how hard it is to gather up so many members of our family all on the same night when they are each also incredibly busy… why do we still do it at all?  I thought you'd never hypothetically ask…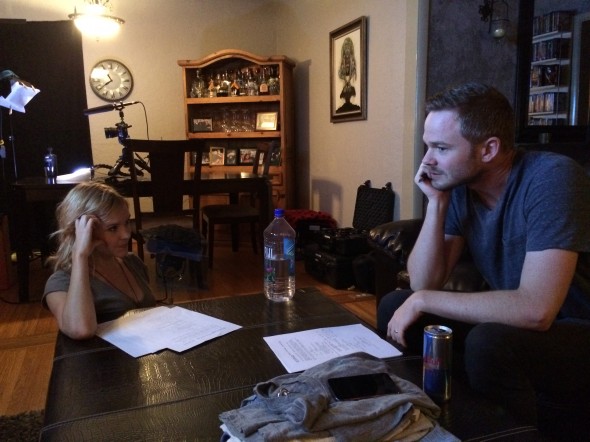 Brea Grant and Shawn Ashmore run lines together before filming.
In 1998, Will Barratt and I made a short film called "Columbus Day Weekend" where Jason Voorhees and Michael Myers stalked the same camp site and the two slasher icons ultimately fell in love with each other.  At the time, we were both working at Time Warner Cable in Boston, MA making low budget local commercials and therefore we had access to their production equipment, a perk we would ultimately abuse to the fullest extent just a year later when we made our first feature film COFFEE & DONUTS with the same "borrowed" BetaSP camera and basic lights.  "Columbus Day Weekend" was something we made to show at my annual Halloween dinner party and it was never intended to be shown publicly anywhere else or become our calling card and do anything for our careers.  (We would have tried much harder if that was the case!)  We figured we'd show it at my party for a laugh and that would be it.  But it changed so many things for us, starting with the fact that in order to properly mimic the opening credits of a FRIDAY THE 13TH film we needed a production company name.  We quickly came up with the name "ArieScope" because we're both Aries and "scope" sounded "film-ish" to us… plus we needed something on the spot right then and there if we were to screen the short at that night's party.  (So by "quickly came up with it" I literally mean that we came up with the word in less than a minute.  After all, it was just gonna be used one time, right?)  We altered a Dodge ram logo from a commercial we were currently working on at work (Allen Mello Dodge in Nashua, NH), slapped it on the front of the short, and figured that would be the end of that.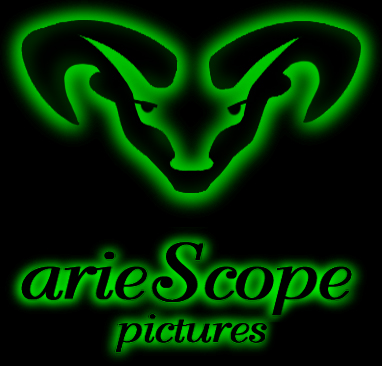 Our original logo.  Sorry Dodge!
16 years, 9 feature films (so far), 2 seasons of a TV show (so far) and 60+ short films (so far) later… the rest is history and the name "ArieScope" has not only stuck but also now means something to so many genre fans around the world.  "Columbus Day Weekend" wound up being passed around all over and even though it was incredibly amateur and silly (really, it's not very good at all), it eventually garnered the attention of folks at a major Hollywood talent agency and not too long after that I had packed my bags and was driving 3,000 miles away from home to chase the impossible dream of becoming a professional filmmaker… and that's where the struggle really began.  Keep in mind that this was long before streaming video on the internet so "Columbus Day Weekend" was being dubbed over and over again on VHS and this was also at a time when not every single person and their mother was making short films with fairly decent quality equipment.  These days if "Columbus Day" was to be made and passed around it would be laughed at (for the wrong reasons) and probably would have been more of an embarrassment than an achievement.  But that's also exactly why we don't hide it from our fan base and why we keep EVERYTHING up on this website for all to see.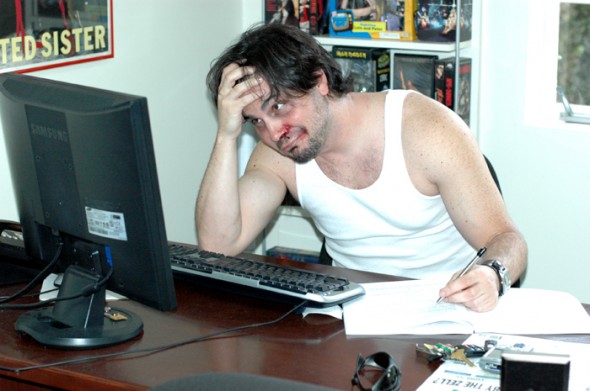 The first official ArieScope office in Hollywood, CA – 2005.  The journey has been full of hard times and beat downs.
It would be a fair argument to say that we should only keep our best work on this website now that we have the careers we are so fortunate to have doing this stuff professionally.  A sane industry professional might say that we should hide the early amateur stuff or any of the "just for fun" projects that maybe didn't work out all that well in the end.  But given the massive amount of aspiring and up and coming filmmakers that have begun to look to us for inspiration over the years, we think that it's encouraging and helpful to show our scars and let everyone see just how it all started and how we've continued to hone our craft over the years.  Every artist has a beginning and as nice as it would be to make people believe that the very first thing you did worked out perfectly or that everything you attempt to make turns out great… well, that's just not true for anyone.  So we keep all of it on this site for the world to see, both the successes and the failures.  With "Columbus Day Weekend" especially, it's fun for HATCHET fans to see things like the genesis of the "belt sander kill" which we would eventually get just right about a decade later when "Victor Crowley" sanded "Jenna's" face off in the trilogy's first entry.  Over the year's we've had plenty of hits and plenty of misses with these short film projects, so we figure why not show and celebrate all of it?  From the more popular shorts like "Fairy Tale Police", "Saber", "Jack Chop", "The Tiffany Problem", "The Tivo", and "Driving Lessons"… to the big misses (in my opinion) like "Steven's Room", "Trick Or Treat", "Sexy Nightmare Slayers", and yes, "Columbus Day Weekend" (depending on how you look at it) they're all here for you to see.  And we're proud of ALL of them for the simple reason that they are all part of our journey from wide-eyed ambitious dreamers making low budget cable commercials to the guys who somehow have managed to make a living in entertainment.  This website holds our entire story and we're proud of it.  In an age where indie filmmakers boast how they made a feature film for a micro budget, we often remind ourselves that COFFEE & DONUTS was a feature film made for a mere $400, shot on BetaSP, and edited tape to tape back in the summer of '99 when it wasn't so common for everyone with access to a camera to make an actual movie.  C&D launched our careers and after 13 years of "development hell" and "almost's" eventually became what is now known as the TV show HOLLISTON.  Where there is a will there is a way and if two assholes from Boston can do it, so can you.  Don't believe me?  Just watch this cable commercial I did for Castle Creek Miniature Golf in Salem, MA back in 1998 by clicking here.
I'd like to think I've come a long way.  At least I'd like to hope I've come a long way.
16 years later… what a long, strange trip it's been.  Thanks for joining us and for making it all possible.  "Happy Birthday" to us and "Happy Halloween" to you!  Here's to whatever happens next…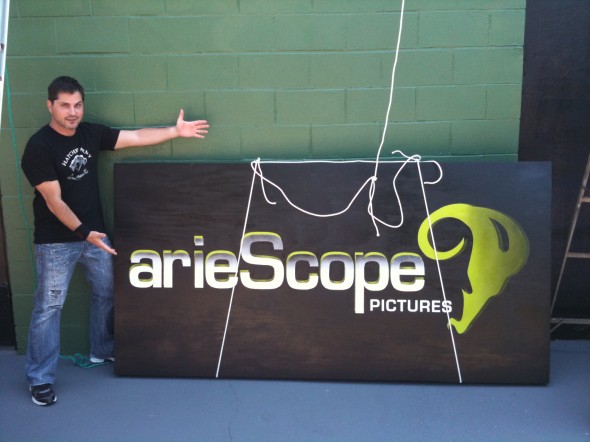 The day we hung the sign outside of our studio.
-AG