Join Director Adam Green and Artist Alex Pardee for a one-of-a-kind special event as they bring DIGGING UP THE MARROW on the road in advance of it's February 20th release!  (Watch the official theatrical trailer right here.)  The "Touring Through The Marrow" events will include a screening of the film before it is officially released, an art exhibit of Pardee's original artwork that inspired the film alongside never-before-seen concept art and photos from the film's production, an audience Q&A with Green and Pardee, one of the actual "monsters" from the movie "in person", plus artwork, books, and other exclusive tour merchandise for sale.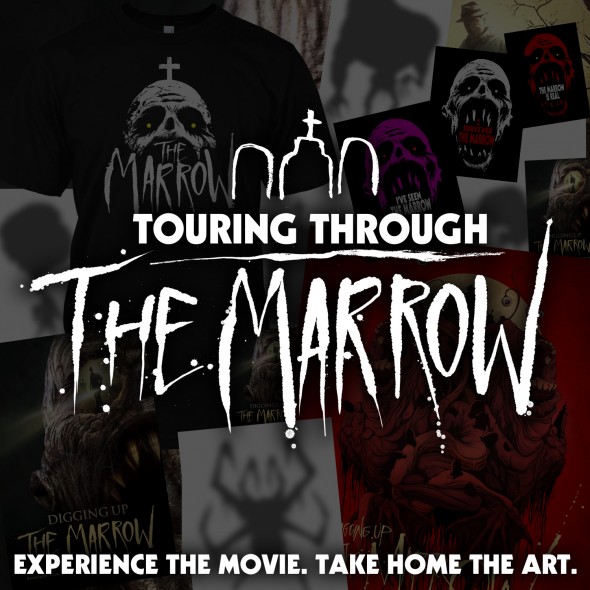 Thurs 2/12 – Landmark Shattuck (Berkeley, CA)
Mon 2/16 – Landmark Kendall (Boston, MA) – Presented by Rock N Shock 
One Kendall Square, 355 Binney Street, Cambridge, MA 02139 (BUY TICKETS)
Tues 2/17 – Landmark Sunshine (NYC, NY)
143 East Houston Street, New York, NY 10002 (BUY TICKETS)
Wed 2/18 – Alamo South Lamar (Austin, TX) - Presented by Ain't It Cool / Harry Knowles
1120 South Lamar Boulevard, Austin, TX 78704
(BUY TICKETS)
Thurs 2/19 – Landmark Regent (Westwood, CA) **PREMIERE**
1045 Broxton Avenue, Los Angeles, CA 90024 (BUY TICKETS)
Tickets for the tour are on sale soon through each cinema directly.  There are two options for ticket prices.  A regular admission ticket to the event is $15, however if you're hoping to secure one of the limited edition art prints we're also offering a $50 "VIP" ticket.  A VIP ticket is all about the print.  By having one you are guaranteed one of the limited DIGGING UP THE MARROW art prints created by Alex Pardee and available on this 2015 tour only.  (Pictured below.)   VIP ticket holders just need to present their ticket at the merchandise booth after the film to pick up their awesomeness.  For non-VIP ticket holders, prints are priced at $50 and are only available at each event while supplies last.  So by buying a $50 VIP ticket you can look at it like you are buying the print and getting your admission for free… or you can look at like you are saving $15 off of the print… whichever way you want to dig it.  But don't fear, not everyone in your party needs to have the same priced ticket to sit together or to meet Adam and Alex.  Every screening is first come first serve open seating and the guys will be happy to speak with and sign for everyone.  The VIP ticket is only for the print.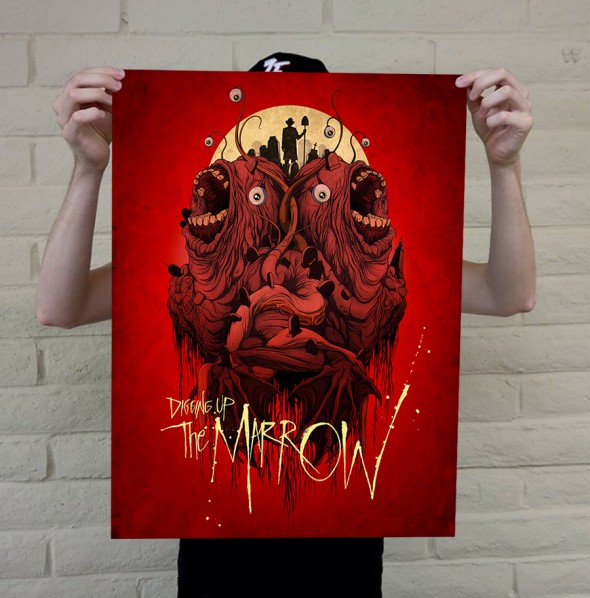 Zerofriends produces each 16″ X 20″ giclee print using archival inks on velvet cotton rag paper.

DIGGING UP THE MARROW opens theatrically in Los Angeles at the Laemmle North Hollywood Cinema on Friday February 20th where it will run nightly for the following two weeks.  It also hits Video On Demand everywhere that very same day (including outlets such as iTunes, Amazon Instant Video, Xbox, Sony Playstation, VUDU, GooglePlay, and more).    
But don't be too sad if you can't make it to the actual tour event!  You could still very well get the chance to see DIGGING UP THE MARROW theatrically when its run expands to more cities during the week of March 2nd (a list of cities is coming soon).  Also, more special engagement screenings and appearances will be announced soon!  If you live in the USA there is absolutely a way to see this film in February whether it be on the tour, another special engagement screening, the actual theatrical release, or on VOD.
The DVD and Blu-Ray (packed with special features) releases on March 24th and you can support the artists directly by pre-ordering your very own copy autographed by Adam Green right here.
The monsters are coming, America!   See you on the road!