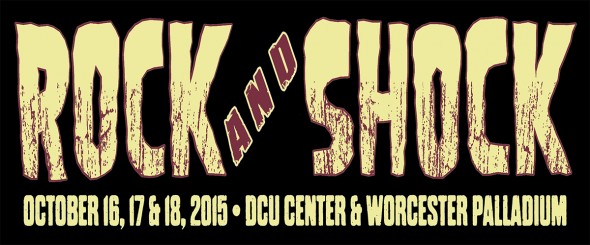 This weekend Adam Green returns home to Massachusetts when he appears at the Rock And Shock horror and music convention at the DCU Center and Palladium in Worcester, and while he'll have ArieScope merchandise for sale at his booth all weekend long, he'll also be coming armed with these incredibly rare bloody replica hatchets- created specifically as convention exclusives for Rock and Shock only.  Aunt Dolly's Garage FX Studio (the HATCHET series, DIGGING UP THE MARROW, CHILLERAMA) has created these beautiful theatrical quality replica hatchets from the original mold used to create the same prop hatchets used in the actual films. Hand crafted and individually hand-painted (no two hatchets have the same exact blood splatters on them!) these blood covered prop hatchets are a HATCHET fan's gory dream come true.  But wait…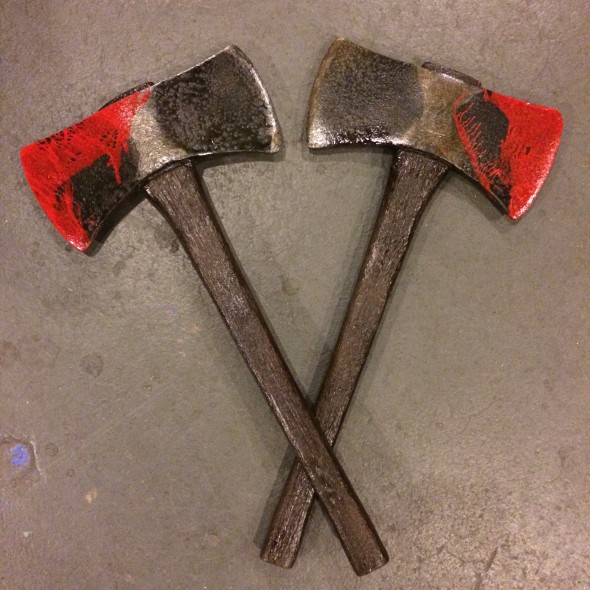 Only SIX were created.  Only FIVE will be sold…
As these hatchets were meticulously handmade by the very FX artist that worked on the films (Robert Pendergraft)… only SIX were created and only FIVE of them will be sold. (One is being held back for an upcoming charity event that we'll share details about in just a few more weeks.)  Sorry, but the five available bloody replica hatchets can only be purchased at Adam Green's booth this weekend at Rock And Shock.  They will not be available to purchase on-line and they cannot be reserved in advance.  These are first come first serve and when they're sold out they're sold out.  Each hatchet goes for $125 (cash or credit card) and comes hand-numbered with a certificate of authenticity signed by Adam Green and FX artist Robert Pendergraft.  Seriously… these are fucking awesome.  Can't get to Rock and Shock?  Consider getting on their Facebook page and making friends with a fellow fan who is going and who may do you a solid and try and get one for you.  You never know!  Horror fans (and Hatchet Army members especially) tend to be some of the nicest people in the world.
"As a collector myself and as a fan who has spent more hours than I can recall standing in lines to try and score various exclusive toys and collectibles at conventions over the years, I fully understand the significance of getting the chance to own something special and unique that very few other fans will ever have," says Green.  "While convention exclusives are a major part of the fun (and often times also the frustration) at events like San Diego Comic Con, exclusive items like these unfortunately still seem to be an incredibly rare commodity on the horror convention circuit.  I wish that ArieScope could do something like this every time I do a convention appearance, but collectibles like these bloody replica hatchets are just too expensive and too time consuming to create to offer at every appearance.  Since Rock And Shock is my hometown crowd (the actual town of Holliston, MA is only 30-45 minutes away from the DCU center) I wanted to do something extra special for the fans coming out to see me.  I wish that our FX house could have created more than just 6 of these special hatchets as I know that with only 5 for sale a lot of fans will be disappointed if they don't score one… but that's also part of the fun of the fan convention-going experience.  Hopefully the hardcore fans and Hatchet Army members come straight to my booth early in the convention this year and get one before they're gone.  I'm always thrilled to see rare collectibles like these go home with real fans that will sincerely appreciate and cherish them as opposed to retail dealers who snatch up as many exclusives as they can only to re-sell them on eBay for a massively inflated price at a later date.  So don't let Victor Crowley and I down, Hatchet Army: Boston Chapter!  Not even the cast or crew members have these so we want to see them find good homes this weekend!"
Adam Green will be appearing at Rock And Shock this Friday through Sunday (October 16th – 18th) during regular posted convention hours.  Though he'll have ArieScope merchandise for sale, remember that autographs and pictures are always free so bring whatever you've already got for Adam to sign if you'd like.  We can only ship so much stock for appearances like this, so items, sizes, and quantities may not last very long.  Though Adam will need to leave his booth on Saturday at 3pm for his panel/performance with Derek Mears ("Adam & Derek's Wicked Mint Panel Thing" – DO NOT MISS THIS, GUYS!) and again at 8pm when he moderates George Romero's panel (UM, YEAH…DON'T MISS THIS EITHER!)… even while he's gone, the illustrious Jeff and Ron will be holding things down and continuing to sell merchandise at Adam's booth- so stop by and say hello to them even if Adam has briefly stepped away.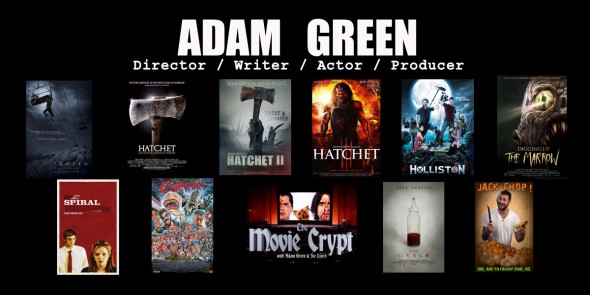 Look for Adam Green's banner / booth at Rock And Shock this weekend!
Good luck and happy hatchet-ing, Rock and Shock!  We hope you're one of the lucky FIVE who brings home an exclusive bloody replica hatchet this Halloween!